The severe and historic dysfunction of the GOP in Washington might lead many to wonder whether Republicans and Democrats can ever work together to get things done. They really should hear about what just happened in Ohio.

The Ohio legislature, due to a severe gerrymander, has a Republican supermajority. Of the 99 general assembly seats, Democrats only control 32 of them.
To give context to what they're up against, the assembly district map of the latest vote looks like this: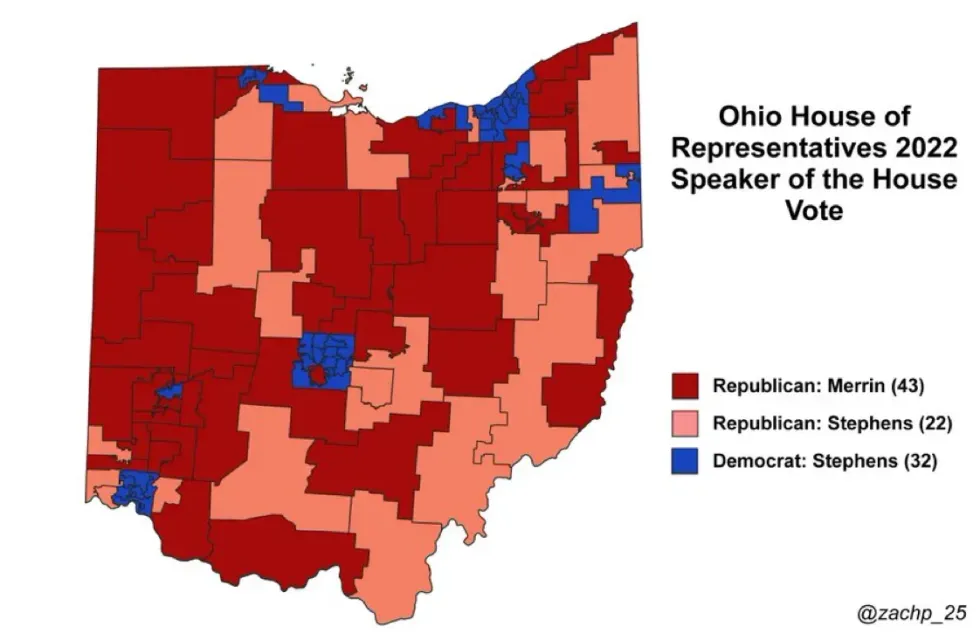 @zachp_25/Twitter
But if you assumed that meant the Democrats were more or less irrelevant to Ohio politics, you'd be dead wrong.
Twice in four years now, they have been instrumental in tempering the excesses of the Republican Party by throwing their weight behind a more moderate choice for Speaker, essentially gaining themselves a valued place at the table and a say over legislative priorities in the upcoming session.

The story is rather amazing, and national Republicans and Democrats can learn some key lessons from it.
Let's review what happened and how it might be built upon.
An interparty struggle for power within the Ohio GOP

Around three weeks ago, the Ohio GOP general assembly members met and voted to elevate an extremist, Derek Merrin, as Speaker. This was very bad news for progressives in the state.
During the Covid crisis, Merrin had worked to shorten the emergency health declaration period from 120 to just 10 days. He urged letting businesses that had failed to follow health guidelines off the hook.
He co-sponsored anti-trans bills, so-called "right-to-work" (i.e., anti-union) legislation, permitless gun carry laws, and "life begins at conception" proposals. He backed a proposal to phase out Ohio's income tax.
He personally helped push the six-week abortion ban through the assembly. A speakership under Merrin would likely mean prioritization of ever more radical laws to undercut working families, women, and the LGBTQ+ community.
Then something very interesting happened.
A more moderate candidate, Jason Stephens, emerged recently as an alternative to Merrin's extremism. Stephens had the support of only a third of his GOP colleagues, and he knew that to win he'd need the help of those 32 Democrats.
So behind the scenes, he worked with them to hammer out a deal. Earlier this week, his work paid off.
With all Democrats and 22 Republicans behind him, Stephens snatched the Speakership from the already anointed Merrin, 54 to 43.
It was an upset that could change the entire trajectory of the upcoming legislative session because the Speaker has significant power over which bills come up for a vote before the entire assembly and which ones die in committee.
State Democratic Rep. Casey Weinstein said:
"Speaker Stephens led a coalition of moderate lawmakers from across the aisle, who will now focus on delivering the common sense solutions that Ohioans sent us here to deliver."
"Now we can work on investing in our communities, on public education and workforce development."
Democratic Minority Leader Allison Russo echoed this sentiment, tellingTheColumbus Dispatch that Democratic members backed Stephens because they believed he would work with Democrats in good faith on redistricting matters, school funding, workers rights, and infrastructure projects.
It remained unspoken that Stephens would continue to need their support to remain in his position.
When asked about what kind of deal was bartered, Stephens also emphasized working across the aisle.
Stephens told reporters:
"I think this particular vote speaks for itself, I think it's an issue of 'what do we want,' [what] 'brings us together'."
"And when we have common ground as a group of Ohioans, we can do a lot of good things."
Of critical importance is the future of a much-reviled proposed law that would change the threshold requirement for proposed state constitutional amendments from a simple majority to a supermajority of 60 percent.
When asked about it, Stephens seemed to back-burner this highly unpopular bill.
"We'll have to look at that, we will have to look at all the different things," he answered, while noting that the schedule will soon be busy with budget prep and that he's "got a lot of things to do."
This should feel familiar to Ohio Republicans on the far-right. It was the second time in four years that the Democrats helped elect their favored Republican to the Speakership.
In 2019, Democratic votes proposed Larry Householder to the position by unseating the sitting speaker, though admittedly that blew up the following year when Householder was arrested on a bribery scheme.
Still, the blueprint for how to take advantage of a split in the Republican majority was laid out years ago, and the Democrats followed it in 2023 to earn a seat at the table with new Speaker Stephens.
Could the same thing work at the national level?
In Ohio, there were 22 Republicans willing to work with the Democratic minority to put a moderate in charge of the assembly.
In the current battle for the House Speakership in Congress, it would take far fewer.
Indeed, if just six Republicans broke ranks with their party and with Kevin McCarthy, especially after his multiple failed bids, and worked with the Democrats to support a moderate alternative, they could offer up a deal that might actually win the Democrats' support.
There are already some rumblings around such an idea.
One alternative would be Republican Representative Fred Upton of Michigan, a respected, long-serving member of the House who recently retired but has indicated that he would be open to serving as Speaker if he had the support of a majority of members.
Upton told reporters that he would be interested in the position if that meant putting "an end to the dysfunction that is doing so much damage to the country," and that the idea that he could break the logjam was "an intriguing suggestion that I have not rejected."
Like Stephens, Upton understands that he would have to offer Democrats significant enticements in exchange for their support, including, for example, equal representation with Republicans on all House committees.
As of now, Democrats have not signaled they would support anyone but Democratic Minority Leader Representative Hakeem Jeffries of New York as Speaker.
And it's too early to tell whether moderate GOP members like Nebraska Representative Don Bacon are actually serious when they hint at "preliminary talks" with Democrats on a possible consensus candidate—or if they are merely floating the idea as a scary alternative to spook the GOP holdouts into falling in line.
I personally believe it is very much the latter at this point, and that members like Bacon would much prefer McCarthy if he can somehow still make it happen.

Even were a coalition consensus candidate like Upton to magically win the gavel, it should be noted that Upton is no Democrat. There are certainly parts of his voting record, especially on energy and climate change, that are very concerning, given how much money he once received from oil and gas companies and utilities.
That said, an Upton speakership would be far preferable to one controlled by the extremist GOP, and some significant legislation could come out of it.
Upton was one of the 12 GOP members who voted to impeach Donald Trump, so it's unlikely he would be interested in investigating the Justice Department's prosecution of the former President.
He also was one of the 13 GOP House members to vote for the Infrastructure Investment and Jobs Act.
Given this, Democrats should not dismiss out of hand the idea of a brokered speakership, provided they go into the new session with a much stronger position on committees and rules than before, and particularly if the proposed speaker already has shown some independence from the Republican Party.
Of course, it remains entirely up to the GOP to understand the necessity for such a move and to actually propose it.
And that might only sink in if McCarthy truly goes another few rounds without being able to win the speakership.