As President Donald Trump arrives in Davos, Switzerland for the World Economic Forum, a new CBS News poll reveals 49 percent of Americans believe Trump made the United States weaker on the world stage while only 32percent believe he made it stronger. 16 percent see Trump having little effect.
But a look at the internal results of the poll shows a deeper divide: that between Democrats and Republicans, who seem to live in two different worlds when it comes to the President. This divisive perception consistently persists in polls.
---
More than 70 percent of Republicans see America's position in the world as stronger with Trump in the White House. However Democrats and a slim majority of independents disagree.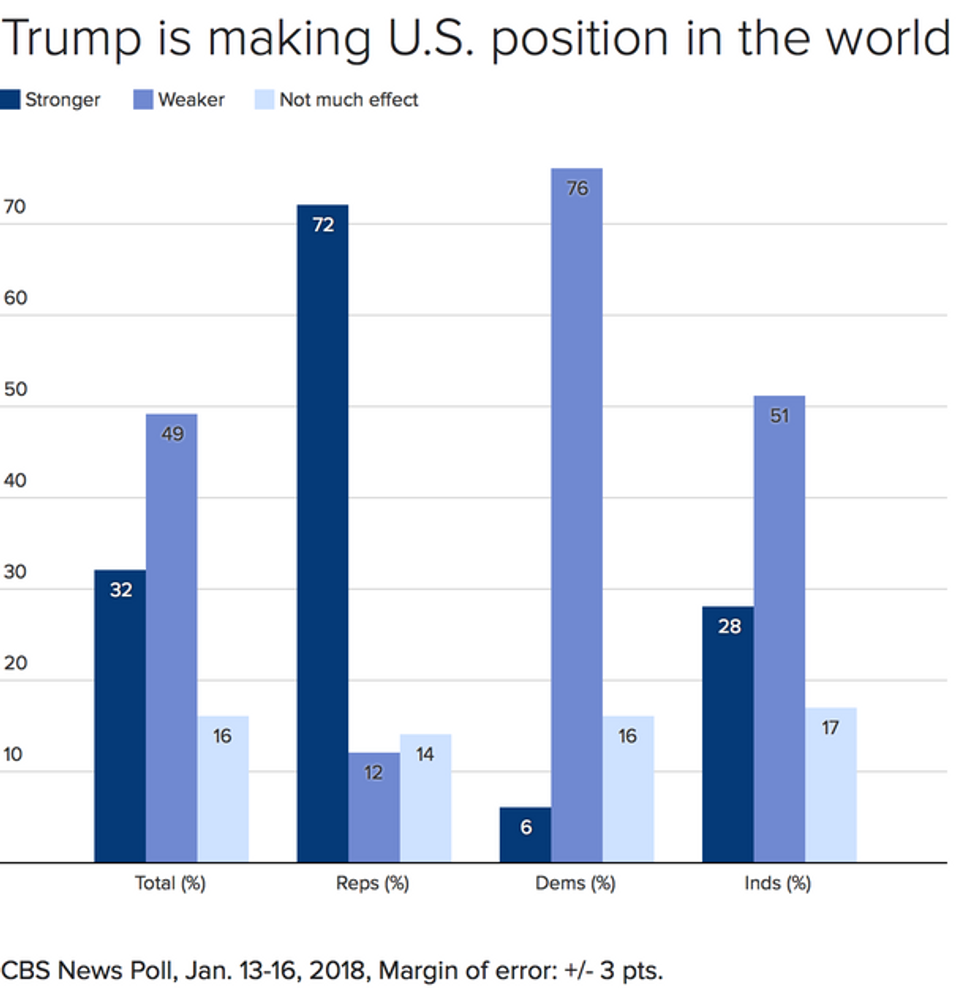 CBS News poll 2018
Trump pledged to make the military stronger which resonates with his own current political party. 59 percent of Republicans consider it more important for the U.S. to be respected for its military might. Most Democrats think world respect for U.S. policies takes precedence. This divide remains unchanged since May 2003, weeks into the Iraq War, when CBS last asked the question.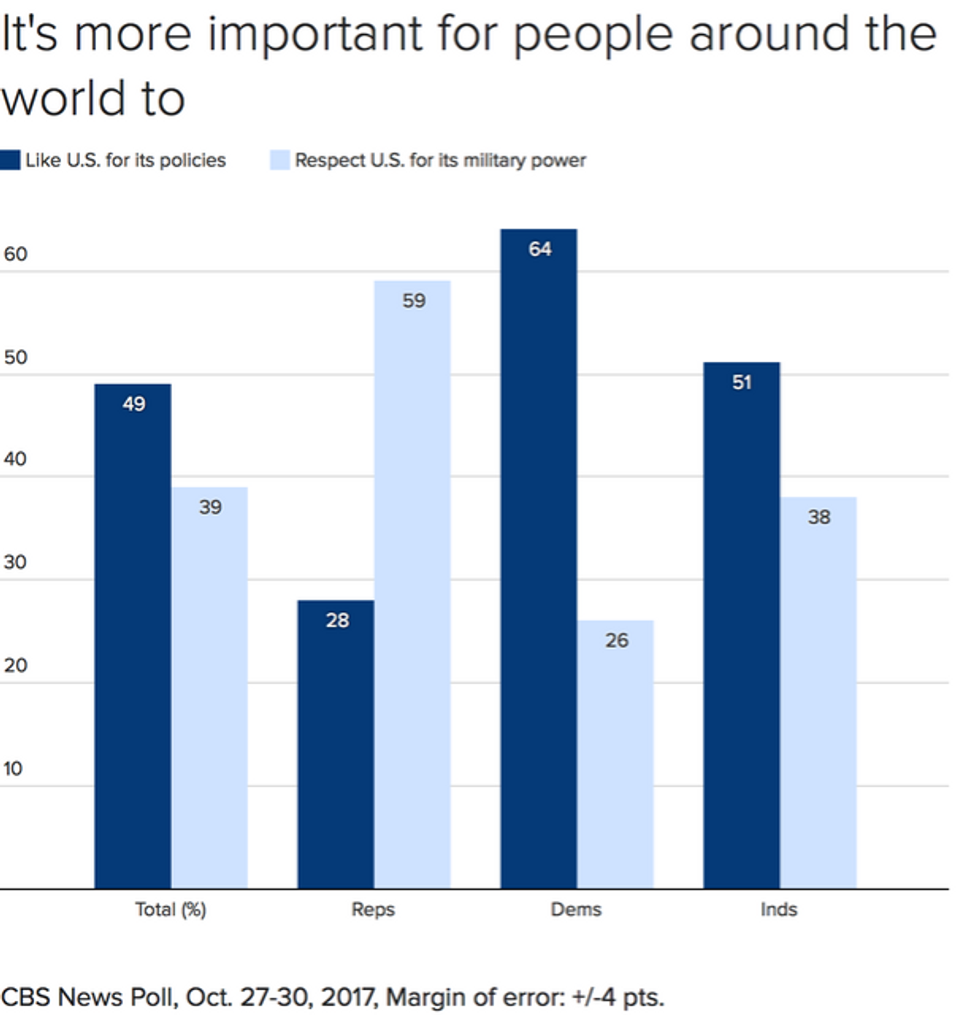 CBS News poll 2018
Americans preferring the U.S. be respected for military power over respect for its policies see the U.S. image in the world strengthened under Donald Trump.
In foreign policy matters, Americans favor negotiation and compromise with other countries over nationalist views.
40 percent of Republicans share this view, but 57 percent take an "America first" stance no matter what others think. Republicans divide on this question more than other matters. Republicans who think the U.S. should only care about U.S. concerns very strongly support the President. They also call themselves very conservative.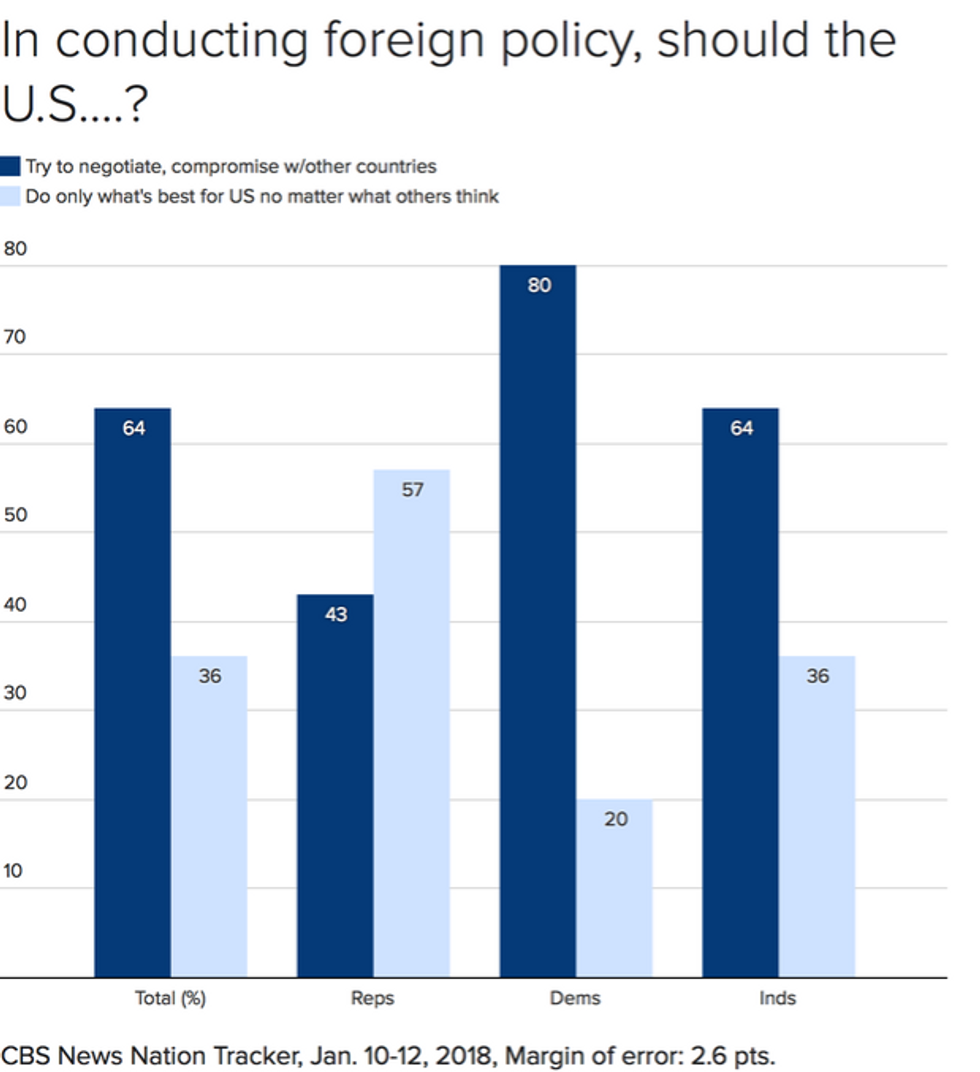 CBS News poll 2018
While at the World Economic Forum, Trump plans to address trade policy. While 47 percent of Americans agree making better trade deals should be a high priority, Americans view other issues such as improving healthcare (76 percent) and infrastructure (58 percent) as more important.