Shortly after the testimony of Dr. Christine Blasey Ford regarding sexual assault allegations against him, Supreme Court nominee Brett Kavanaugh took the hot seat to testify in front of the Senate Judiciary Committee.
While Dr. Ford's testimony was widely regarded as credible, measured, and ultimately human, Judge Kavanaugh appeared enraged, frequently interrupting senators and in some cases, replying to their questions with the same question.
---
To many, a recently viral photo is summing it up well.
As Kavanaugh appears to sneer, the women behind him—including his mother Martha and wife Ashley—appear horrified.
A closer look: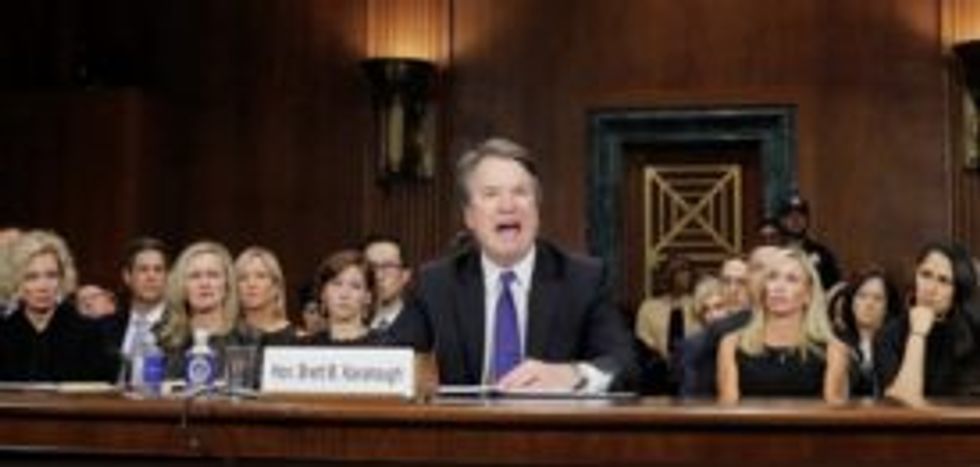 Interestingly enough, nearly all the women in the picture support Kavanaugh's confirmation. From left to right, the women are Kavanaugh's mother Judge Martha Kavanaugh, friend Martha Cox Kaplan, wife Ashley Kavanaugh, friend Suzanne Mattan and former clerk Zina Bash.
The moment is only a snapshot, but from this picture Twitter users read a thousand words.
The faces reflect many of the thoughts shared by women on Twitter throughout the hearing.
There was a marked difference between Kavanaugh's temperament and that of Dr. Christine Blasey Ford.
Throughout the hearing, Dr. Ford was hesitant to interrupt, quick to clarify, and showed no combativeness.
Shortly after Senator Amy Klobuchar (D-MN) mentioned her violently alcoholic father, she asked Brett Kavanaugh if he'd ever blacked out or otherwise lost memory due to drinking. Brett Kavanaugh instead replied, "Have you?". After a break, he returned and apologized to Senator Klobuchar.
Women were quick to pick up on the differences of behavior expected from a woman versus a man.
Similarly, Kavanaugh frequently lamented the ways in which his and his family's lives and reputations had been destroyed by the allegations. Unlike even Republican senators, he did not acknowledge the insults and threats with which Christine Blasey Ford was met after coming forward with allegations against him.
Many saw Kavanaugh's belligerence as indicative of violent tendencies cited by some of his accusers.
The hearing is ongoing and it's unclear if the scheduled confirmation vote will happen tomorrow as Senate Judiciary Republicans plan. However, there's been one hysterical person to testify. It wasn't the woman.