Alex VanNess, a research analyst for The Clarion Project, criticized Representative Alexandria Ocasio-Cortez (D-NY) in a tweet earlier, imploring why "this bartender" didn't run for a city council position before considering running for the House of Representatives.
The tweet was a response to a message Ocasio-Cortez wrote asking why people don't tell billionaires to run on the local level, itself a commentary on the decision of Starbucks CEO Howard Schultz to announce an independent candidacy for the presidency.
---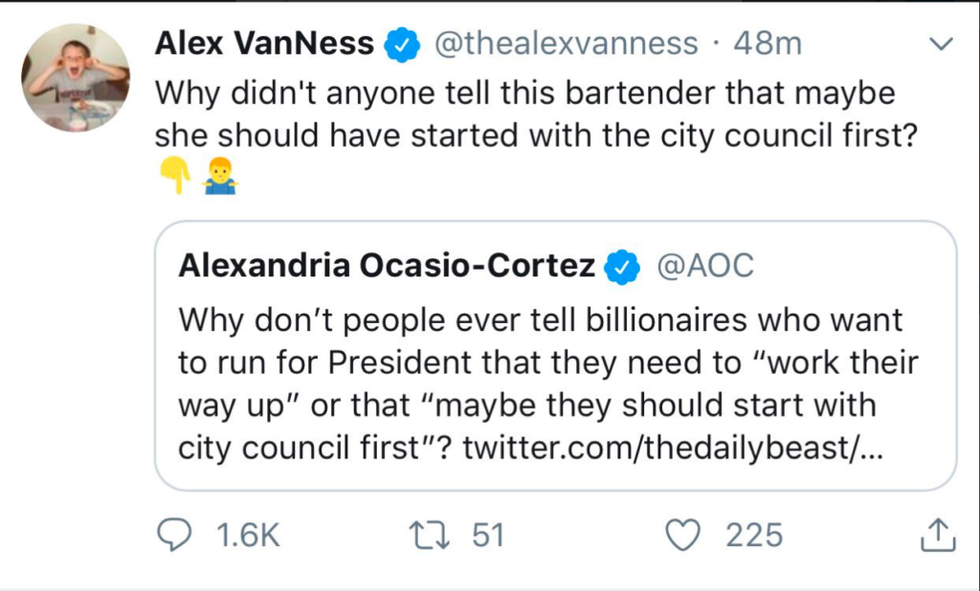 Ocasio-Cortez, who worked as a bartender before running for office, pointed out that she has, among other things, "served in a Senate casework office, organized and educated thousands of young people," and only didn't run for city council because she was discouraged from running at all.
"This bartender" has served in a Senate casework office, organized & educated 1000s of young people, earned relevan… https://t.co/PnzrJ85WJI

— Alexandria Ocasio-Cortez (@Alexandria Ocasio-Cortez) 1548870762.0
"And by the way," she added, "it's 'Congresswoman.'"
And by the way, it's "Congresswoman."

— Alexandria Ocasio-Cortez (@Alexandria Ocasio-Cortez) 1548870897.0
VanNess deleted his tweet shortly afterward, but Ocasio-Cortez had a screenshot.
Tweets have receipts, @thealexvanness 🧾 https://t.co/vumBWKAvBn

— Alexandria Ocasio-Cortez (@Alexandria Ocasio-Cortez) 1548875940.0
VanNess, to his credit, apologized for his statement as well as for deleting the tweet, which he said he did because he'd received doxxing threats.
I deleted a tweet at AOC, which was a failed attemped at a snarky dig. She whooped my ass and dragged me hard. I… https://t.co/IoWItAVRrv

— Alex VanNess (@Alex VanNess) 1548906408.0
"I deserved the dragging," he wrote, adding that he was thinking of protecting his child when he started to receive threats.
@mmmurryjr @AOC I deserved the dragging. But I got scared when I got the threats. I have to think of my kid.

— Alex VanNess (@Alex VanNess) 1548907111.0
People soon chimed in, noting that belittling others for making an honest living is wrong. Others praised VanNess for conceding.
@thealexvanness It's not just that you shouldn't have deleted it; you shouldn't have written it in the first place.… https://t.co/cA6Xyi6XAd

— ddof (@ddof) 1548930723.0
@thealexvanness Went to look at @thealexvanness's profile to see if he would double-down, or not mention his delete… https://t.co/xnjX0XaAKO

— Matthew J Thiessen (@Matthew J Thiessen) 1548919027.0
@thealexvanness Good on you for owning up to this. You deserved the ass-whooping you got from @AOC but at least you're being real about it.

— 💀Jeph, the Corruptor💀 (@💀Jeph, the Corruptor💀) 1548906680.0
@thealexvanness Though deleted it's a shining example of the ever-present double standard. No conservatives tweeted… https://t.co/FXVSsX6F8j

— GingerSnaps (@GingerSnaps) 1548909322.0
The apology did not shield him from more criticism, however.
@thealexvanness No, you've insulted her intelligence before this. In fact, you pushed back against another woman of… https://t.co/UZS5aD9kIT

— rafael (@rafael) 1548933968.0
Ocasio-Cortez has become a regular target of online harassment since last year. The Democratic darling is a self-described "democratic socialist" whose landmark election win made her the youngest woman to serve in Congress and unseated Joe Crowley, a longtime Democratic incumbent.
She has often been the target of ridicule on Fox News, President Donald Trump's favored network. The network's coverage of her is so extensive, in fact, that it prompted CNN to declare that "Fox News has found a new 'villain' in Alexandria Ocasio-Cortez" in an op-ed dated November 25, 2018.
In fact, comedian Bess Kalb, who has written for both the Primetime Emmy and Academy Award ceremonies, recently offered a rather biting observation of the coverage news outlets have dedicated to the arrest of President Donald Trump's longtime former political adviser Roger Stone.
Kalb suggested that Fox News would spend more time criticizing Ocasio-Cortez and undermining the science behind climate change than reporting on Trump administration scandals.
NYTimes: STONE INDICTED CNN: STONE INDICTED MSNBC: STONE INDICTED FOX News: IF ALEXANDRIA OCASIO-CORTEZ THINKS GLOB… https://t.co/oUHXxPGJm5

— Bess Kalb (@Bess Kalb) 1548439204.0
Ocasio-Cortez supports a 70 percent marginal tax on incomes over $10 million and has strongly criticized economic inequality. A January 22 report from Oxfam found 82 percent of the wealth generated last year "went to the richest one percent of the global population, while the 3.7 billion people who make up the poorest half of the world saw no increase in their wealth."
"I do think that a system that allows billionaires to exist when there are parts of Alabama where people are still getting ringworm because they don't have access to public health is wrong," Ocasio-Cortez told journalist and author Ta-Nehisi Coates during a recent talkback. "I don't think that necessarily means that all billionaires are immoral. It is not to say that someone like Bill Gates, for example, or Warren Buffett, are immoral people."