On the afternoon of Thursday, November 5, 2015, the online Mormon community started buzzing with rumors about leaked policy changes to the church handbook that would affect LGBT Mormons.
The new policy stated that children of married or cohabitating "same-gender" parents may not a receive a baby blessing or be baptized. Those parents are now officially labeled "apostates" by the church.
---
The significance of these bans is not lost on the community. Within the Church of Jesus Christ of Latter Day Saints (LDS), these are essential rites of passage, affecting a child's ability to participate in temple and priesthood activities expected throughout childhood and adolescence. Another change stated that young people preparing for missions would have to leave their parents' home and disavow their parents' relationship in order to serve.
The response to this rumor from Mormons ranged from disbelief to despair. Kristen Talmage Lindsay, who serves as a counselor in the LDS children's auxiliary, had a typical initial reaction. "I assumed the rumors were misinformation, based on more recent softening and compassionate outreach from the church towards LGBTQ/SSA individuals. I hoped the church response would refute the policy changes. I was shocked, and I still am."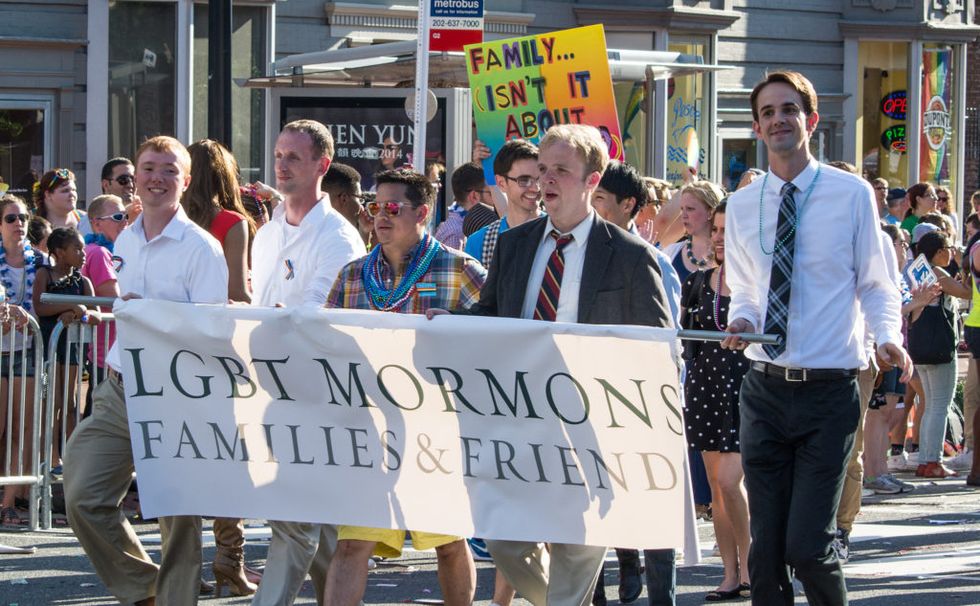 via Flickr user Tim Evanson
But when KUTV confirmed the rumor several hours later, disbelief turned into stunned silence. According to a source who works closely with the church's PR Department, church spokespersons were not informed of, nor prepared to, respond to this policy change.
The Church responds
It was a long day and a half of silence until the Church officially responded with a short video sharing its reasoning for the policy change. According to officials, the Church doesn't want the children of same-sex couples to have to deal with issues that might arise when the expectations of church and family are diametrically opposed.
On Friday, November 13, more than a week after the initial policy leak and video, the Church further clarified that the policy change only applies to "those children whose primary residence is with a couple living in a same-gender marriage or similar relationship" and that Bishops have discretion in some decisions, "their prime consideration being the preparation and best interests of the child." Children who are already baptized are allowed to continue to progress in the church, but there is no clarification about their younger siblings. The language naming people in "same-gender" relationships as apostates remains, as do many questions about the effect this will have on families still affected by the policy.
A Baffling Betrayal
In more liminal corners of Mormonism, disbelief swiftly turned into utter dismay. LGBT Mormons, their families and allies struggled to comprehend the significance of these changes upon their lives, feeling that these policies did not protect their children. The stories of heartbreak started rolling in.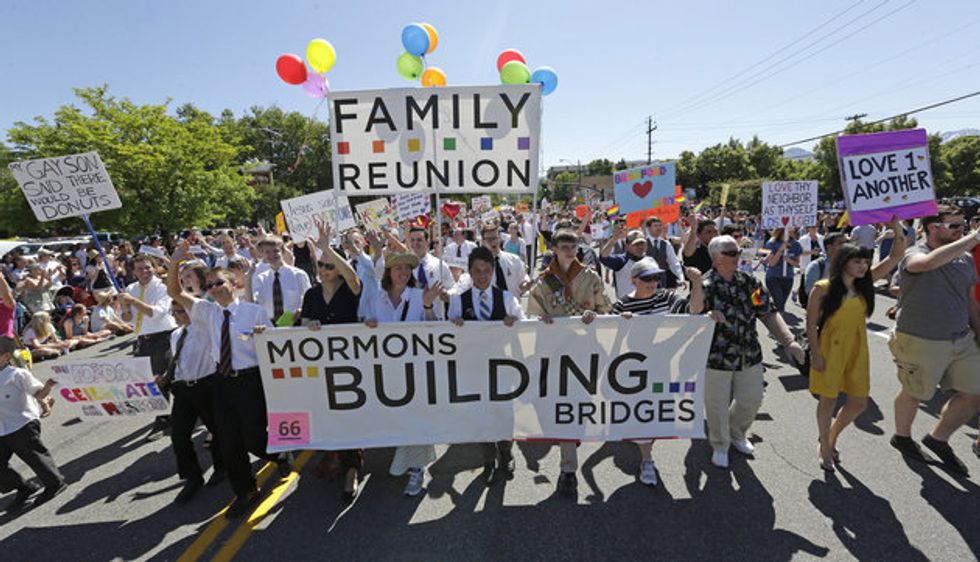 "As a transgender woman in a marriage with another woman," says Bobbie Angel, a life-long Mormon, "this drives a wedge between me and my children and grandchildren. My heart sank as I tried to understand why."
Seventeen-year old Francisco Negron had planned to serve on a mission in the spring. But Francisco's father is gay. "In order to go on that mission of service and love, to tell my father that I did not approve of him, seemed kind of hypocritical to me," said Negron. His mother Kristine Bingham Ellis was "dumbfounded" by the Church's decision. "I didn't think they could have possibly thought it through. They just changed the course of my children's life. I had fought silently for 
so long, and they took away my son's mission without any regret or apology. They took it away and expected us to beg. We were not going to do that."
Rob Schopke, an active lifelong Mormon who is married to a man, shared in his Facebook feed: "Twenty-five years after becoming a member of the church … I find that I am an enemy of God and Church. I cannot tell you the sense of sadness I feel for the loss of my church. I cannot tell you the hurt I feel for my kids. Today my son was telling me things that he wanted for his baptism. I didn't have the heart to tell him he could not be baptized."
Catherine Roebuck, a bisexual active Mormon, said in response to the latest clarification, "The only thing it clarifies is that this is VERY CLEARLY not about protecting children from confusion or discord; the letter specifies that they are welcome to attend church meetings and activities, where they will learn all the same things about their family with the added pain of being excluded from full participation and integration into their peer group."
Community response
Reaction has been varied.
Some LGBT members reported hostile responses from other Mormon friends and family. Mitch Mayne, an active, openly gay Latter-day Saint who recently served in his local bishopric as executive secretary, shared in an interview, "I worry about how this is being used to torment and abuse LGBT people who are currently living the standard. I have a young returned missionary friend (26) who was told on his Facebook feed by an *adult* Mormon woman (upon announcing he was gay): 'Ew. I knew you were a faggot. I'm glad we're getting rid of people like you. Time to sift the wheat from the chaff--and good riddance.'"
And for many, the pain soon turned to exhaustion and hopelessness. Averyl Dietering, who self-identifies as queer, a frequent contributor to the Young Mormon Feministblog,noted "Jesus Christ commanded us to mourn with those who mourn and comfort those who stand in need of comfort… Instead, we rebuke those who mourn, and we tell those who stand in need of comfort that their thoughts and feelings are wrong…. As a church, it seems that we've
become incapable of empathy."
Other LGBT members reported receiving a compassionate reception at church on the Sunday following the announcement. John Gustav-Wrathall is a board member of the Mormon LGBT support group Affirmation. "When I sat in the sanctuary I soon had one person after another come up to hug me, to let me know that they love me, and in various ways communicate their personal support."
The Mormon blogosphere
Posts responding to the change sprang up all over the Mormon blogosphere, from straight and LGBT Mormons alike.
Meghan Raynes wrote about her gay father and the vital spiritual importance of her own baptism.D. Fletcher wrote about spending 30 years as an openly gay man providing music for his Manhattan congregation, and the rejection he feels toward all his efforts to remain a faithful Mormon.An anonymous blogger who identifies herself as "progressive, intersectional feminist activist Lesbian. Who is married to a man. Because Mormon" wrote about her medically fragile children who may not live long enough to be baptized at age 18.
John Bonner, a licensed clinical social worker in Salt Lake City, called on church members to "break bread" with their LGBT Mormon brothers and sisters and find they are not enemies. Azul Uribe wrote about both her devastation and her hope that something good might yet be salvaged from disaster. The Mormon Mental Health Association and support groups like Affirmation quickly released statements expressing their disagreement with the action.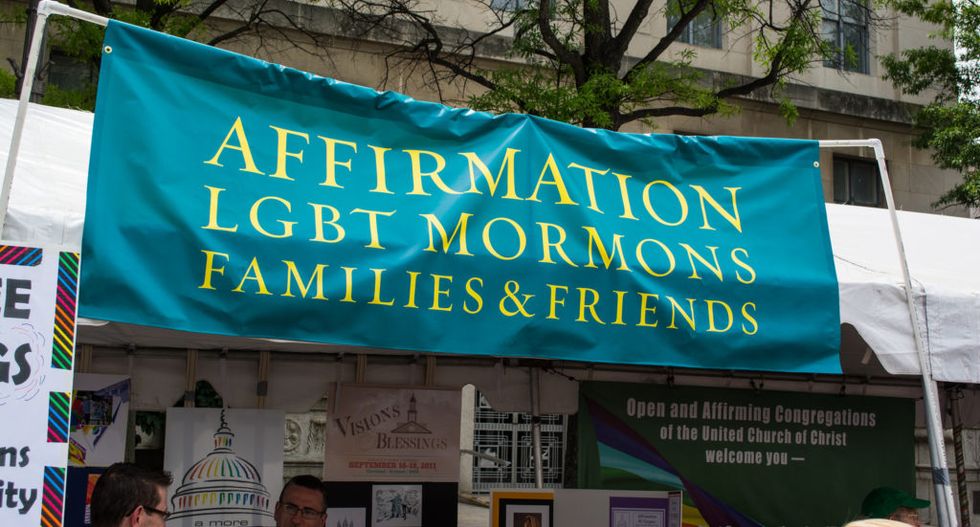 via Flickr user Tim Evanson
"It is not yet clear what the long-term result of this decision will be," said Mitch Mayne, who also worries "about the damage this will cause among Mormons--most certainly LGBT Mormons, their children, and allies/family members. But also to 'the middle.' We have pushed the fringe to the outside; and the middle to the fringe."
Many Mormons who never imagined anything could cause them to leave the church are asking their names to be removed from church records. Others are making the tricky bargain to stay because of their faith and their hopes that their voices will be heard from inside the pews. Amy Isaksen Cartwright, a lifelong member currently married to a gay man (until recently, the LDS church actively encouraged mixed-orientation marriage), explained her dilemma. "I want to stay, to be the voice of compassion and acceptance. But with this new policy, where our leaders are even willing to punish children, I question what hope is left of making a difference. Stay and speak out only to be disciplined? Or leave and hope that my outstretched arms will be seen by those who work their way to the fringes."
Grassroots and community activism
The hierarchy of the LDS church does not seek feedback from its members, nor is there any mechanism for members to communicate beyond their local congregations. This had led to several groups proposing a variety of grass roots and symbolic actions.
Feminist Mormon Housewives, a blog with the tagline "a place to be feminist and faithful," has asked fellow Mormons to use the only means of direct communication available to individual members--to visit their own bishops, Relief Society presidents, stake presidents and seminary teachers to share stories of pain and compassion.
Affirmation hosted a candle vigil on Sunday, asking members to fast and pray for those who are hurting and gathering as communities all over the world.
Michael Adam Ferguson started a Go Fund Me campaign to "[h]elp Queer Mormons send a clear message that we will not tolerate this type of hostility toward our families. We will have a granite millstone sent to (LDS church headquarters) with messages of solidarity from the queer and allied, current and post Mormon communities," alluding to Biblical scripture that states "And whosoever shall offend one of these little ones that believe in me, it is better for him that a millstone were hanged about his neck, and he were cast into the sea." Mark 9:42
Mormonism is facing a huge transition, and there is no way for LGBT members to know if the future holds further retrenchment and rejection, or small slow steps toward acceptance. "This isn't getting easier with time; at least this far, it's getting worse, as it sinks in more and more," says blogger and life-long Mormon Sheila Taylor. "I care deeply about this church. I can't imagine my life without it. I believe in it in some fundamental ways. But I feel as uncertain about my relationship to it as I have in a long time."