[DIGEST: New Civil Rights Movement, Clarion Ledger, Buzzfeed]
Wednesday evening, the Mississippi Senate approved a sweeping anti-LGBT religious freedom measure. Republican lawmakers hold a majority in both chambers; they believe the bill addresses issues created for people of faith by the Supreme Court's 2015 marriage equality ruling.
---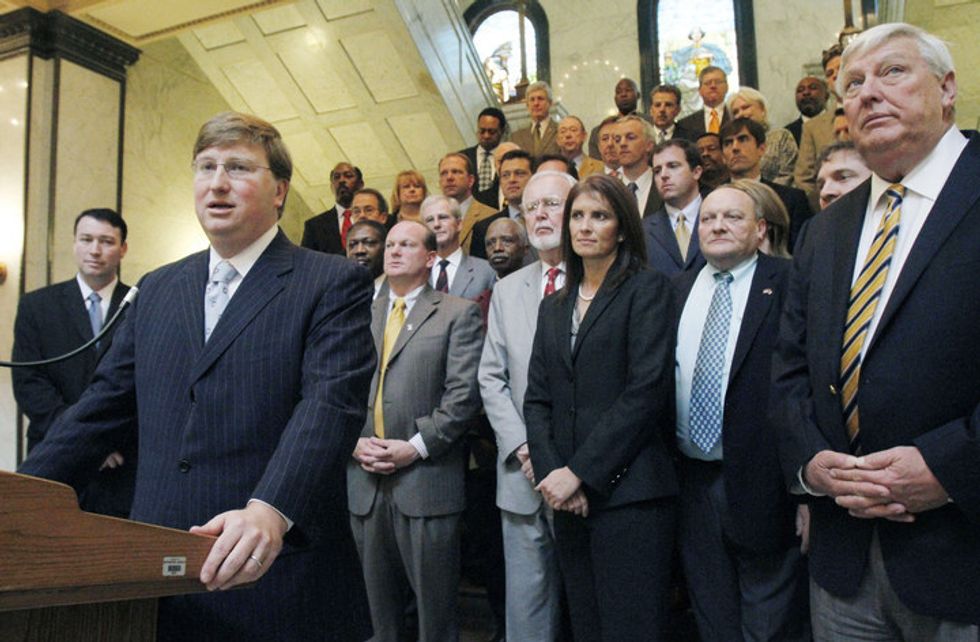 Lt. Gov. Reeves with Mississippi Senate committee chairs. Credit: Source.
House Bill 1523, or the "Protecting Freedom of Conscience from Government Discrimination Act," allows individuals, businesses and government employees (including counseling services, foster care and adoption services), nonprofits and other entities to refuse goods and services to LGBT people and anyone who has had extramarital sex on religious grounds. The bill also defines "male" and "female" as someone's "immutable biological sex as objectively determined by anatomy and genetics at time of birth," protecting those who decline treatments, surgeries and counseling related to sex reassignment or gender and identity transitioning. HB 1523 prohibits the government from taking action against individuals and faith-based institutions who act according to their "religious convictions."
GOP Sen. Jenifer Branning introduced the bill, but says it does not allow for any discrimination. "As a matter of fact, it's quite the opposite," Branning said. "It's about protecting the religious freedom of those who don't feel they can with a clean conscience assist a same-sex couple."
Human Rights Campaign (HRC) President Chad Griffin criticized the legislation. "This legislation moves Mississippi backward, undermining equality for its residents and jeopardizing its ability to attract and retain fair-minded businesses," Griffin said. "Governor Byrant should be paying close attention to the backlash against discrimination in Georgia, where Gov. Nathan Deal vetoed a terrible anti-LGBT bill, and in North Carolina, where fair-minded people and the broader business community are calling on state leaders to repudiate and repeal the discriminatory law passed last week. Mississippi's economy and its reputation hang in the balance."
Griffin' statement comes two days after Georgia Governor Nathan Deal vetoed a bill that would have allowed businesses to deny services to LGBT people on religious grounds. "I do not think we have to discriminate against anyone to protect the faith-based community in the state of Georgia," Deal said in a statement.
And last Wednesday evening, the North Carolina legislature passed a bill that overturns local gay and transgender protections in a special one-day session that cost taxpayers approximately $42,000. Governor Pat McCrory signed the bill into law mere hours after its introduction. The bill was a direct response to a prior nondiscrimination ordinance in the city of Charlotte, which had offered a wide range of protections. Most notably, the Charlotte ordinance allowed citizens to use the restroom that best matches their gender identity. State lawmakers acted ostensibly out of concern that women and children could be victimized by sexual predators posing as transgender to enter women's restrooms.
Both states faced swift condemnation from business leaders. Bank of America, which has its headquarters in Charlotte, North Carolina, announced it was joining over 80 chief executives, including Twitter and Square CEO Jack Dorsey and Apple CEO Tim Cook, in opposing the new legislation. The CEOs voiced their concerns in an open letter to
Governor Pat McCrory posted on the HRC website. Bank of America was one of the largest contributors to McCrory's 2012 gubernatorial campaign.
One Georgia-based telecom company, 373K, decided to move their headquarters to Nevada. "I'm gay, our CFO is gay, we have people from every walk of life working here," said co-founder Kelvin Williams in a telephone interview with The New Civil Rights Movement. "I've got Muslims, Buddhists, atheists here. We've got great Christians working for us. They've never thought of not serving anyone—that's not the message of Christ." Many prominent actors and directors, including Rob Reiner, Anne Hathaway and Julianne Moore, threatened to take their business elsewhere. The Walt Disney Corporation and its subsidiary, Marvel, echoed this statement, pledging to relocate its headquarters "should any legislation allowing discriminatory practices be signed into state law."
Perhaps foreseeing the bill's economic consequences, a Mississippi Democrat proposed a motion to reconsider the legislation, which requires another vote by the end of this week as a result. The Senate also passed an amendment reinstating sovereign immunity for the state against potential lawsuits. This requires the House to concur before the bill moves to Governor Bryant to sign.
But other Democrats have different concerns entirely. Sen. Derrick Simmons, who is black, reminded his fellow Mississippians of the state's history of racial discrimination. "Can we afford with Mississippi's dark past, can we afford in 2016, to pass anything that can be construed as discrimination?" Simmons said. "People were actually taken brutally from their homes and they were killed based upon what some considered to be, 'This is my religious belief' based on 'We don't want any mixing of the races.'"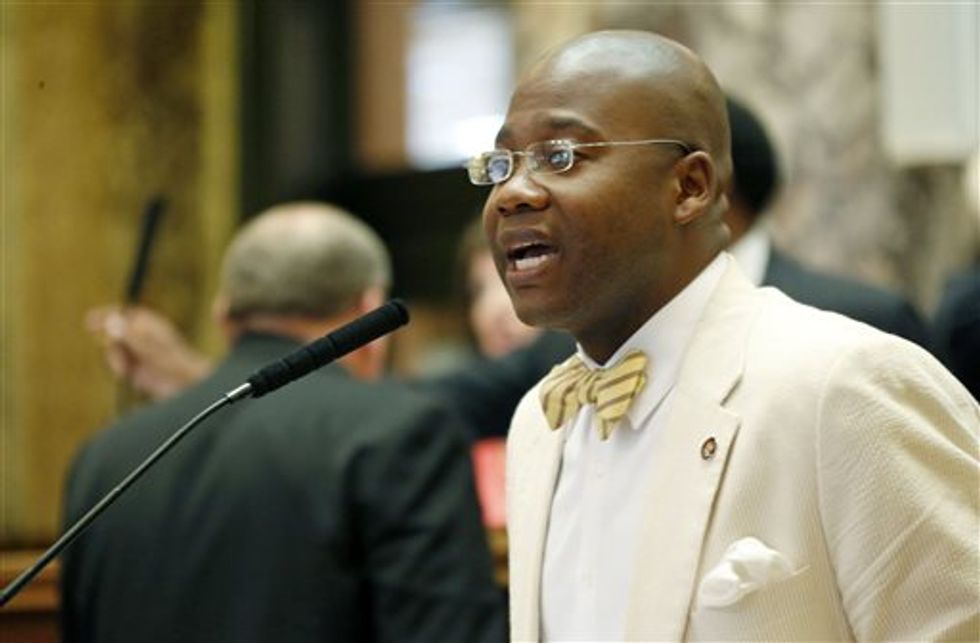 Sen. Derrick Simmons. Credit: Source.
Erik Fleming, the director of advocacy and policy for the American Civil Liberties Union (ACLU) of Mississippi, voiced similar thoughts in his statement to Buzzfeed News. "It is reminiscent of what happened 50 or 60 years ago in this same state," he said. "People say that it is just religious, but there were people who had a religious belief that black and white people should be segregated, and you're opening that Pandora's box again."
Governor Bryant indicated he will sign the bill, saying he does not consider it discriminatory. "I think it gives some people as I appreciate it, the right to be able to say, 'That's against my religious beliefs and I don't need to carry out that particular task,'" he said.
But Governor Bryant may face a tough and bruising battle, if the experience of other states is any indication. After Indiana passed a "religious freedom" law that critics claimed discriminated against LGBT persons, a fierce backlash from business and the tourist industry, along with a trending hashtag #BoycottIndiana, forced the governor and state legislatures there to add an amendment clarifying that nothing in the law was intended to permit discrimination. As tensions continue to mount in North Carolina, it is likely Mississippi will face similar dissension.