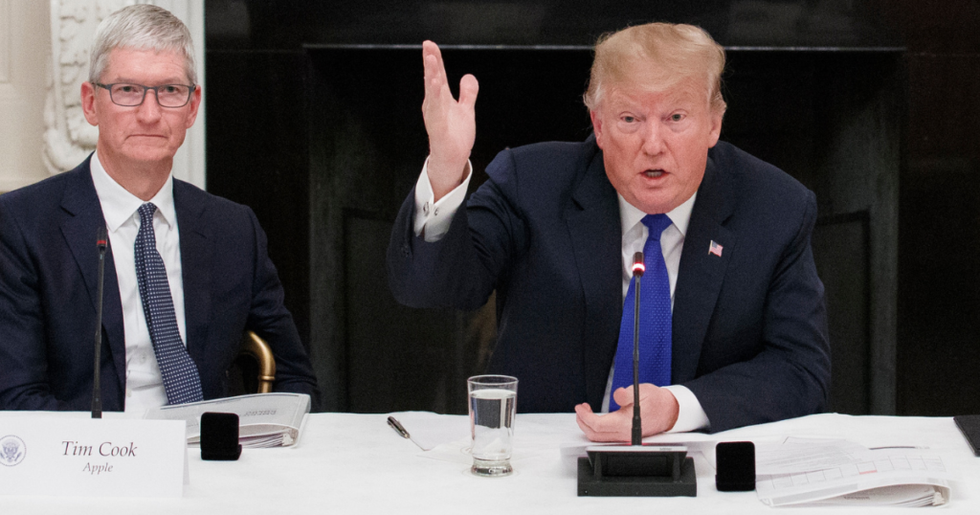 WASHINGTON, DC - MARCH 06: U.S. President Donald Trump delivers remarks as Apple CEO Tim Cook and Ivanka Trump look on during a meeting with the American Workforce Policy Advisory Board inside the State Dining Room on March 6, 2019 in Washington, DC. The board, co-chaired by Ivanka and Commerce Secretary Wilbur Ross, is tasked with developing a strategy to revamp the U.S. workforce for well-paid, in-demand jobs and with promoting private-sector investments in workers. (Photo by Tom Brenner/Getty Images)
During a roundtable with business leaders last week, President Donald Trump called Apple CEO Tim Cook, "Tim Apple." He refuses to live it down.
On Friday night, Trump told GOP donors at Mar-a-Lago that he did say Tim Cook, but that "Cook" was spoken too quickly for anyone to hear. Trump's guests were reportedly confused about why he would even bring it up because the whole thing was recorded on video.
Even Trump's own donors were flabbergasted. "I just thought, why would you lie about that," one of the donors told Jonathan Swan of Axios. "It doesn't even matter!"
Evidently, it matters greatly to Trump.
The 71-year-old - completely unprovoked - lashed out Monday morning against the "fake news" for making a big deal about his slip up, even though it is the president who keeps reviving his own flub. In the tweet, he claimed he only said Tim/Apple as a way to save "time & words," contradicting the story he told donors at Mar-a-Lago.
"At a recent round table meeting of business executives, & long after formally introducing Tim Cook of Apple, I quickly referred to Tim + Apple as Tim/Apple as an easy way to save time & words," Trump tweeted. "The Fake News was disparagingly all over this, & it became yet another bad Trump story!"
Apple has more syllables than Cook but okay. We are under a national emergency, after all.
FFS, there are tapes.
The Tim Apple incident was not the first time Trump has mangled the names of a CEO and their company.
Last year, the president referred to Maryllin Hewson, the CEO of Lockheed Martin, as "Maryllin Lockheed."
Trump has some new nicknames.
This timeline is strange and terrifying.
Remember, however, that Trump disputing something so obvious is by no means a new occurrence. Trump said at a rally last June: "What you're seeing, what you're reading, isn't what's happening." Looks like he really believes it, but we know better.
Keep reading...Show less