Today Google honors hole punch history and the 131st anniversary of the hole puncher. The hole puncher can be traced to German Friedrich Soennecken, an entrepreneur and inventor, who filed for a patent for his Papierlocher für Sammelmappen on November 14, 1886. Papierlocher für Sammelmappen translates to "paper punch for binders."
Soennecken is also the namesake of the international German office products manufacturing company.
---
Prior to his invention of the hole puncher, Soennecken had risen to fame because of his invention of "round writing" with a special kind of pen nib, the part of the pen that comes into contact with the writing surface in order to deposit ink. He advanced round writing and the purchase of his pen nibs in books that became popular with such literary luminaries as Friedrich Nietzsche, according to Friedrich Nietzsche: A Philosophical Biography.
Soennecken would also come to invent many more office supplies that we consider common today. Learn about hole punch history and more below:
1. There May Have Been a Prior Inventor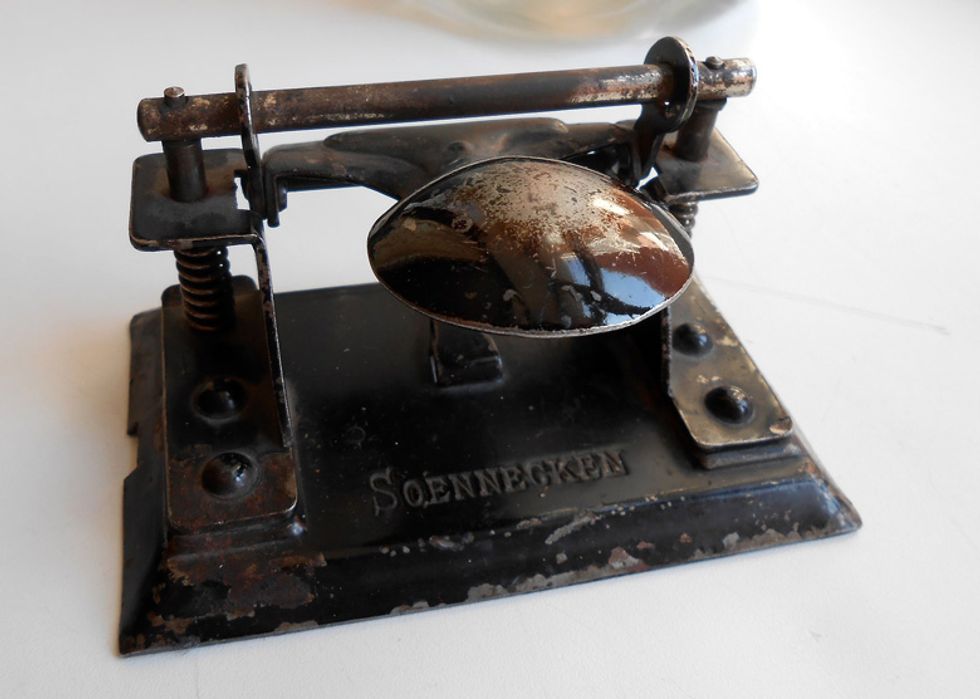 An original hole punch. (Wikimedia)
Soennecken filed the patent for the modern hole punch, but fellow German Matthias Theel filed two separate patents for a device designed to "punch holes in paper" earlier than Soennecken. However, Soennecken is who is remembered.
Soennecken was born in Iserlohn-Droochede, Sauerland, south of Munster, in 1848. He was the son of a blacksmith, but at age 27, Soennecken founded his own commercial enterprise in nearby Remscheid, Westphalia. It was in Remscheid that Soennecken developed his round writing style and pen nib that would help catapult him to international recognition. His Methodical Text Book Of Round Writing is still available today on Amazon, and was most recently republished this year in August.
Soennecken would also go on to invent and patent a lot more office supplies that we consider now common, including an early type of binders and the ring binder, sometimes called the "three-ring binder."
2. He Started the Soennecken Company

Soennecken (Wikimedia)
Soennecken was the namesake and founder of Soennecken, which is still a German office products manufacturer. Its products are available across the world in countries like the United States, Canada, Australia, and India. Soennecken founded the company 1875 and trademarked its name in 1905.
The company still exists, but not in its original form. The company went bankrupt in 1973. It was acquired by BRANION EG in 1983, which produces products under the original Soennecken name.
Soennecken died in 1919 at the age of 71.
3. It's Unclear Why Google Is Celebrating This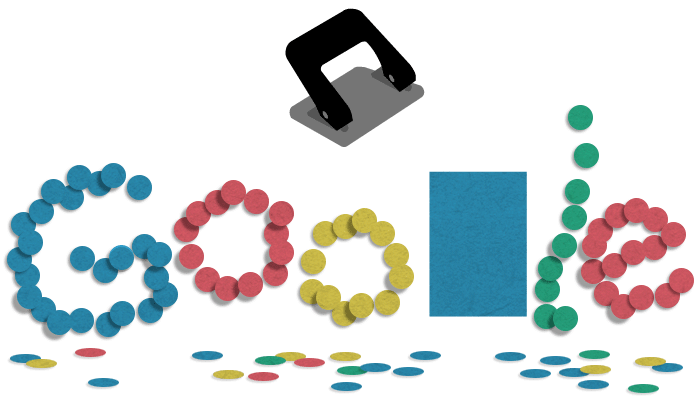 (Google)
It is unclear what urged Google to honor the hole puncher on its 131st anniversary. Google writes about its Doodle today:
It's a familiar scene with a familiar tool: the gentle rat-tat-tat on the table as you square up a dangerously thick stack of papers, still warm from the printer. The quiet anticipation and heady uncertainty as you ask yourself the ultimate question: can it cut through all this? The satisfying, dull "click!" of the blade as it punches through the sheets. The series of crisp, identical holes it produces, creating a calming sense of unity among an otherwise unbound pile of loose leaf. And finally, the delightful surprise of the colorful confetti byproduct – an accidental collection of colorful, circular leftovers.

Today we celebrate 131 years of the hole puncher, an understated – but essential – artifact of German engineering. As modern workplaces trek further into the digital frontier, this centuries-old tool remains largely, wonderfully, the same.
Earlier this month, Google also celebrated Pad Thai, a stir-fried rice noodle dish that is often sold as a street food and at casual restaurants in Thailand and now, with immigration, the United States.