Governors and mayors across the United States are on the front lines of the pandemic sweeping throughout the nation, issuing orders to discourage public gatherings in an effort to curb the growing public health crisis.
Nevertheless, thousands of citizens have ignored these orders, choosing instead to gather on the beach or even at church services despite the highly contagious virus that's thrust the world into a global pandemic.
---
As a result, some local leaders are growing more and more frustrated.
One of those leaders is Walton, Kentucky Mayor Gabe Brown, who didn't mince words in reiterating warnings to Kentuckians to take the virus seriously.
Brown said in a Facebook post to the Boone County Neighborhood Group:

"Listen up dips**ts and sensible people. I might not have the best bedside manor [sic]. I might not put you at ease like the Governor does, but I don't care. You need to realize that this is a serious ordeal. In fact, it's a big f**cking deal. Stay at home."
You can read the full post below.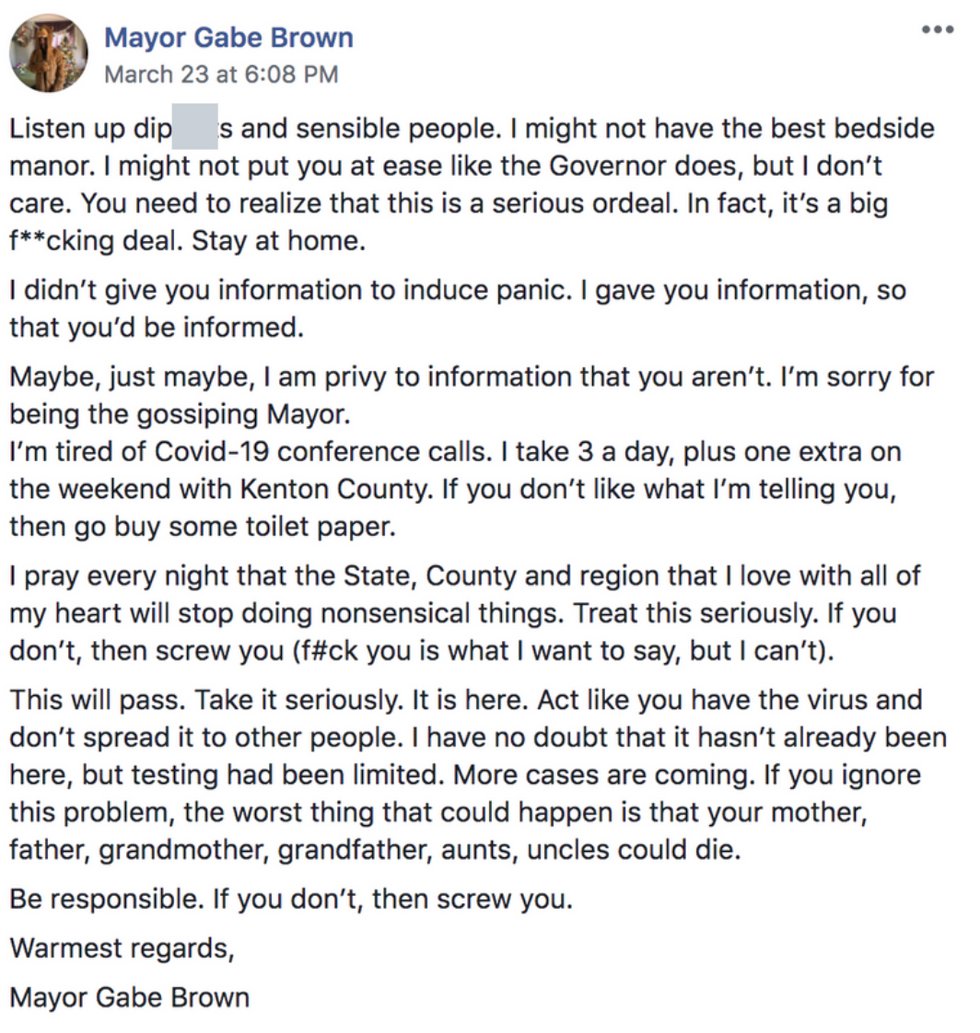 Mayor Gabe Brown/Facebook
Brown went on to warn that, despite accusations from President Donald Trump and his allies, he wasn't sensationalizing the threat posed by the virus.
"I didn't give you information to induce panic," Brown wrote. "I gave you information, so that you would be informed."
He implored his constituents to take the pandemic seriously before continuing:
"I have no doubt that [the virus] hasn't already been here, but testing had been limited. More cases are coming. If you ignore this problem, the worst thing that could happen is that your mother, father, grandmother, grandfather, aunts, uncles could die."
He concluded with the perfect sign-off:
"Be responsible. If you don't, then screw you."
The post was flooded with Facebook users who appreciated Brown's bluntness.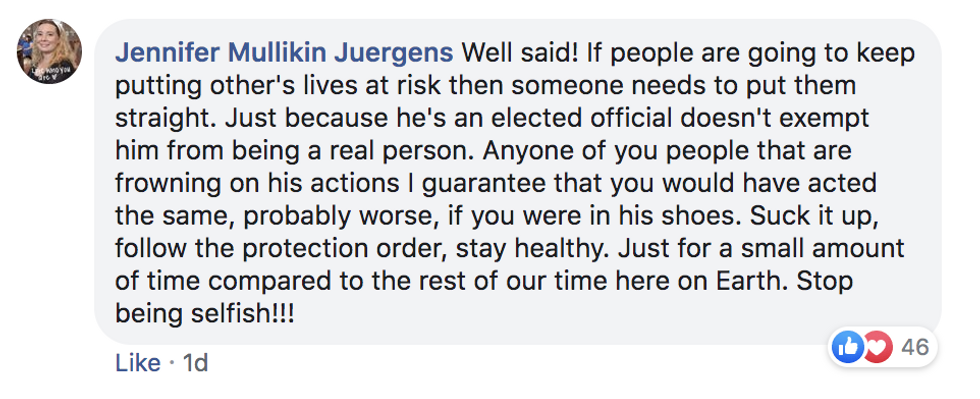 The commendations spilled over to Twitter as well.

Brown is one of many who's been urging people to take the virus seriously.
We would all be wise to listen to Mayor Brown.
Particularly the White House.