Male students at an Alberta high school posted a sign complaining about female students who wear "distracting clothing"—and used a slur to describe them—in what many would call a "body shaming" dress code. The school continued to enforce the policy, complaining only about the slur in the boys' sign.
Sign After Sign in the High School
---
As temperatures in Alberta rose this spring, a group of female students protested the dress code by posting this sign in the Breton High School bathroom:
When you interrupt a girl's school day to force her to change clothes, or send her home because her shorts are too short or her bra straps are visible, you are telling her that making sure boys have a 'distraction free' learning environment is more important than her education. Instead of shaming girls for their bodies teach boys that girls are not sexual objects!!!
Superintendent Brad Volkman said the sign was removed within a half hour by staff––but not before students shared it on social media.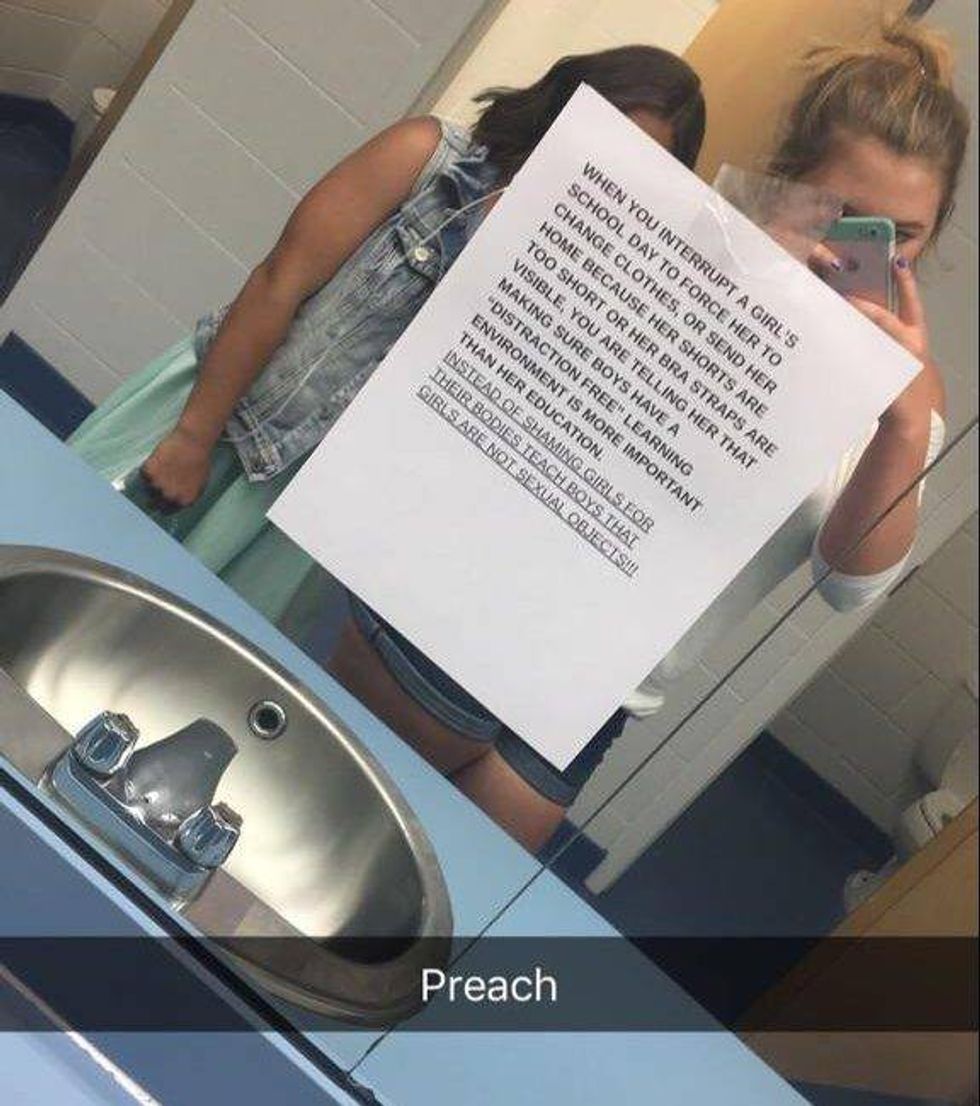 Credit: Source.
In response, boys posted their own signs in the hallway later the same day:
When you wear little to no clothing and dress provocatively because it's 'too hot out' or because you think it's 'attractive,' you are putting boys at risk of having a distracting working environment and saying 'Your clothing is more important than their education. Instead of dressing like a THOT, value the male education and dress conservatively.
Girls from Breton, a town of just 600 people, were shocked at the boys' sign.
Julie Steeves, a 9th-grade student said, "I just couldn't believe it." She added, "Lots of girls were really disgusted, sad and mad about this."
That sign, too, was removed by the administration, and principal Lara Jollymore also sent an email to parents of all 125 students at the school about the issue.
In response to the signs' content, Volkman said that using a slur such as THOT, an acronym for "that ho over there," was "clearly out of order" and that Jollymore responded immediately to the issue by taking down the signs. The next day, Jollymore met with all students and called this debate on the dress code appropriate as long as it doesn't include name-calling.
School Minimizes Conflict In Note To Parents
In her note to the parents, Jollymore's word choice tended to minimize the controversy:
There are some female students who have posted their opinions about how they feel that they should be able to wear whatever clothes they wish at school, because they have the right to, and that ladies should not be objectified by gentlemen because it is wrong. The gentlemen have responded by posting their opinions about how the school is a professional learning environment, and that ladies should respect that by wearing clothes that meet the dress code, and do not distract them, because even though it is not appropriate for gentlemen to objectify ladies, when ladies wear extremely provocative clothing, they can be distracted.
Moreover, Jollymore seems to have misrepresented the boys' note in her paraphrasing. Nowhere in the boys' note was there anything remarking about how "it is not appropriate for gentlemen to objectify ladies."
Toward the conclusion, Jollymore wrote, "The school is a safe environment for students to voice their opinions, experience debate and to deal with controversial issues." She added, "The school is a proper environment for students to speak freely, in a respectful manner." She also stated that the school would continue enforcing the dress code.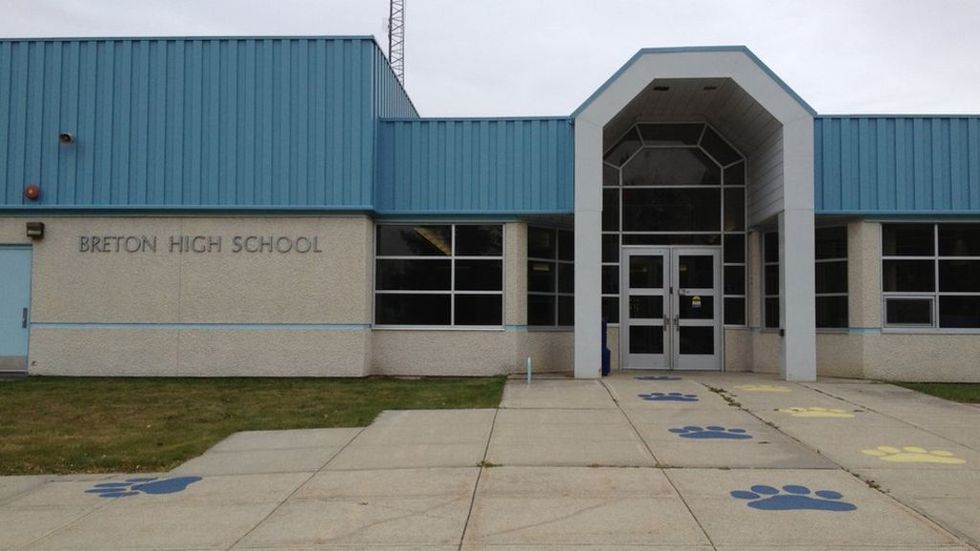 Credit: Source.
Local Parents React to the Controversy
Parents told Global News they have no concerns with the dress code itself. In fact, parent Sheila Thebeau, the mother of a son and a daughter at Breton High School, said she wishes students would just comply with the dress code. She doesn't believe students should be allowed to wear whatever they want.
"That's not fair, because boys' hormones are flaring up. It's hard enough for them to behave themselves," Thebeau said.
Another parent of a female Breton High student, Jennifer Shave, said, "I wish the dress code issue was just a dress code issue." Shave added, "It's a simple thing. We need to remove the emotion from it."
Shave said she'd told her daughter to contact the school's office with future concerns she has about the language other students may use; Shave hopes others will follow her lead.
School Says Issue Will Cool With the Weather
Volkman said there was no precipitating event for the notes, but that this matter arises every spring because the classrooms don't have air conditioning.
"When we come to May or June, temperatures start to warm up and students challenge those rules a bit. There was not even a specific incident that started this—the girls are just getting frustrated and disagree with the dress code and wrote about it," he said.
The dress code requires skirts and shorts to be longer than arm's length, with the shorts' inseam at least a hand-length long. Shoulder straps must be three fingers wide. No bra straps, navels, or cleavage may be exposed, and pants must be pulled up to cover underwear. According to the policy, any student who violates the dress code must change their clothes or be sent home.
Volkman said the dress code was written many years ago in conjunction with the student council; he couldn't say exactly when. He indicated the present student council and parent advisory council will likely revisit the dress code.
"Our school district says you do need to dress in a respectful way, but it can vary from school to school," Volkman said.
However, he added, "Many students will find there is a dress code where they work, depending on the kind of work they go into. So in some respects the school is kind of a preparation ground for the world of work."
Are Schools Body Shaming Girls with Dress Codes?
But Volkman may not be doing female students the favor he thinks. Some of the specific dress code requirements uniquely affects girls, even though the rules are purportedly gender-neutral. Retailers also sell spring and summer weather clothing for girls that does not meet the dress code requirements. For example, boys' shorts are typically sold with a much longer inseam. In fact, some companies are even beginning to offer exclusive clothing lines to empower girls—with more coverage and positive messaging. Other brands have started offering gender-neutral clothing to give both girls and boys more choices.
In California, Catherine Pearlman's daughter—a five foot, seven inch tall middle schooler—was sent to the principal's office and required to put on boys' gym shorts before she could return to class because her shorts failed to reach past her fingertips. Earlier that same fall, a teacher had told her not to wear yoga pants because boys would get turned on and be embarrassed. Perlman, a licensed clinical social worker, turned her frustration into a blog post for Today.com which promptly went viral.
Perlman wrote, "To reward you for treating my daughter with such concern, I am cordially inviting you to take my daughter shopping." She added, "Now, don't forget that you will have to find something in the stores that also meets with your dress code requirements.
"She has very long fingers which seems to make finding shorts that won't get her sent to the principal's office impossible. ... I can tell you from experience that just heading to the mall, Target and the outlets won't cut it. Not much for her there. I've already checked."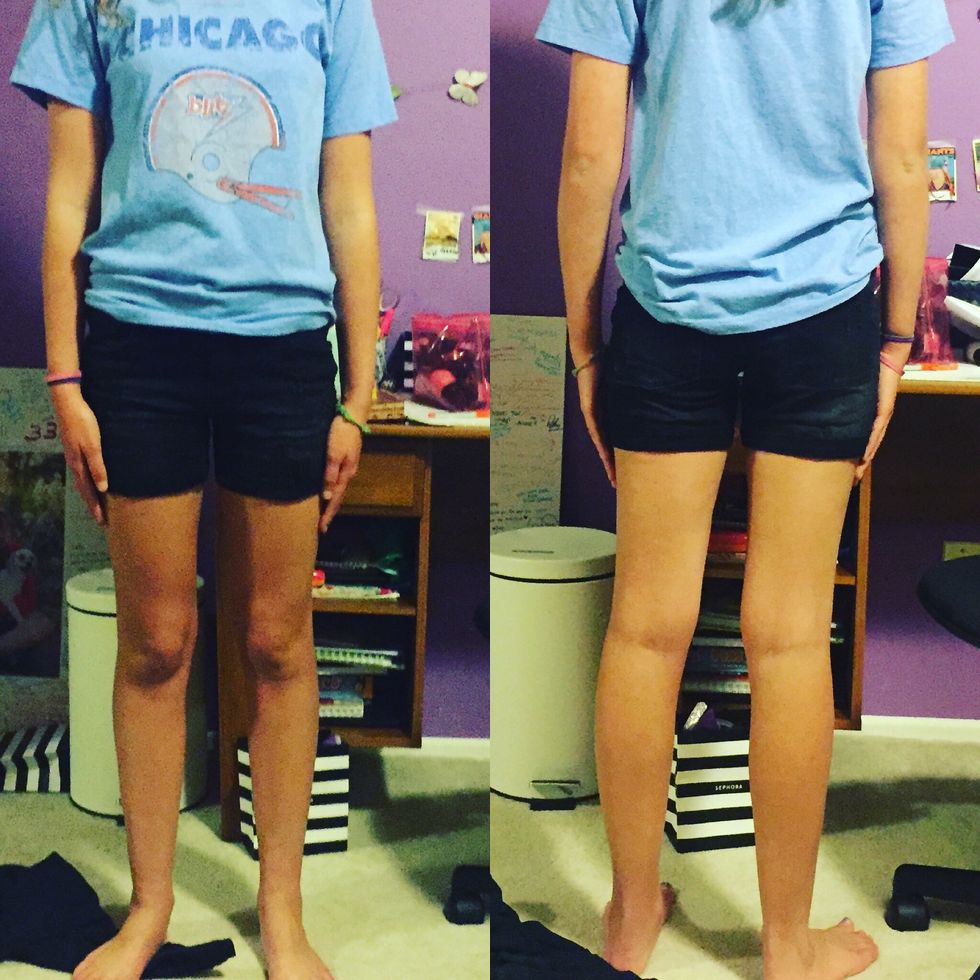 The pair of shorts Catherine Pearlman's daughter wore that got her sent home. (Credit: Source.)
Perlman published the blog because while she doesn't think schools are intentionally body-shaming girls, she believes that by enforcing what she considers an outdated dress code, they're inadvertently doing just that.
"As a woman, I know almost no women who like their body, who feel good about their body, almost none, but you don't know how you got there," Pearlman told CNN. "But when you have a daughter, you see, I can literally see it happening, and it's so subtle, but it's all of these things. It's the yoga pants. It's the short shorts."
Kentucky high school student Maggie Sunseri made it her mission to combat her school's discriminatory dress code, even producing her own documentary on the subject.
"It's not really the formal dress code by itself that is so discriminatory, it's the message behind the dress code," Sunseri said, "My principal constantly says that the main reason for [it] is to create a 'distraction-free learning zone' for our male counterparts."
Across the United States and Canada, schools use this type of reasoning to justify their dress codes, effectively placing the burden on girls to cover themselves up to stop boys from reacting toward them with inappropriate behavior.