Senate Democrats decided that Betsy DeVos's nomination to become Secretary of Education is where they draw the line on President Trump's nominees. Yesterday, Republicans scheduled a vote on the floor of the Senate, but it has been postponed by the Democratic senators' continued testimony, as
they promised to continue
to hold up the vote for 24 hours.
Democrats spent the first of what may be several sleepless nights testifying against DeVos. Republican senate leadership responded to the Democrats' action by committing to continuing the senate session until DeVos, Senator Jeff Sessions, Representative Tom Price, and Steven Mnuchin are confirmed.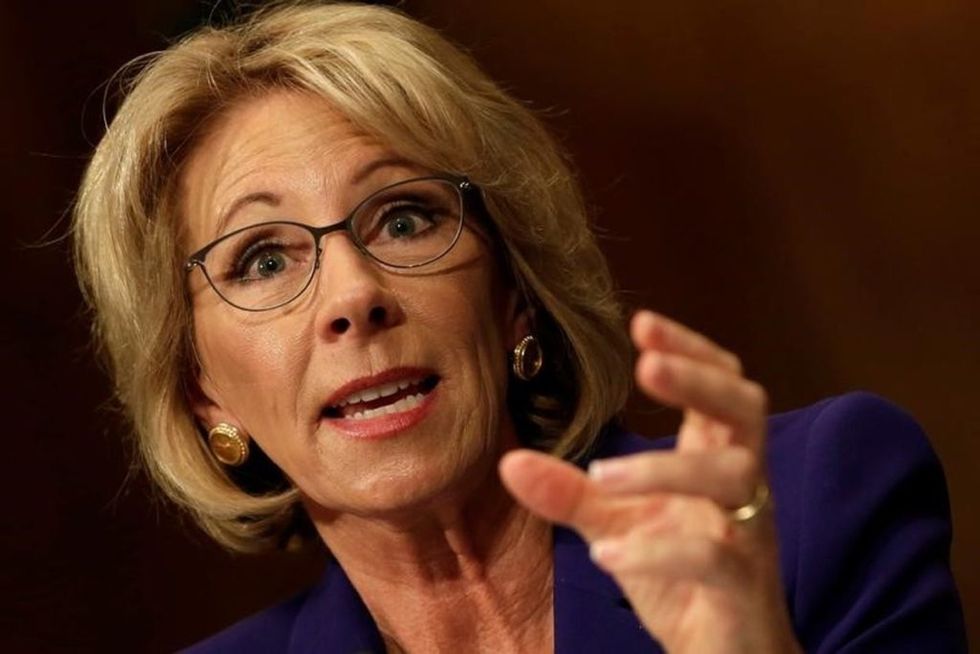 The senators are just one vote short of defeating DeVos, thanks to senators Susan Collins of Maine and Lisa Murkowski of Alaska, who announced that they did not support her nomination last week. This would leave the tie-breaking vote in the hands of Vice President Mike Pence. Democrats hope that the additional time will give voters the time to pressure another Republican into breaking ranks. One more vote would end by defeating DeVos by a 51-49 vote.
 Senator Chuck Schumer of New York
opened the debate
with his argument for just that, saying "The American people are speaking in one loud voice against this nominee. I've had people come up to me in New York and say 'I voted for Donald Trump, but I'm making calls about this nominee...' We need just one more vote and we can get a lot better Secretary of Education than the one that was nominated."
People on both sides of the debate over Cabinet nominees have been calling their senators, tying up phones at senators' local and D.C. offices.
Some reports
state that most of those calls are related to DeVos.
Protesters who object to DeVos's nomination object to her lack of experience and her weak testimony during
committee hearings
. She suggested that the federal government should leave the enforcement of the federal law IDEA, the Individuals with Disabilities Education Act, to states and localities, who have not always accommodated the needs of students with disabilities.
DeVos also said that schools in Montana may need to have guns in the case of grizzly attacks. Senator Chris Murphy of Connecticut referenced this remark when committing to his floor time last night.
DeVos is a billionaire who has donated millions to Republican candidates and holds a host of investments, including in companies that influence federal education policy. She has no experience in the education sector, and has never attended a public school or sent her children to public schools.
---
The DeVos vote is expected to happen around noon.