Trump announced at 8 p.m. this evening that he is nominating Neil Gorsuch for the Supreme Court seat left empty by Antonin Scalia's death last year.
THE NOMINEE
Neil Gorsuch, 49, is a federal judge based in the Tenth Circuit Court of Appeals in Denver, Colorado. Gorsuch attended Columbia University and Harvard Law School. Gorsuch also won a Marshall scholarship to Oxford, where he received his Ph.D in legal philosophy. He is a former Supreme Court clerk to Justices Anthony Kennedy and Byron White.
---
Although Gorsuch stated that his "personal views . . . have nothing to do with the case before me in any case" during the 2006 confirmation hearings for his current seat, he is reliably conservative. He is a proponent of the legal theory of construction known as originalism, which Justice Scalia also espoused. Under this doctrine, judges should strive to interpret the Constitution as it was understood at the time of its drafting. An originalist examines a matter as Thomas Jefferson would – not as one would after the evolution of laws over the past 250 years.
---
He is also a textualist—meaning, he considers only the words of a law being reviewed, he does not look to legislators' intent in drafting it or the consequences of the decision. He has said that judges should use "text, structure and history" to understand what the law is, "not to decide cases based on their own moral convictions or the policy consequences they believe might serve society best."
Proponents of originalism tend to be against abortion because the Constitution does not contain an explicit right to privacy. The decision Roe v. Wade, which found abortions to be legal nationwide, rests instead on a right to privacy that falls within the "penumbra" of implied rights found in the Bill of Rights and in centuries of precedent. Gorsuch has not ruled on the topic of abortion; however, he has authored a book in which he wrote that "all human beings are intrinsically valuable and the intentional taking of human life by private persons is always wrong."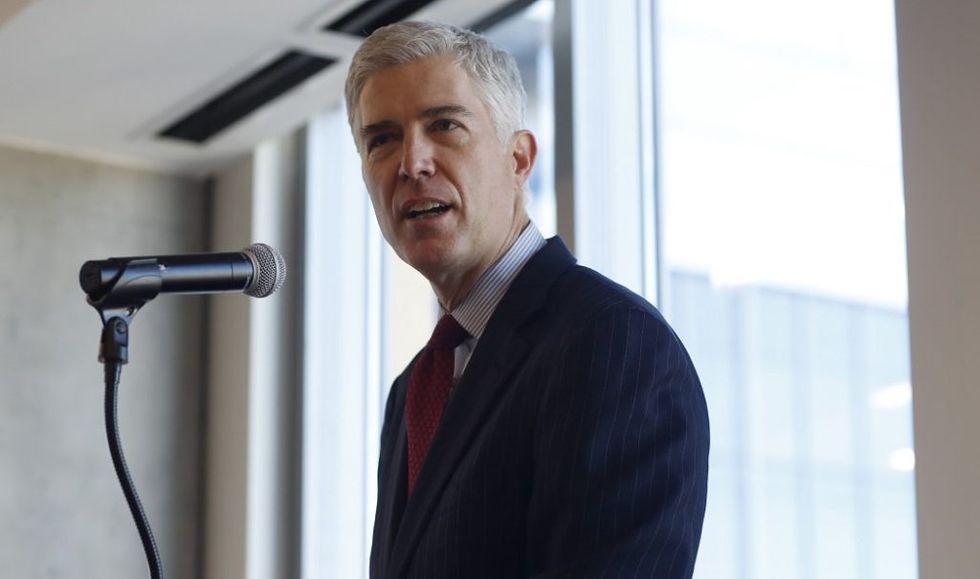 Credit: Source.
Gorsuch is a strong proponent of religious exemptions. He wrote a concurring opinion in the 10th Circuit, in what would become the Hobby Lobby case in the Supreme Court. That case concerned whether a business owner could, on freedom of religion grounds, refuse to provide female employees with no-cost access to contraception. (The Supreme Court found requiring an employer to do so violates the Religion Freedom Restoration Act.) In his opinion, Gorsuch, citing Supreme Court precedent, stated that it "was not, is not, the place of courts of law to question the correctness or the consistency of tenets of religious faith, only to protect the exercise of faith."
Should Congress's proposed First Amendment Defense Act, which would permit discrimination against LGBTQ community members if predicated on the basis of religion, become law and be challenged before the Supreme Court, Hobby Lobby likely is a good prediction of how Gorsuch would rule.
If confirmed, expect Gorsuch to be a predictable conservative in the mold of Scalia. As Gorsuch said in a speech before Case Western Reserve University Law School, "The great project of Justice Scalia's career was to remind us of the differences between judges and legislators." He continued that legislators "may appeal to their own moral convictions and to claims about social utility to reshape the law as they think it should be in the future, but judges should do none of these things in a democratic society."
WHAT HAPPENS NEXT
With Trump's nominee named, the Senate Judiciary Committee will now vet the candidate by looking at his credentials and background. The Committee is chaired by Republican Chuck Grassley of Iowa. (The ranking Democrat is Patrick Leahy of Vermont.) Other Republican members of the committee are Senators Lindsey Graham, John Cornyn, Michael Lee, Ted Cruz, Ben Sasse, Jeff Flake, Mike Crapo, Thom Tillis, and John Kennedy. Democratic members are Dianne Feinstein, Dick Durbin, Sheldon Whitehouse, Amy Klobuchar, Al Franken, Christopher Coons, Richard Blumenthal and Mazie Hirono.
After the candidate is vetted, the Committee will hold confirmation hearings. (In theory, at least; this is where Judge Merrick Garland's nomination process stalled. Given Republican control, it is likely that confirmation hearings will go forward.) After the hearings, the committee decides whether the full senate will vote on the nominee.
---
Once before the Senate, a simple majority vote is required. There are currently 52 Republican senators and 2 Independents, so a straight vote along party lines would
affirm the nomination.However, Democrats may choose to filibuster the nomination. If the filibuster is successful, a supermajority of 60 votes would be needed for approval.
WILL THERE BE A FILIBUSTER?
Senate Minority Leader Chuck Schumer of New York has stated that Democrats will oppose any nominee outside the mainstream. Other Senators, like Senator Jeff Merkley of Oregon, have taken stronger stances, saying that any pick will be filibustered. "This is a stolen seat. This is the first time a Senate majority has stolen a seat," said Merkley. He continued, "We will use every lever in our power to stop this."
---
Yet Democrats face a conundrum in deciding whether to filibuster. On the one hand, a filibuster would require the Republicans to work to find the votes needed for approval, and would also delay or potentially block the nomination. On the other hand, Democrats in red states could face political consequences for the party's move, and it could cause Republicans to eliminate the filibuster altogether.
Republicans did not block the nominations of President Obama's Supreme Court nominees, Justices Elena Kagan and Sonia Sotomayor. Democrats did attempt to block the nomination of Justice Samuel Alito, but that effort failed.
WHAT IF THERE IS A FILIBUSTER?
Conservative groups are ready to funnel money to ensure Trump's Supreme Court pick is confirmed. The Judicial Crisis Network said it would spend $10 million in the effort.
"We will force vulnerable senators up for re-election in 2018 like Joe Donnelly and Claire McCaskill to decide between keeping their Senate seats or following Chuck Schumer's liberal, obstructionist agenda," said Carrie Severino, chief counsel and policy director of the group.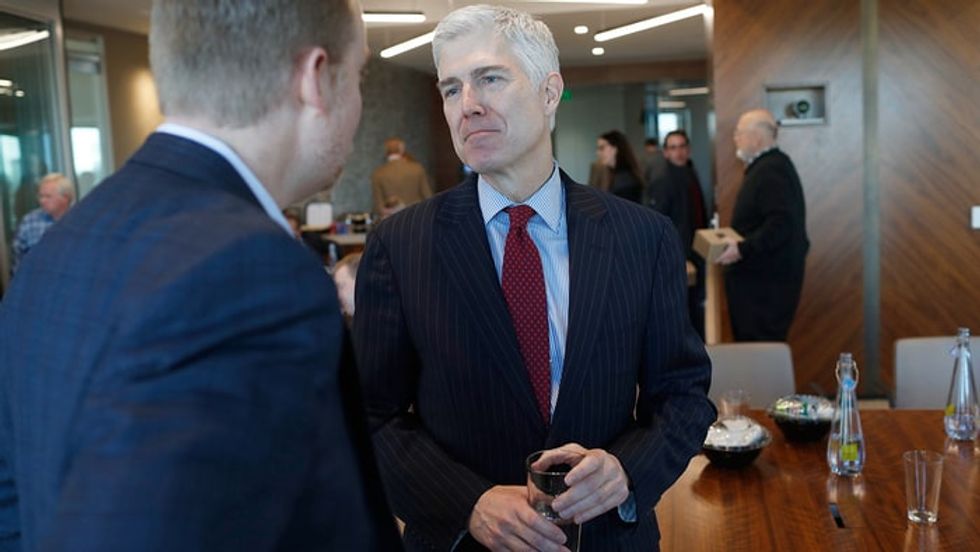 Credit: Source.
If that effort fails, Senate Majority Leader Mitch McConnell could choose to employ the "nuclear option," which would get rid of the filibuster option. This option was used by then-Senate Majority Leader Harry Reid with lower-court judges, after Republicans had blocked many of President Obama's nominees.
Trump told Fox News that he would encourage Senator McConnell to employ the option if need be. However, conservative groups, like The Heritage Foundation, have warned against it.
"We're going to get this nominee confirmed. I hope he or she will be confirmed based upon the completely outstanding credentials that we're going to see," said McConnell.
WHAT DOES THIS MEAN FOR THE COURT?
The Supreme Court has been stuck at eight justices since Justice Scalia died in February 2016. His empty seat has left three reliably conservative justices (Chief Justice John Roberts, and Justices Clarence Thomas and Samuel Alito) along with four reliably liberal justice (Justices Ruth Bader-Ginsburg, Elena Kagan, Steven Breyer and Sonya Sotomayor). Justice Anthony Kennedy tends toward the conservative, but also often casts the decisive swing vote toward more liberal opinions.
This particular nominee will take Scalia's place, returning the conservative bloc that was left empty upon Scalia's death. This will make Justice Kennedy's vote all the more important.
It also clears the way for a reliably conservative vote if Trump has the opportunity to fill additional vacancies. The Supreme Court is aging. Justice Ginsburg is 83. Justice Breyer is 78. And Justice Kennedy is 80. Replacing any of these justices with a staunch conservative would shift the balance of power to a firm 5-4 vote.
"That means that conservative legal activists will once again be able to attempt aggressive changes that push the law even further right," said Elizabeth Wydra of the Constitutional Accountability Center. But for the time being with Justice Kennedy on the bench, even if Trump's first nominee is affirmed, "there will still be the potential for more progressive rulings like the marriage equality and abortion rulings we saw from the court even with Scalia."
If Trump gets a shot at a second nominee, however, that is likely to change.
---