When Donald Trump announced his candidacy back in June, he entered an already crowded field. The idea that the hotel mogul might go on to win the Republican nomination was laughable. Here was a political novice with a blowhard reputation; his public persona was an angry caricature--more like a spokesperson for his brand than a real-life person.  
But as the primaries draw closer, it's looking more and more like Donald Trump will be the Republican nominee.
---
Closing in on the primaries
Donald Trump has maintained a steady lead in the polls throughout his campaign. Much to the chagrin of the GOP establishment, there seems to be no stopping him. His most formidable challenger, Senator Ted Cruz, had been gaining momentum—recent polls showed that he and Trump were neck and neck in Iowa and California. Questions about Cruz's eligibility for the Presidency, however, are looming large as the primaries approach.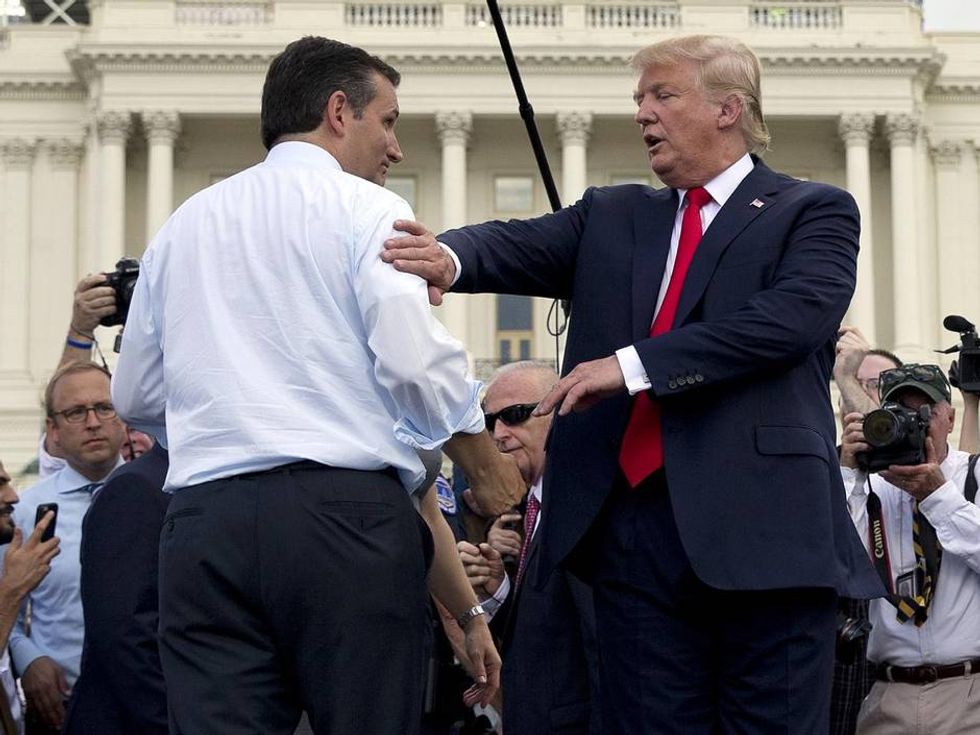 Credit: Source.
Cruz is an American citizen, but he was born in Canada, and it remains unclear whether that disqualifies him as a candidate. Article II, Section I of the United States Constitution, which lays out eligibility standards for the Presidency, dictates that only a "natural born citizen" of the U.S. can hold the Office of the President. The term "natural born citizen," however, has never been defined.
A former Constitutional lawyer, Cruz argues that despite having been born in Canada, he is eligible to run for President. Indicators suggest, however, that Cruz might face an uphill battle in the court of public opinion; a recent Reuters/Ipsos poll revealed that a quarter of
Republican voters believe that Cruz is ineligible to run for President because he was born outside the U.S.
When it seemed that similar issues would befall Senator John McCain during his 2008 Presidential bid, the Senate passed a resolution affirming that McCain qualified as a "natural born citizen" despite having been born on a military base in the Panama Canal Zone. A similar show of support for Cruz seems unlikely. Senator Mitch McConnell told ABC's This Week that he didn't think the Senate should get involved. "I just don't think the Senate ought to get into the middle of this. These guys will all slug it out in Iowa and New Hampshire. We'll have a nominee hopefully by sometime in the spring." If eligibility issues prove insurmountable for Cruz's campaign, Trump's path to the nomination would be virtually unencumbered.
Establishment favorite Jeb Bush has largely failed to inspire the masses. He only recently pulled ahead of Senator Marco Rubio and Governor Chris Christie to take third place, and though he's tripled his support since mid-December, he's still polling at just 13%. If Bush can maintain this momentum, he could certainly be a threat to Trump. But Jeb will have to garner a lot more enthusiasm in the coming weeks to unseat Trump as his party's presumptive nominee.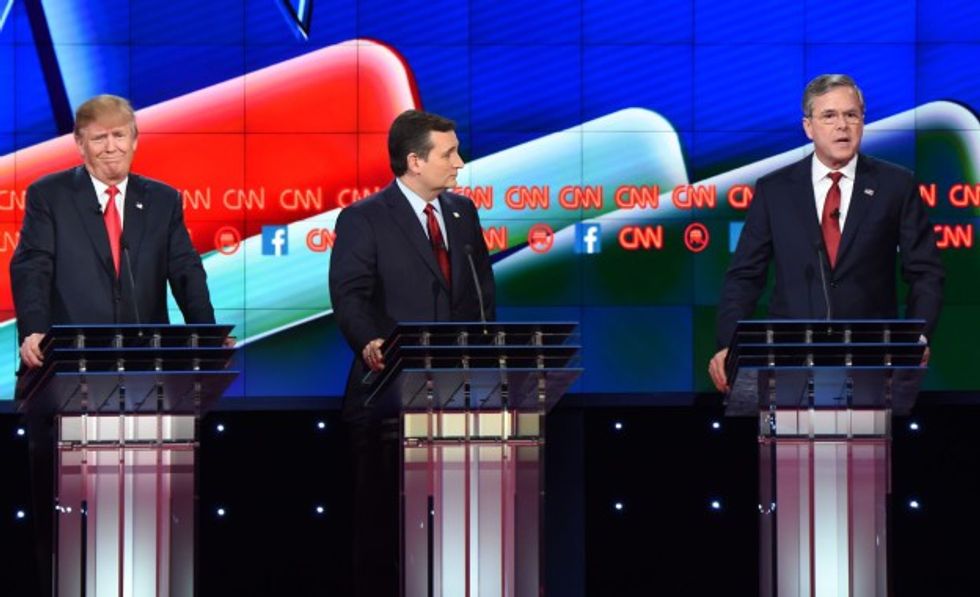 Republican presidential candidate former Florida Gov. Jeb Bush (R) speaks as businessman Donald Trump (L) gestures and Texas Sen. Ted Cruz (C) looks on during the Republican Presidential Debate, hosted by CNN, at The Venetian Las Vegas on December 15, 2015 in Las Vegas, Nevada. Credit: Source.
How Trump became a serious contender
In the beginning, Trump's campaign felt more like a comedy sketch than a serious bid for the Presidency. Even his announcement speech seemed disastrous. Railing against our neighbors to the South, Trump famously quipped "When Mexico sends its people, they're not sending their best. They're not sending you. They're not sending you. They're sending people that have lots of problems and they're bringing those problems with us. They're bringing drugs, they're bringing crime, they're rapists, and some, I assume, are good people."
His comments shocked the world, and many believed the speech would extinguish Trump's Presidential dream. But that's not what happened. The master divider's caustic remarks sparked a dialogue that swept the nation. With a few sentences, Trump bifurcated the country and elevated his base by legitimizing their fears about immigration.
From that point on, Trump's campaign enjoyed unprecedented media coverage. While many condemned Trump's comments as racist, they had to say his name on air over and over in
order to do so. Whether by happenstance or calculation, the succession of increasingly offensive Trumpisms that followed kept the national spotlight fixed on him.
Each brazen new gaffe stupefied moderates and galvanized his supporters. To the networks, Trump meant ratings. Though some refused to take part in Trump's national conversation (Last Week Tonight host John Oliver told Late Show host Stephen Colbert that he wouldn't talk about Trump on his show), Trump has been "the get," appearing everywhere from The Tonight Show to Meet the Press. Even as NBC rescinded a long-standing contract with the candidate for a string of racist remarks, the network turned around and invited him to host Saturday Night Live.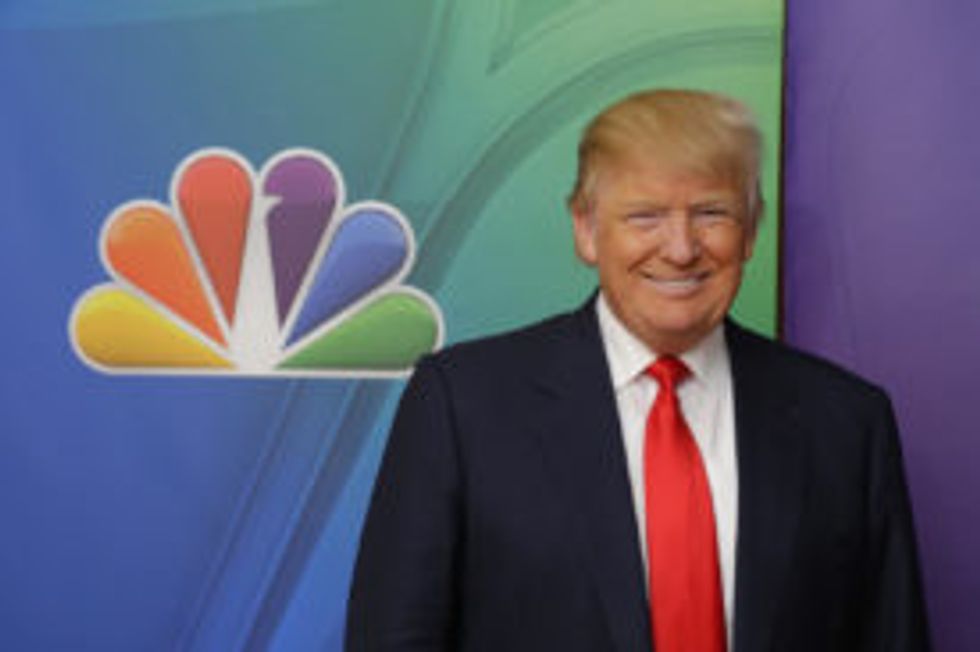 Credit: Source.
Then, in November, Trump upped the ante. While discussing the Syrian refugee crisis and the Paris terror attacks in an interview with Yahoo News, Trump vowed to deport any refugees brought here under the Obama administration. He also revealed his general distrust of Muslim-Americans, saying that the government would have to increase its surveillance of the Muslim-American community. Trump argued that in order to keep the American people safe, "we're going to have to do certain things that were frankly unthinkable a year ago." When pressed to explain his surveillance strategy, Trump refused to rule out the possibility of forcing Muslim citizens to wear identification, or register in a national database. Later, the candidate confirmed that as President, he would implement such programs. He also proposed allowing warrantless searches of mosques and, in the wake of another attack, even shutting some down.
More: Would they have to be legally in the database? Trump: "They have to be -- they have to be."

— Vaughn Hillyard (@Vaughn Hillyard) 1447976472.0
Trump to NBC on whether his WH would implement database tracking Muslims: "i would certainly implement that. Absolutely." Video coming...

— Vaughn Hillyard (@Vaughn Hillyard) 1447976277.0
Trump's verbal assault on the Muslim-American community simultaneously energized his base and inspired worldwide outrage. While his supporters praised him, critics compared his proposals to Nazi-era policies.
In the United Kingdom, where "hate speech" is prohibited, petitioners hoping to ban the controversial candidate from the country gathered more than 576,000 signatures. The UK has successfully banned more than 100 people from entering the country since 2010 for hate speech. Still, there was little chance Trump's name would be added to that list; the billionaire has significant business interests in the UK. The controversy culminated in a heated (albeit non-binding) debate in Parliament where Trump was called everything from a "buffoon" to a "wazook."
If there were ever a real question as to whether he realized his hypnotic effect on the masses, it ended during a recent speech in Iowa. Addressing his supporters at a campaign event, Trump boasted, "I could stand in the middle of Fifth Avenue and shoot somebody and
I wouldn't lose any voters." It was as overblown a statement as any he's made, but many felt a sting of truth in it. This raises the question: what exactly would Trump have to do to spurn his base?
Trump's latest stunt—refusing to participate in Fox News' Republican Presidential debate due to his feud with anchor Megyn Kelly—proved to be his most effective yet. Not only did he dominate the news cycle in the days leading up to the debate, but his absence made the event about him in a way it couldn't have been if he'd been there. Trump, the missing elephant, loomed larger than any present member of the herd.
Trump fever could burn the GOP
Sam Wang of the Princeton Election Consortium created a chart showing how previous high-polling Presidential candidates have fared in Iowa and New Hampshire. Interestingly, winning in one or both of the two early states appears to be relatively inconsequential. For instance, both Mike Huckabee and Rick Santorum won Iowa in 2008 and 2012, respectively; neither man went on to win the nomination. Yet candidates who are polling first nationally and come in either first or second in both Iowa and New Hampshire do tend to win their party's nomination. If Wang's argument holds true, Trump is on course to win.
Despite his "huge" national lead, Trump will win the nomination only if his followers come out and vote. Trump's base, primarily less-educated right-leaning whites, tend not to vote in primaries. If they don't show up, it's anyone's game. And in recent weeks, the party establishment has grown bolder in its criticism of Trump. In her response to President Obama's State of the Union Address, for example, South Carolina Governor Nikki Haley warned voters that "it can be tempting to follow the siren call of the angriest voices. We must resist that temptation." The Governor later divulged that she had been referring to Mr. Trump.
Sarah Palin didn't heed Haley's warning. The former Alaskan governor did what she does best, bucking the party establishment to endorse Trump. "He's been going rogue left and right. That's why he's doing so well," Palin told the star struck crowd. "He's been able to tear the veil off this idea of the system." The speech made national headlines for being entirely unintelligible gobbledegook, yet Palin's endorsement was widely expected to bolster
Trump's numbers in Iowa—and it may have worked.  NBC News reports that the once-close race between Trump and Cruz in Iowa isn't likely to be a nail-biter after all. As of Thursday, Trump had a seven point lead.

If Trump does win the nomination, the Republican party will have serious problems. Many voters in the general election are likely to find Trump's politics distasteful. Nate Silver of FiveThirtyEight.com points out that Trump's overall favorability ratings are, and have been, extremely low; in fact, they are the worst of any candidate in the GOP field. Ted Cruz fares far better, but even his favorability ratings among general election voters is in the negative range—not the kind of numbers he would need to win the Presidency.
A December poll may prove even more worrisome for Republicans: it revealed that 58 percent of Americans feel that Donald Trump is hurting the GOP's image. That image isn't likely to get any rosier after Anne Frank's stepsister compared Trump to Hitler, accusing the candidate of inciting racism.
Losing another general election would bruise the GOP, but its image problem could persist well beyond the next election cycle.