New York Republican Representative George Santos was widely criticized aftr he posted a meme of himself in a crown after surviving a House expuslion vote—only to delete it afterward.
Santos managed to retain his position as most Republicans and 31 Democrats chose not to remove him while his criminal trial and a House Ethics Committee investigation proceed.
Efforts to expel Santos from the House were initiated by fellow New York Republicans eager to distance themselves from a colleague accused of fabricating his life story, stealing from donors, lying to Congress, and wrongly receiving unemployment benefits.
However, the resolution to expel him did not receive the necessary two-thirds vote, and it couldn't even garner a simple majority, with 179 votes for expulsion and 213 against.
Santos appeared to mock his detractors with the following message, which included a meme of himself in a crown captioned, "If you come for me, you best not miss":
"Tonight was a victory for due process, not me. This was never about me, and I'll never let it become about me."
"We all have rights under this great Constitutional Republic and I'll fight for my right to uphold them till my last dying breath."
You can see the post below.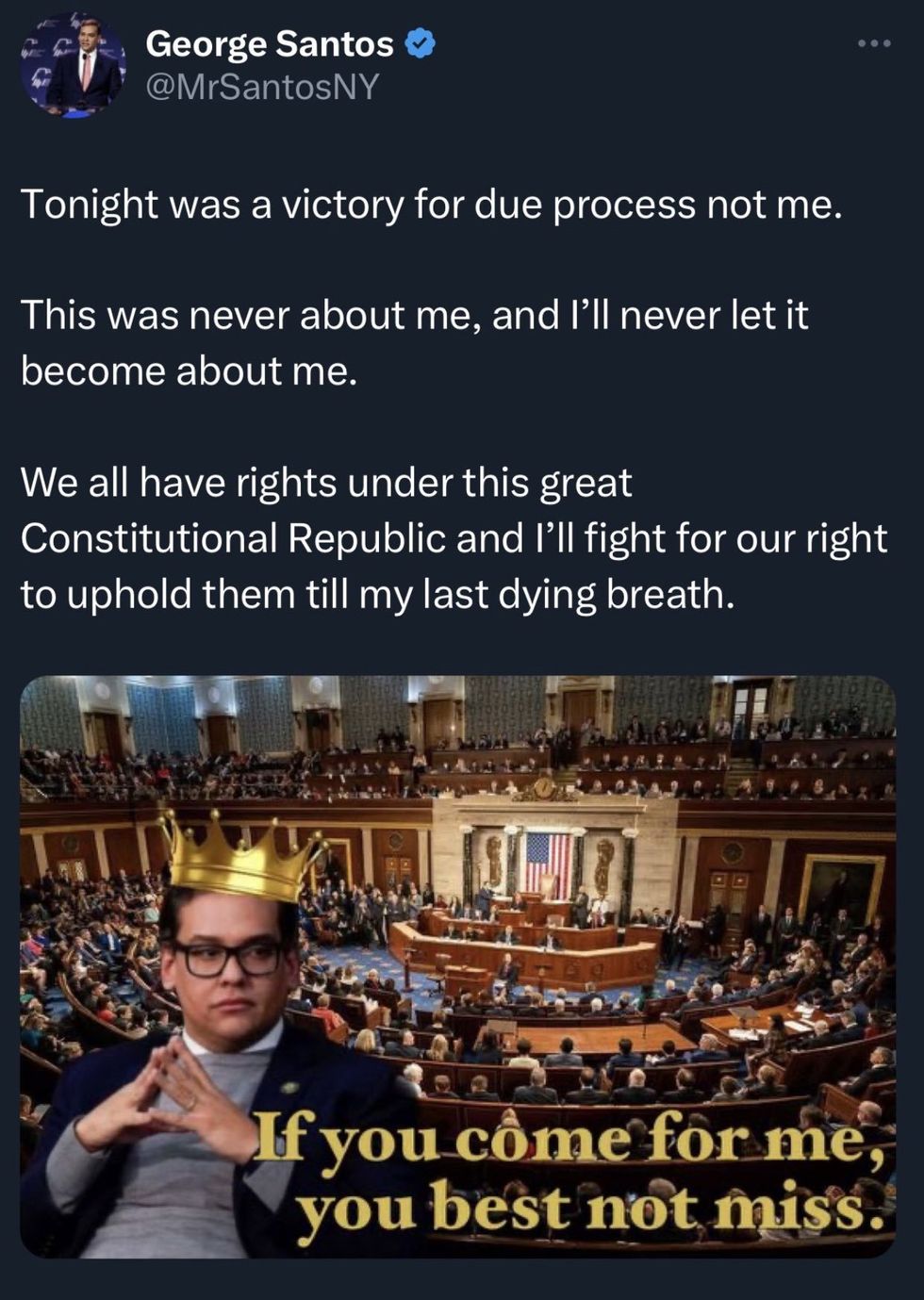 @MrSantosNY/X
He deleted the post later only to repost the same message—but this time without a meme to accompany it.
You can see it below.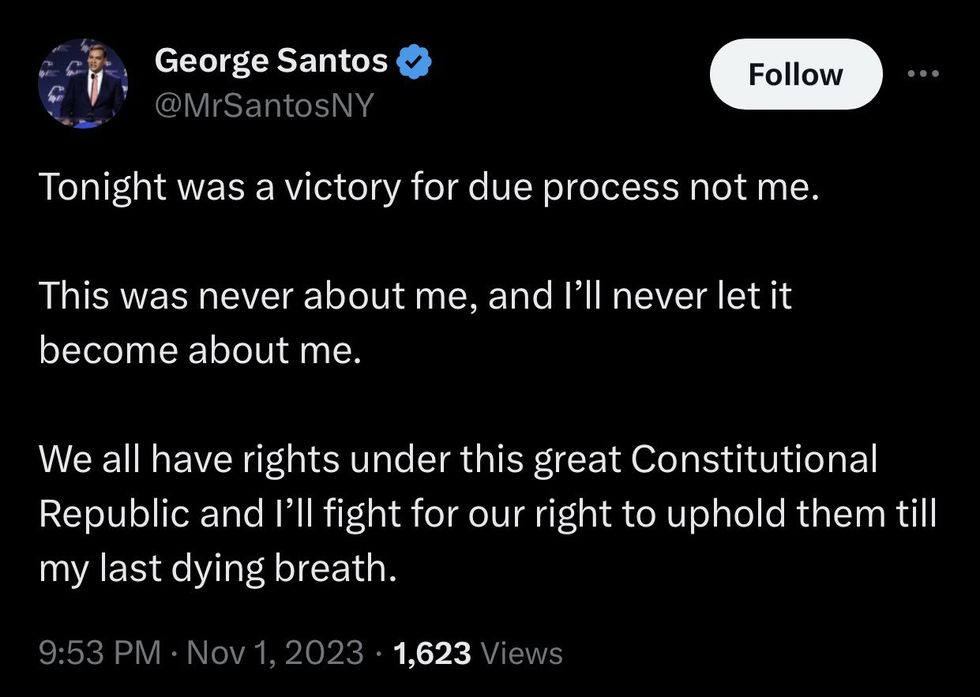 @MrSantosNY/X
To succeed at removing Santos, a significant number of Republican lawmakers would have had to break ranks with Speaker Mike Johnson, who has emphasized that Santos deserves his day in court. Johnson expressed concerns over expelling members solely based on charges or accusations of wrongdoing.
The House Ethics Committee issued a rare memo the day before the vote, highlighting the depth of its investigation, which included contacting around 40 witnesses and issuing 37 subpoenas. The committee announced that the next steps in the investigation would be revealed by November 17.
Many have criticized Santos' behavior, saying he is clearly unrepentant despite efforts to hold him accountable for his actions.

Congress has rarely expelled members, and it would be groundbreaking for the House to remove Santos before his federal court case is resolved. Nevertheless, some Republicans believed that Santos had misrepresented himself to New York voters and insisted that action should be taken to avoid his presence through the 2024 election cycle.

The debate regarding Santos' expulsion was limited to members of the New York congressional delegation. On one side, Republican Representatives Anthony D'Esposito, Nick LaLota, and Mike Lawler presented their case for expulsion, describing Santos as a "stain on this institution" and unfit to serve in the House.
Last month, federal prosecutors in Brooklyn unveiled an updated indictment against Santos, tacking on an additional 10 federal charges, which increases the total number of charges against the Long Island Republican to 23.
The expanded charges detail that Santos allegedly engaged in identity theft, unauthorized use of donors' credit cards, and the submission of falsified campaign reports. These reports included non-existent loans and contributions that were either fabricated or unlawfully obtained.