[DIGEST: The Denver Post, NPR]
A police officer and two civilians were killed in the five-hour standoff between a gunman and police at a Planned Parenthood clinic in Colorado Springs, as of 8:50 PM EST. According to ABC News, at least nine more people were injured, including five additional police officers.
---
UPDATE: shooting at Planned Parenthood. Dead: UCCS police officer/2 civilians Wounded: 5 #CSPD officers/4 civilians- all in good condition

— Colorado Springs Police Department (@Colorado Springs Police Department) 1448676690.0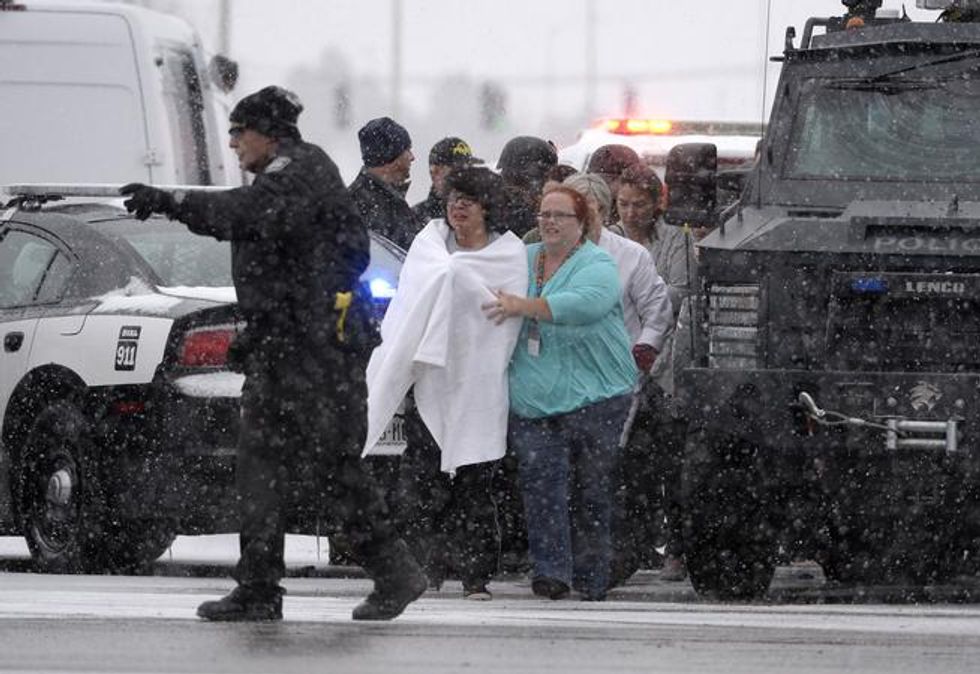 Credit: Andy Cross, The Denver Post
Police first received a call about the shooting at 11:38 AM MST. After officers responded, including sending an armored vehicle, they continued sporadic exchanges of gunfire  
with the gunman until he surrendered at 4:52 PM. The police were able to use the vehicle to evacuate around two dozen people from the building. The police had limited contact with the shooter until they were able to get within yelling distance. At that point, the uninjured shooter surrendered. Planned Parenthood Rocky Mountains issued the following statement via Twitter:
Statement regarding situation in Colorado Springs: https://t.co/n31EqwYYh8

— Planned Parenthood of the Rocky Mountains (@Planned Parenthood of the Rocky Mountains) 1448663912.0
Police say the man brought a long gun and bags into the building, sparking concerns that there were explosives. As of this writing, the police were still searching the building for victims or explosives. It may take them days to finish processing the scene.
Law enforcement sources have identified the gunman as 59-year-old Robert Lewis Dear. At this time, no further information has been released about his motives.
Planned Parenthood president Cecile Richards released a statement on Friday thanking law enforcement. "Our hearts go out to the families and loved ones of the brave law enforcement officers who put themselves in harm's way in Colorado Springs. We are profoundly grateful for their heroism in helping to protect all women, men and young people as they access basic health care in this country."