Andy Puzder may not be the next Secretary of Labor. Puzder, the fast-food restaurant CEO, has been facing major criticism for a variety of his positions and experience. The latest issue are his ex-wife's allegations of domestic violence, which were discussed in a video provided to the Senate by Oprah Winfrey's television network.
In March 1990, Lisa Fierstein appeared in disguise on an Oprah Winfrey Show episode titled "High-Class Battered Women." Fierstein also submitted a petition for damages during their divorce proceedings that accused Puzder of abuse. According to the document, Puzder "assaulted and battered [her] by striking her violently about the face, chest, back, shoulders, and neck, without provocation or cause." The petition was one of three court filings testifying to the abuse.
---
This November, after Puzder was nominated, Fierstein sent an email to her ex-husband saying that she falsified her allegations and confirming that she withdrew the allegations as a part of their child-custody disagreement.
It is unclear whether the video and allegations are the reasons for the latest uncertainty in Puzder's nomination. Last night, four Senators told the GOP leadership that they were not ready to commit to voting for Trump's nominee. Senators Susan Collins of Maine, Johnny Isakson of Ga., Lisa Murkowski of Alaska, and Tim Scott of South Carolina have indicated that they have questions about Puzder that have not been addressed yet.
The Washington Post reports that Collins said, "I am reviewing the other information that has come to light and I'm sure all of this will be explored thoroughly." Her comments did not include her specific concerns.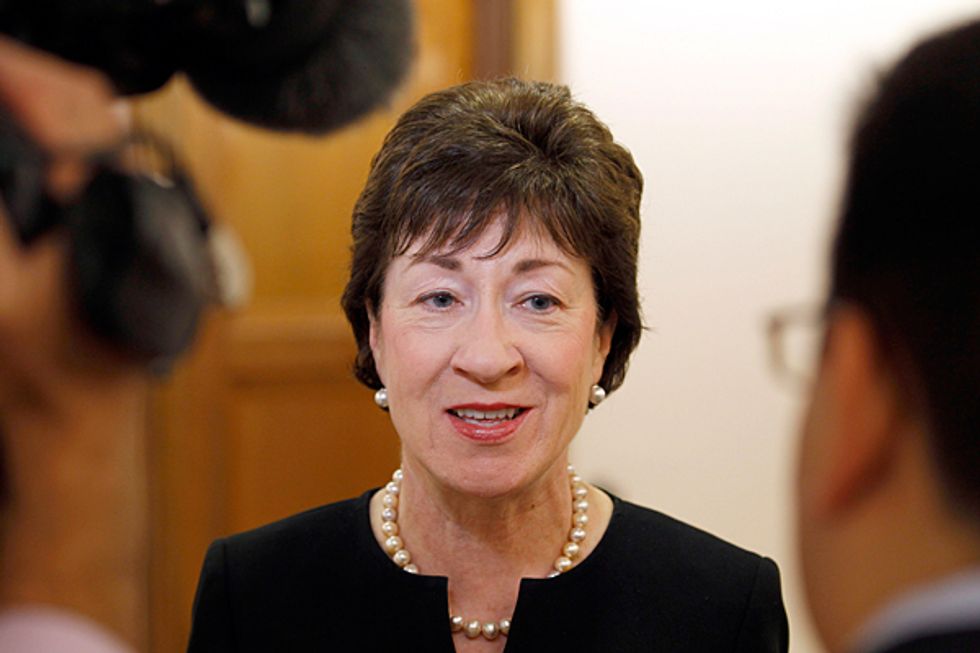 Senator Susan Collins. Credit: Source.
Collins and Murkowski did not support Secretary of Education Betsy DeVos, forcing Vice President Mike Pence to cast a historic tie-breaking vote to confirm DeVos. If three Republicans decide not to support Puzder, he likely will not be confirmed by the Senate.
Business groups and Senate Majority Leader Mitch McConnell are expected to push for confirmation to avoid an embarrassing situation for the Trump administration and Senate Republicans.
Puzder's confirmation hearing has been delayed several times but is currently scheduled for Thursday. Until last week, Puzder had not released his plan for avoiding conflicts of interest between his financial holdings and his potential position. The financial disclosure documents include Puzder's plan to divest his holdings over the next six months once confirmed.
The nominee also faces scrutiny for the choice he and his wife made to employ an undocumented immigrant as a housekeeper. Similar admissions have ended nominations in the past, but Puzder has no plan to withdraw his nomination. According to Puzder spokesperson George Thompson, "Andy is so looking forward to his hearing. He will finally have an opportunity to express his commitment to workers and to businesses and to ensure that folks know his true record for protecting workers and creating jobs."