The Trump administration will create a panel tasked with assessing the potential harm of climate change, and to spearhead it they've picked William Happer, a known climate change denier who once compared the "demonization of carbon dioxide" to the "demonization of the poor Jews under Hitler."
Happer's comments resurfaced after The Washington Postobtained a document revealing that he would be appointed to the Presidential Committee on Climate Security.
---
"The comment I made was just that the demonization of carbon dioxide is just like the demonization of the poor Jews under Hitler," he told interviewer Andrew Ross Sorkin in 2014. "Carbon dioxide is actually a benefit to the world, and so were the Jews."
You can hear Happer make the remarks in the video below.
Happer's beliefs don't appear to have changed since then. In 2017, Jezebel published the following email exchange, in which Happer addressed comments from a Jezebel reader named Anna who scrutinized the work he's done for companies in the fossil fuel industry.
"Demonization of CO2 and people like me who come to its defense is nothing to be proud of," Happer wrote at the time. "It really differs little from the Nazi persecution of the Jews, the Soviet extermination of class enemies or ISIL slaughter of infidels."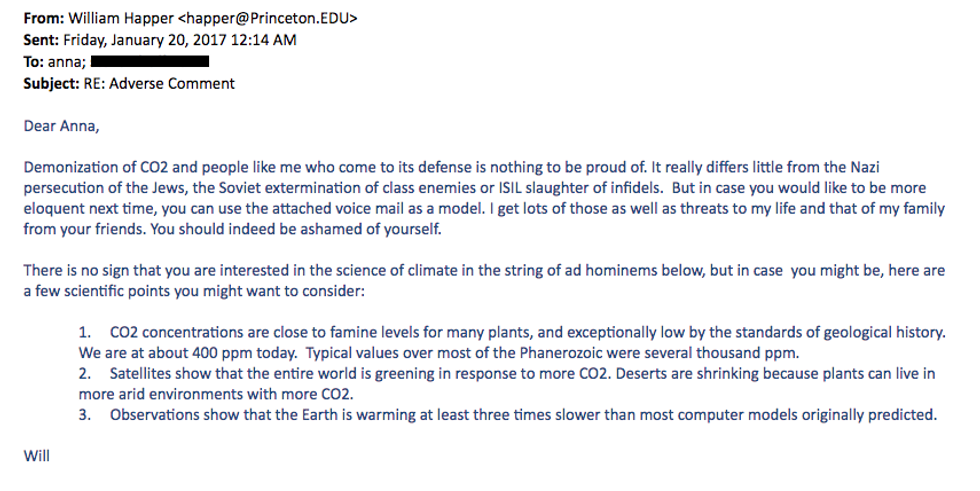 William Happer/Jezebel
Happer also believes that more C02 in the atmosphere would be beneficial for the world at large, a belief he espoused in 2015 after members of the environmental campaign group Greenpeace posed as oil company representatives and persuaded him to write a scientific paper.
"More CO2 will benefit the world," Happer said at the time. "The only way to limit CO2 would be to stop using fossil fuels, which I think would be a profoundly immoral and irrational policy."
Happer's long history of climate change denial would eventually inspire him to create the CO2 Coalition, on which he serves as president. He has also chaired the George Marshall Institute, which received $865,000 from Exxon Mobil between 1998 and 2011. His appointment to the Presidential Committee on Climate Security has sparked criticism from such individuals as Michael Mann, a  professor of atmospheric science at Penn State, who described Happer as a "fringe figure."
"It is truly dangerous to have someone like that having such a direct influence on the executive branch's policies on climate," Mann told Newsweek, adding:
"It's remarkable to see someone who made his name as a physicist deny some of the most basic physics around—the physics that tells us that the burning of fossil fuels and the resulting increase in the greenhouse effect is responsible for the warming of the planet that we have seen, and potentially far more warming—and widespread devastating impacts—if we don't act to reduce our burning of fossil fuels."
Happer's appointment has also ignited an outcry on social media from many who see his appointment as further confirmation of the Trump administration's denial of climate change as an existential threat to life as we know it.
Jan Selby, a professor of International Relations at the University of Sussex, U.K., also expressed concerns about Happer's appointment, saying that it constitutes another attempt from President Donald Trump to deny the reality of climate change:
"This seems to be just another attempt by President Trump to obscure the reality of climate change, and the weight of scientific evidence on it.

But the idea that a panel on the security implications of climate change could be headed by someone who doesn't believe in climate change is patently ridiculous. You don't need to have an A grade in logic to realize what its conclusions will be."
The memo obtained by The Washington Post indicates that the goal of the Presidential Committee on Climate Security will be to provide an "adversarial" review of climate science to determine if warnings about the risks posed by global warming have been overstated. A portion of the memo reads:
"These scientific and national security judgments have not undergone a rigorous independent and adversarial scientific peer review to examine the certainties and uncertainties of climate science, as well as implications for national security."
According to Marshall Shepherd, Georgia Athletic Association distinguished professor of atmospheric sciences and geography, climate change is not only a risk to national security that cannot be undermined.
"Study after study from the military, bipartisan and nonpartisan organizations and the National Academy of Sciences have confirmed that climate change is a threat to national security," he said. "I actually served on one of the National Academy studies commissioned by the U.S. Navy, and the findings were crystal clear. To form such a committee smells of confirmation bias and contradicts military generals and admirals that have spoken clearly on this topic."
Happer's appointment comes as the world grapples with a sixth mass extinction, according to a study published in the peer-reviewed Journal Proceedings of the National Academy of Sciences, that blames human overpopulation and overconsumption for the "biological annihilation" of wildlife in recent decades.
Earlier this month, an alarming study published in the journal Biological Conservation found that 40 percent of insect species on the planet are in population decline as a result of climate change, pesticide usage, and the introduction of invasive species that "could have catastrophic consequences for both the planet's ecosystems and for the survival of mankind."