Yesterday a tweet began to circulate around the internet from a certain "Judy Tinselman" that featured a quote attributed to Matthew S. Levatich, the CEO of Harley-Davidson.
The quote: Levatich calls President Donald Trump a "moron," saying the decision to shift Harley-Davidson's productions overseas is a direct result of the president's hotly contested tariffs on steel and aluminum imports.
---
The tweet appeared to reference remarks made by Trump about Harley-Davidson's decision to shift some production out of the United States. Yesterday, he threatened the company with higher taxes.
A Harley-Davidson should never be built in another country-never! Their employees and customers are already very an… https://t.co/iTUQaIXwHJ

— Donald J. Trump (@Donald J. Trump) 1530015469.0
And today, the president responded to the tweet, threatening Harley-Davidson: "We won't forget," he wrote.
Harley-Davidson should stay 100% in America, with the people that got you your success. I've done so much for you,… https://t.co/kNmruD0swh

— Donald J. Trump (@Donald J. Trump) 1530113184.0
There's just one big problem here: The tweet the president responded to is fake.
There's the matter of the account which posted the "quote" attributed to Levatich, which has hardly any online presence whatsoever.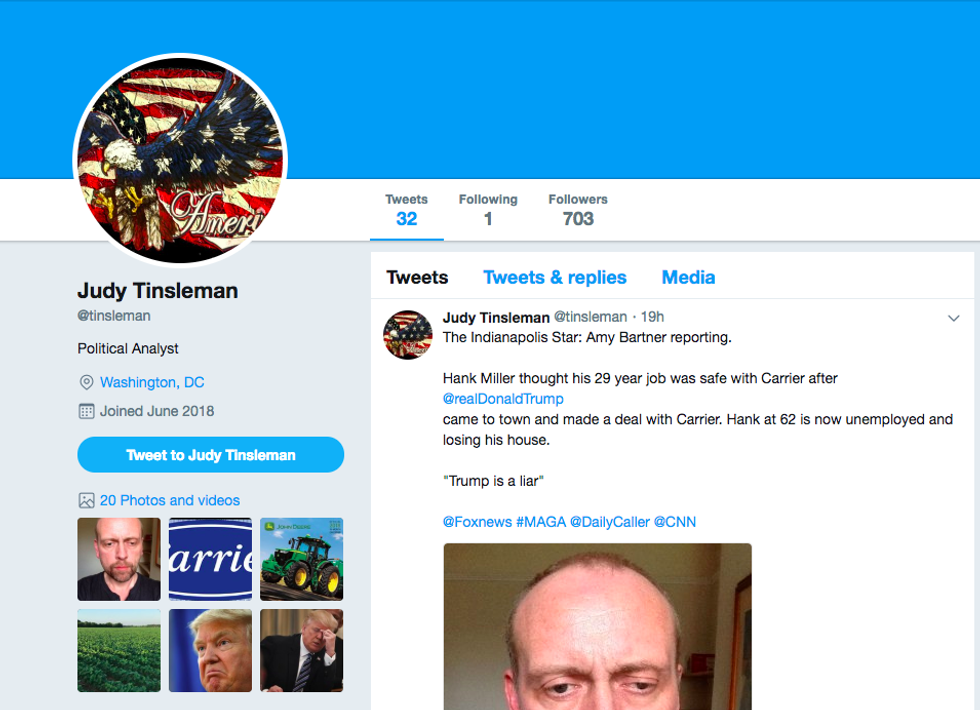 A media representative for Harley-Davidson affirmed the claim was untrue, telling Snopes, "Thanks for your message. That tweet is completely fake."
The account the rumor originated from also appears to be posting a multitude of stream of consciousness ramblings which rail against the president.
The president is known for lying outright, and the fundamental importance of ensuring any claims against him or quotes denouncing him are factual cannot be stressed enough.
The president's history with Harley-Davidson is a rocky one in and of itself.
Earlier this year, he announced 25 percent tariffs on imported steel and aluminum from Europe and Asia. The European Union has levied additional import taxes on American products in response. Among the products subject to additional import taxes: motorcycles. The new tariffs would hit Harley-Davidson especially hard.
In a filing on Monday, Harley-Davidson noted that:
Harley-Davidson believes the tremendous cost increase if passed onto its dealers and retail customers, would have an immediate and lasting detrimental impact to its business in the region, reducing customer access to Harley-Davidson products and negatively impacting the sustainability of its dealers' businesses.
All of this news comes as Harley-Davidson's domestic sales have declined in recent years, and the company's plight is at odd's with the president's claim that winning trade wars is "easy."
When a country (USA) is losing many billions of dollars on trade with virtually every country it does business with… https://t.co/lPSkkolNRP

— Donald J. Trump (@Donald J. Trump) 1519987834.0
The president had previously lauded Harley-Davidson as an example of business success, but the company's recent actions indicate American workers have not benefited from President Trump's corporate tax cuts as much as he might hope.
In January, Harley-Davidson told Kansas City workers it would close a plant there, a net loss of 350 jobs. Mere days later, the company announced a dividend increase––and a stock buyback plan to repurchase 15 million of its shares. Those shares are worth about $696 million.
The announcement of the closure blindsided union representatives, saidGreg Tate, a staff representative for the United Steelworkers District 11, which represents about 30 percent of the Harley-Davidson plant's workers.
"We really never had any belief that they were going to shut the Kansas City facility down," Tate said. The announcement was "the first anyone found out about it."
Tate notes that Harley-Davidson's decision to hire a casual workforce (temp workers who would boost production during peak season) will be easier and cheaper for the company:
This is a decision we did not take lightly. The Kansas City plant has been assembling Harley-Davidson motorcycles since 1997, and our employees will leave a great legacy of quality, price, and manufacturing leadership. We are grateful to them and the Kansas City community for their many years of support and their service to our dealers and our riders.
The GOP tax plan slashed the corporate tax rate to 21 percent from 35 percent. Proponents of the plan insisted companies would use the windfall to increase their investments in labor or business expansions. The opposite is true: Companies are outsourcing jobs and paying shareholders.
In fact, a recent analysis found that corporate stock buybacks hit a record $178 billion in the first three months of 2018. By contrast, average hourly earnings for American workers are up 67 cents over the past year. Harley Davidson makes about $800 million to $1 billion in pre-tax profit, according to Seth Woolf, an analyst at North Coast Research.