Protecting President-elect Donald Trump and his family costs New York City taxpayers $1 million per day. According to John Miller, the NYPD deputy commissioner of intelligence and counterterrorism, the expenses come as city police have been assigned to Trump, his children, and his grandchildren, who all live in New York and are entitled to Secret Service protection. Future first lady Melania Trump has also opted to stay in New York with her son, Barron, until the end of the school year.
"The number one imperative here is safety and security. We owe that to the president-elect, his family, and his team," said New York Mayor Bill de Blasio, who was quick to point out that the city expects to receive reimbursement for the cost of supporting the Secret Service, particularly police overtime. "This is a very substantial undertaking. It will take substantial resources," de Blasio continued. "We will begin the conversation with the federal government shortly on reimbursement for the NYPD for some of the costs that we are incurring."
---
The city has asked for and received reimbursement for protecting world leaders in the past, de Blasio said. According to city records, the city received $26 million in reimbursements for such expenses in the 12 months ending June 30––roughly $500,000 a week. Still, says writer Jay Willis, "$1 million per day is a lot of tax dollars to spend on the whim of an alleged fiscal conservative who refuses, without explanation, to live in the official residence of the position he will soon hold, much less move to the capital city of the nation he is about to govern."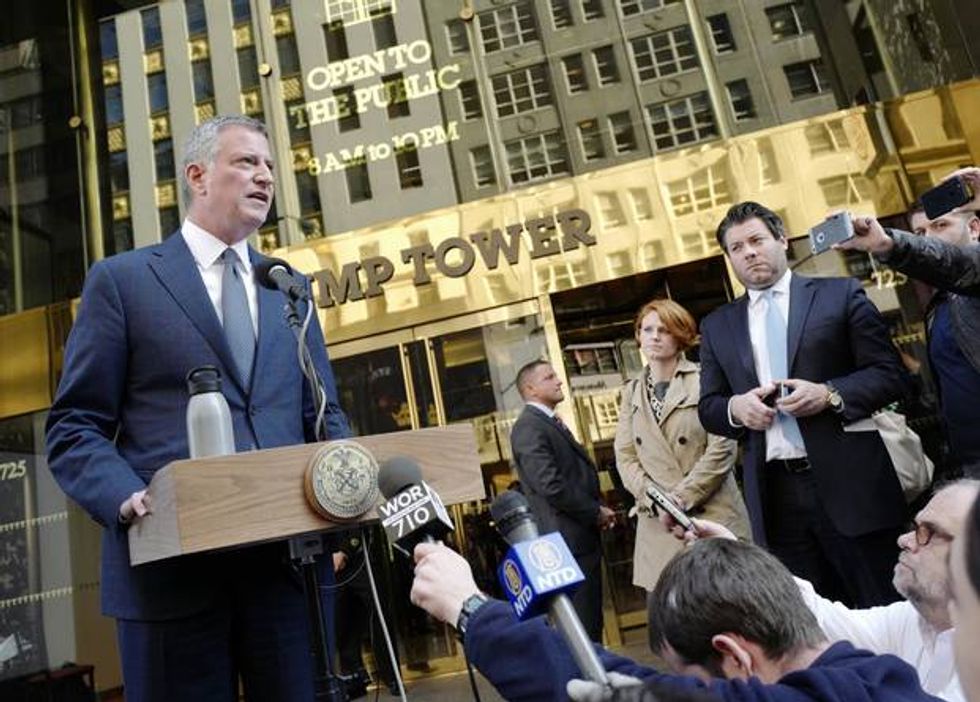 New York City Mayor Bill de Blasio. (Credit: Source.)
For his part, Mayor de Blasio acknowledged that there is no precedent for this level of protection for an elected official. "We have never had a situation where a POTUS (president of the United States) would be here on such a regular basis," said de Blasio. "The details of his future plans are unknown, but we certainly know over these next 65 days [until the inauguration] he will be here regularly. The NYPD is up to the challenge and the city of New York is up to the challenge, I have no doubt about that."
While the Secret Service is primarily responsible for the protection of the president, local law enforcement assists them, especially where controlling the movement of the general public is concerned. These propositions are further complicated by Trump's pledge to spend as much time as possible living in Manhattan. Police officers have already set up barricades around Trump Tower at 56th Street and 5th Avenue, in the middle of the city's most densely populated neighborhood. Officers already closed a block of 56th Street to traffic, but 5th Avenue remains open, and the street closures have already snarled traffic.
CNN's Andrew Kaczynski pointed out that the millions of dollars that Trump will cost New York City are ironic considering Trump was a vocal critic of the cost of President Obama's official travel and protection.
According to Judicial Watch, which obtains the details of trips and the costs shouldered by taxpayers through Freedom of Information Act requests and lawsuits, President Obama's 2015 family vacations cost taxpayers $3,115,688.70 in travel expenses alone. Previous estimates of the costs incurred from Obama's frequent trips to New York City
cost New Yorkers more than $2 million in additional security at Kennedy Airport.
Journalist Marc Ambinder opined that there is "no city on Earth better prepared to host a presidential visit than New York," but noted that Trump Tower will become "the epicenter of an iron curtain that will wall off much of Midtown from the rest of the city." Moreover, "Creating a permanent, sterile environment inside a 58-story, multi-occupancy building on one of the busiest streets in one of the busiest cities in the world poses an unprecedented challenge for the Secret Service and the military." The lives and "the daily routines of ordinary New Yorkers who live in, work near or commute through a five- to 10-block radius of Trump Tower will change," he continued. "They will not be able to move freely; sometimes they won't be able to move at all. Whenever a president moves, everything nearby freezes."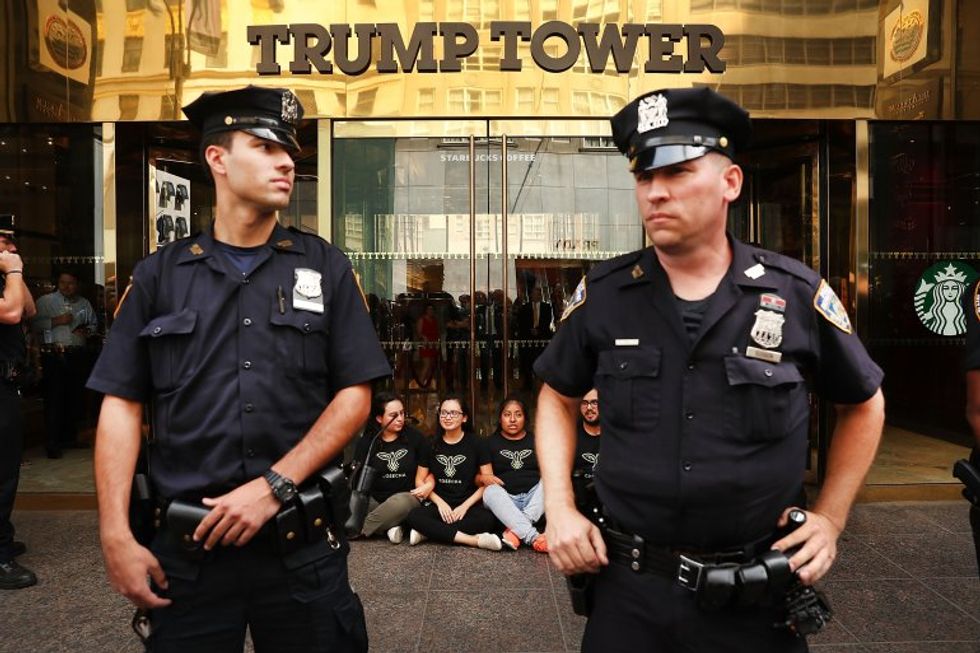 Credit: Source.
Even a routine visit from a president can pose a significant disruption to the city's daily operations, Ambinder says. When President Obama decided to take the First Lady to the city for a date––dinner and a Broadway show––his staffers had to plan in secret nine days in advance. On the big night, Ambinder notes, "word had gotten out, and the NYPD shut down 44th Street for hours, snarling traffic." The Obamas arrived right on schedule, too, but it wasn't enough because "a glitch in screening theatergoers through magnetometers meant that entry lines were long and slow. So the president had to wait outside in the rear while agents checked the remaining audience members for weapons. In the end, the trip took three airplanes , three helicopters, about 100 federal security agents and dozens of police officers accruing overtime. It required secure telephones in secure rooms inside the theater and the restaurant. All for a night out."
Those who live and work in and around Trump Tower will bear much of the inconvenience: "From now until the end of Trump's presidency, everyone who enters and exits the building will have to be vetted by the Secret Service, even if the Trumps aren't there. At the very least, their names will be run through agency threat databases. The service will want to inspect every package that goes into the building and will insist that staffers — at every shop, restaurant and residence — be scanned with a hand-held magnetometer, which detects hidden metal. When Trump is there, all of their personal effects will probably be checked by bomb-detection dogs, too."
Just one presidential visit costs the Port Authority of New York and New Jersey $100,000 to pull off, Ambinder says, and the costs will spike exponentially with a more regular Trump presence. "When Air Force One — which costs about $236,000 per hour to fly when fully loaded with pilots, passengers, security, gear and fuel — arrives at New York's John F. Kennedy International Airport, the tarmac will be frozen for at least 15 minutes before it lands. That short delay will reverberate through the extremely crowded airspace over New York. And whenever Trump travels, hundreds of people will move with him."
A regular Trump presence, noted de Blasio at his press conference, "makes [previous protection efforts] look quite small obviously." He concluded: "We'll have to establish a new set of ground rules."