Kanye West's decision to deliver a speech supportive of President Donald Trump on Saturday Night Live's season opener may have received significant pushback, but it appears to have endeared him to the president further.
The president slammed SNL as "just a political ad" for Democrats but praised West, who donned a "Make America Great Again Hat," as someone who is "leading the charge!"
---
West's impromptu monologue came after he'd performed three songs. It never made it on the air.
"I wanna cry right now. Black man in America, you're supposed to keep what you feel inside right now," he said. "And the liberals bully you and tell you what you can and cannot wear, where you and they can't not stare. And they look at me and say, 'It's not fair. How the hell did you get here?' Well…"
Audience members booed as West put on his MAGA hat.
"Actually, blacks weren't always Democrats," he started. "It's like a plan they did to take the fathers out the homes and promote welfare. Does anybody know about that? That's the Democratic plan."
Saying people can't be controlled by "monolithic thought," West pivoted to talking about comedian Bill Cosby, who last week received a prison sentence related to charges of sexual assault. "You can't always have when you have a black subject matter like Cosby that you have to have a black comedian talk about it," he said.
"It's so many times that I talk to a white person about this, and they say, 'How could you support Trump? He's racist.' Well if I was concerned about racism, I would have moved out of America a long time ago. We don't just make our decisions off of racism. I'ma break it down to you right now: If someone inspires me and I connect with them, I don't have to believe in all they policies."
Comedian Chris Rock captured the end of West's speech and posted it to Instagram.
A full video later emerged on YouTube.
West claimed that he was "bullied" by SNL producers backstage into not wearing MAGA gear on stage.
"This represents good and America becoming whole again," West said of the MAGA hat in the caption of an Instagram post he made after the show. "We will no longer outsource to other countries. We build factories here in America and create jobs.  We will provide jobs for all who are free from prisons as we abolish the 13th amendment."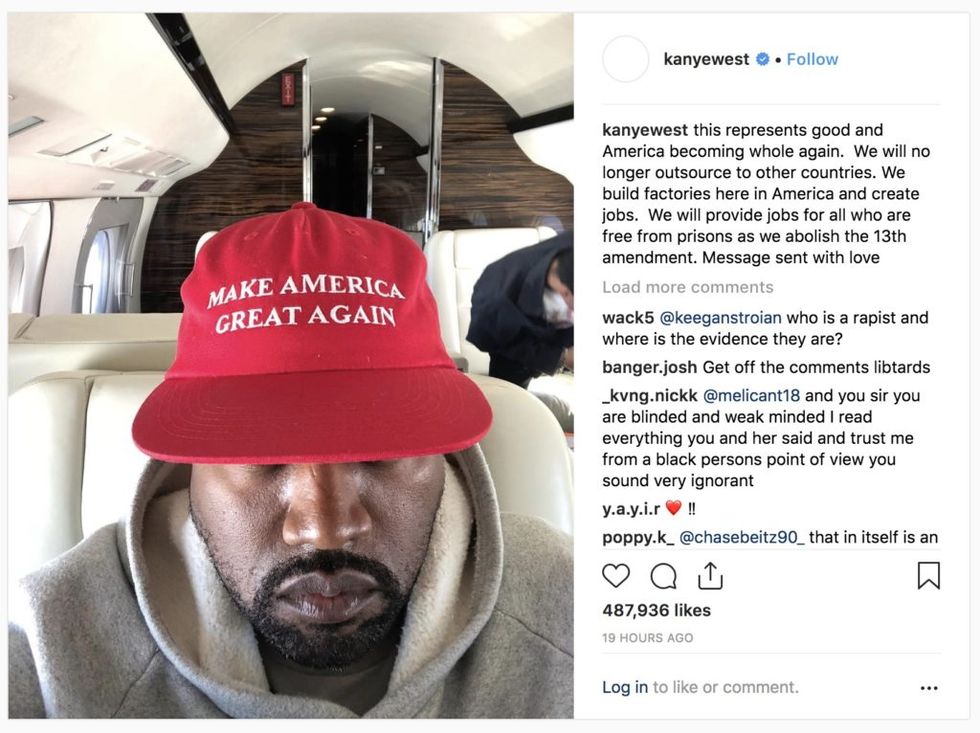 kanyewest/Instagram
West's behavior has opened him up to significant criticism.
The comments are a significant about-face for West, who earned a certain infamy after he criticized then-President George W. Bush's response to Hurricane Katrina and the government's failure to help victims of the disaster, saying, "George Bush doesn't care about black people."
West's evolution from an active member of the left to Trump supporter has been well-documented, and he has raised more than a few eyebrows for his defense of some of the president's incendiary comments, including back in January, when Trump sparked controversy after he referred to Haiti and African nations as "shithole countries."
"You don't have to agree with trump but the mob can't make me not love him," West wrote at the time, before claiming that he and Trump "are both dragon energy," a statement that has made him an object of mockery more than once.
In April, West claimed that he doesn't necessarily "agree with everything Trump does."
West's wife, socialite Kim Kardashian-West, endorsed Hillary Clinton in the 2016 presidential election. She met with Trump earlier this year and was able to convince the president to agree to grant clemency to a woman who had been held behind bars for decades on drug charges.