Senator Bernie Sanders (D-VT) said Sunday he plans to introduce a single-payer health care plan in Congress following the Republicans' failure in the House to repeal the Affordable Care Act.
"Ideally where we should be going is to join the rest of the industrialized world and guarantee health care for all people as a right and that's why I'm going to introduce a Medicare-for-all single-payer program," Sanders told anchor Dana Bash on CNN's State of the Union.
---
The former Democratic presidential candidate acknowledged that such a bill would face political difficulties but said he will reach across the aisle and invite Republican leaders to negotiate the measure.
"Obamacare has serious problems. Deductibles are too high. Premiums are too high. The cost of health care is going up at a much faster rate than it should," he said. "Those are areas that we can work together on."
Sanders also indicated that he would be would be willing to work with the White House on the measure, stressing that it would fulfill President Donald Trump's pledge to lower prescription drug prices. Critics of the president's proposals, which include increasing competition "through bidding wars," have said his ideas are unlikely to succeed without also harming patients.
"President Trump, come on board. Let's work together," Sanders said. "Let's end the absurdity of Americans paying by far the highest prices in the world for prescription drugs."
Sanders did not mince words in his criticisms of the Republican-sponsored American Health Care Act. "The bill that was defeated should have been defeated," he said. "It was a disastrous piece of legislation primarily designed to provide $300 billion in tax breaks to the top two percent, throwing 24 million people off health insurance and raising premiums for older workers in a very, very significant way. It was defeated, the American people wanted it defeated, and I'm glad that we were able to accomplish that."
Sanders' pledge echoed statements he made to his constituents at a town hall meeting in Hardwick, Vermont, Saturday that he'll introduce a single-payer health care bill in Congress "within a couple of weeks." His announcement drew applause from the 1,000 people in attendance. "It is a common sense proposal, and I think once the American people understand it, we can go forward with it," Sanders said of the legislation after the town hall meeting.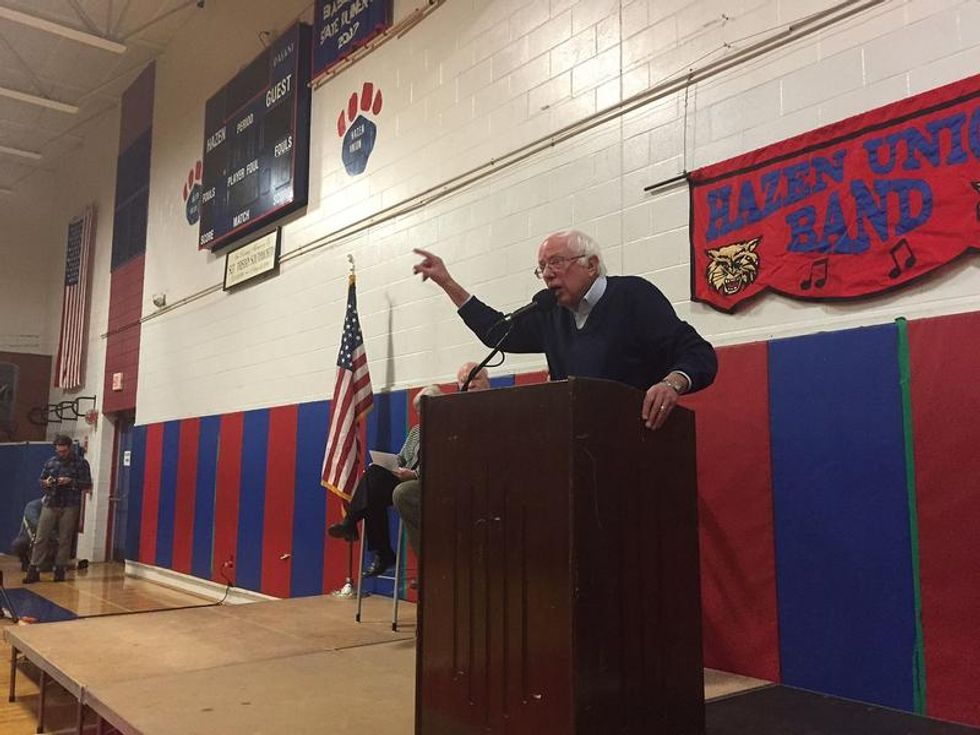 Senator Sanders speaks at a town hall meeting in Hardwick, Vermont. (Credit: Source.)
Sanders also commented on the ongoing confirmation process for Supreme Court nominee Neil Gorsuch and called for the Senate's Republican majority to keep existing rules which allow a filibuster on Supreme Court nominations. He stressed his belief that a confirmation should come with bipartisan approval.
"I think, that for a Supreme Court justice, a lifetime term, one of the most important positions in the United States government, that it should require 60 votes, because that would make it bipartisan," he said. "And I think that that's where we are right now. And I certainly hope that the Republicans do not change the rules in order to push Gorsuch through. If he does not get 60 votes, the Republicans owe the American people the obligation of bringing forward somebody who is more moderate."