[DIGEST: WSJ, Men's Journal, Jezebel, Daily Mail, CDC, Fortune]
Misery loves company. Or maybe good company just elevates a much-feared experience into something that's no big deal — and even kind of fun. So say the men who are celebrating the end of their child-making years with group vasectomy parties — or "brosectomy" parties, as some have called them — complete with top shelf liquor, appetizers, big-screen TVs and cushy couches.
---
The latest trend in birth control isn't a new device or pharmaceutical, but rather a new acceptance and embrace of one of the most effective family-planning methods available. Vasectomies offer a failure rate of just 0.15%, compared with a 9% failure rate for birth control pills, 18% failure rate for condoms, 22% failure rate for withdrawal and 0.5% for female tubal ligation surgery. In addition to its effectiveness, the procedure is inexpensive, fast, reversible, and, due to innovations in medicine, easier and less invasive than ever. It's the perfect excuse for a party.
The trend may have begun in Oregon, where a urology clinic ran a radio ad promoting the procedures during March Madness. "You go in for a little snip, snip and come out with doctor's orders to sit back and watch nonstop basketball," the voice-over promised. "If you miss out on this, you'll end up recovering during a weekend marathon of 'Desperate Housewives'!"
An Athena Health survey found that vasectomy procedures increased by 30 percent during the first round of the 2016 NCAA Tournament, leading some to call the phenomenon Vas Madness. Numerous clinics in the US now offer March specials during the tournament. A similar phenomenon was observed during the World Cup soccer game.
The procedure typically takes between five and eight minutes, is accomplished with a local anesthetic, and costs between $350 and $1,000. The recovery involves ibuprofen and ice packs applied to the scrotum for a few hours after the procedure. If the doctor's orders include sitting around and watching TV, why not do it with friends, who can also provide moral support? The parenting message board BabyCenter even has a thread in which people offer up ideas for appetizers — deviled eggs, meat balls, melon balls, and chocolate-covered bananas, if case you are wondering. The idea is to celebrate a life milestone and enjoy the support and camaraderie of friends.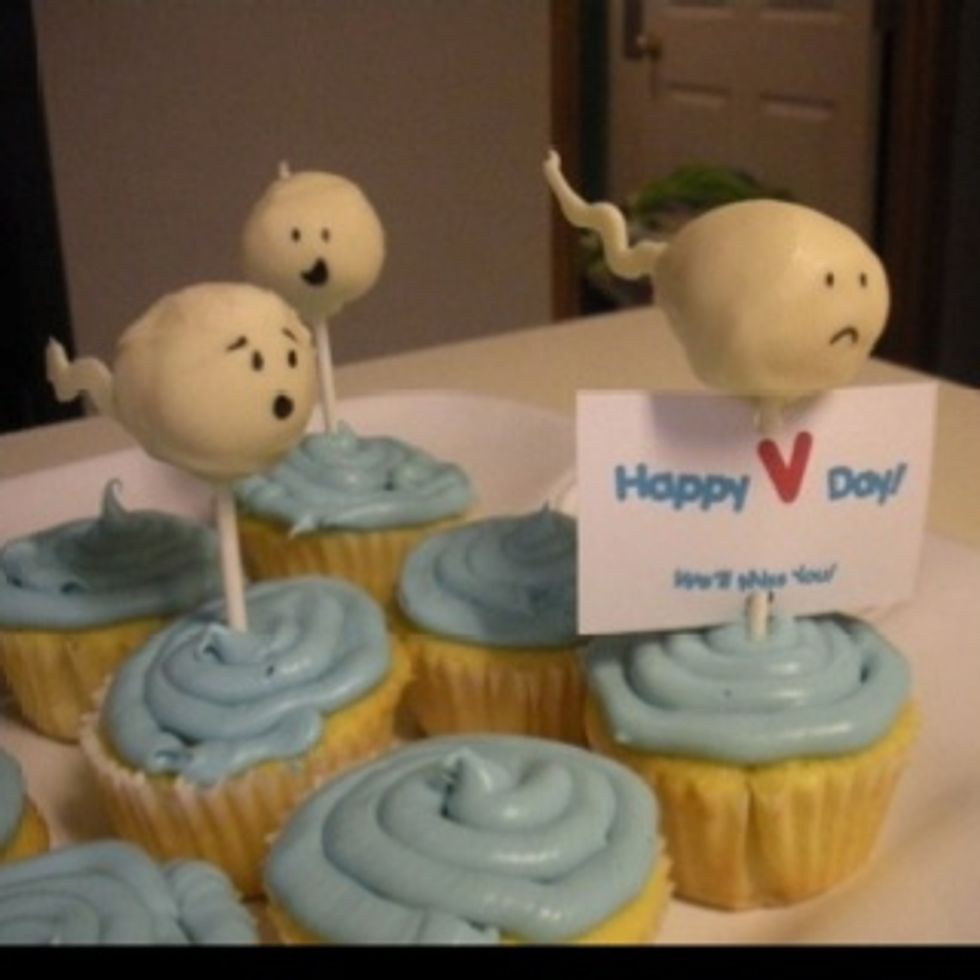 Credit: Source.
"We thought it was going to be painful," one patient said about his vasectomy party, which began with a group limo ride to the clinic. "After that, we were just laughing, I guess it's from the alcohol, but we had such a great time."
Vasectomies have been available for more than a century, although originally the procedure was used as a treatment for prostate problems. As awareness about the procedure continues to rise, its popularity steadily increases, although in the US, twice as many women undergo tubal ligation as men undergo a vasectomy. The opposite is true in the UK and Canada. One item of note: The ACA covers female sterilization but not male sterilization. Meanwhile, it does cover Viagra. This policy, says Adam Sonfield of the Guttmacher Institute, "benefits no one—not men, not women, not families, not health plans."
Cultural factors may account for vasectomies' downplayed role in family planning. Men may feel contraception is a "women's issue," for example, or feel like ending their fertility impacts their masculinity, even when they are certain they don't intend to have more children. However, when that attitude leads to an unplanned pregnancy, the issue affects both parents. An "oops" — whether that be an expensive additional child in a full house, or an unwanted lifelong connection with a one-night stand — can be far more devastating. Men may find that taking charge of their own fertility is empowering — and something worth celebrating.