[DIGEST: IFLS, Times of India, Washington Post, CNN, Cystic Fibrosis Foundation)
Patients awaiting organ transplants may be able to extend the critical time period in which they await a suitable organ, thanks to a new technique that saved the life of a patient in Toronto last year. In an experimental procedure at Toronto's General Hospital, doctors were able to remove the failing lungs of a woman and keep her alive without lungs for six days, until suitable donor lungs became available.  
---
In 2016, Melissa Benoit, a 32-year-old patient with cystic fibrosis, contracted swine flu, which dramatically escalated the respiratory complications that typically accompany the disease. When she coughed, her ribs cracked, and her lungs filled with fluid and began to harden as a bacterial infection took hold. Doctors attempted to control the infection with antibiotics, but the infection was resistant to the treatment, her other organs began to fail, and her condition became so critical that family members were called in to say goodbye. There was nothing more the doctors could do to save her life.
Except for one thing.
The doctors decided to try a risky, untested procedure. In the medical journal the Journal of Thoracic and Cardiovascular Surgery, the physicians describe how Benoit was placed in a medically induced coma, the afflicted lungs were removed, and a portable artificial lung called the Novalung, along with a heart device, kept Benoit alive until a transplant was found. It is believed to be the first such procedure ever performed. Toronto General also performed the first lung transplant and the first double-lung transplant, making it the ideal place to attempt this procedure.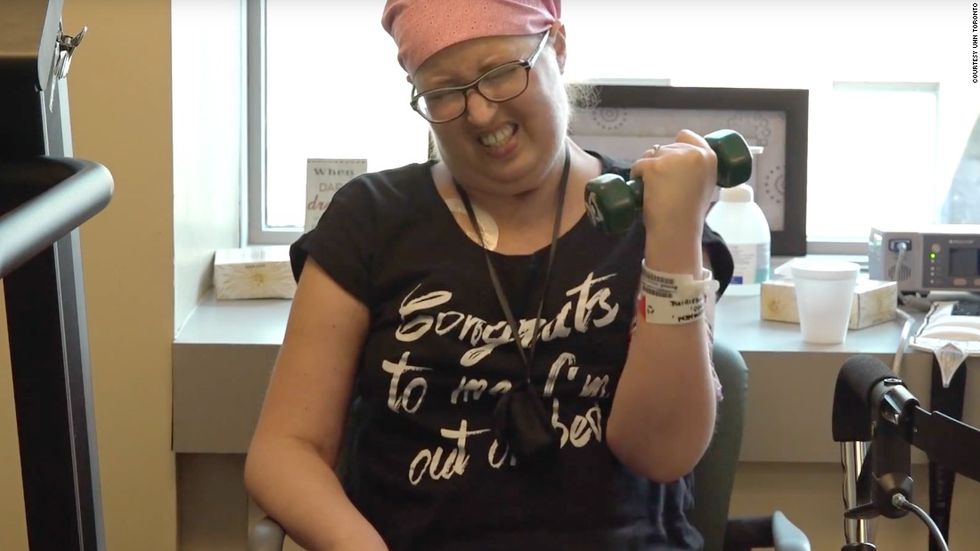 Credit: Source.
"Once we took the lungs out and she got connected, literally within 20 minutes, we were able to remove all the blood-pressure-supporting drugs," said Surgeon-in-Chief Dr. Shafique Keshavjee. "It was her only option. For the first time ever, we had a patient in our intensive care with no lungs. In fact, she technically was on an artificial lung, an artificial heart, and an artificial kidney for six days."
By removing the source of the infection, the doctors were able to stabilize her until a new set of lungs could be found. Benoit then underwent a lung transplant, and is now in better health than she was before the health crisis. She is able to walk, play with her toddler daughter, and breath easily. She describes her new lungs as "night and day" compared with her original lungs. "I've never had the experience of breathing before," she said. "I was always feeling like I was breathing through a straw."
Although her doctors say the cystic fibrosis will not recur in Benoit's new donor lungs, the disease could still affect other parts of her body. Cystic fibrosis is a progressive, genetic disease that causes a buildup of fluid in the lungs, pancreas, and other organs. More than 1,000 new cases are diagnosed every year. The predicted survival age of a patient with cystic fibrosis is 40; in the 1950s, patients with cystic fibrosis typically died in early childhood.
Dr. Keshavjee says Benoit has a very good prognosis. "The lungs are working well, she's gone through rehabilitation, and now she's walking around and living a more normal life and taking her daughter to school."