[DIGEST: IFLS, Miami Herald, APlus]
Drugging someone in order to rape them is not a new trick — just ask Bill Cosby. But as date rape drugs become widely available and the problem spreads throughout the dating world — affecting men and women alike — more people are looking for a way to keep dating safe and fun for everyone.
---
More than 50 percent of respondents to a survey published by the American Psychological Association said they know someone who has been drugged at a party. One in six women will be sexually assaulted in their lifetimes, and 14 percent of victims of sexual assault are men and boys. People who have been drugged and assaulted are at risk of STDs and pregnancy. People can also have dangerous adverse reactions to date rape drugs, including seizures, vomiting, coma, respiratory problems, and in some cases, death.
People can be drugged at parties, bars, restaurants, and in private home settings. In Coeur d'Alene, Idaho, the police department issued a warning before the Fourth of July weekend urging people to be alert, after they received numerous reports from men and women about being drugged in various area bars.
Now a group of students from the University of Miami has developed a way to fight back. They have invented the "Smart Straw," a simple drinking straw that turns blue when exposed to the two common date rape drugs in a beverage, gamma-hydroxybutyric acid (GHB)––also known as liquid ecstasy––and ketamine. In the future, the straw will be able to test for other drugs, including flunitrazepam (Rohypnol). If the drink has been spiked, it will immediately be visible.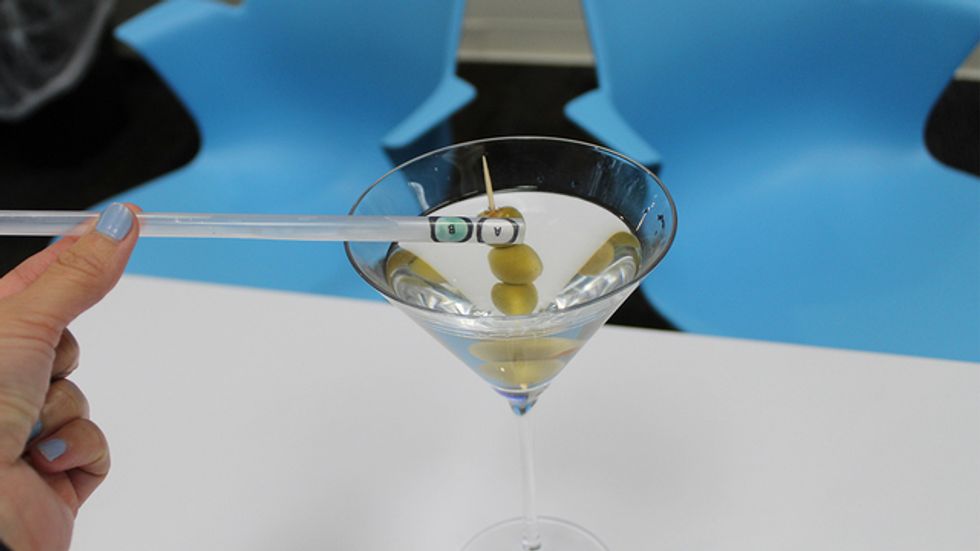 Credit: Source.
"Rapes assisted by drugs or alcohol are all too common," said Susana Cappello, who, along with fellow students Carolina Baigorri and Victoria Roca, developed the Smart Straw. "We just want to give any gender a simple tool to protect themselves."
Other companies are developing similar tools. DrinkSavvy is developing plastic cups and cocktail stirrers that change color when they come into contact with the three top date-rape drugs. The straws and stirrers can be discreetly tucked into a purse or pocket. Brio has invented a coaster that lets you know if your drink has been moved. Another portable option currently in development is Undercover Colors, a nail polish that changes color when it comes in contact with date-rape drugs. The wearer can discreetly stir his or her drink with a finger to make sure no one has tampered with it.
All of these products are in the development process right now, which means that people need to protect themselves in other ways. Rape, Abuse & Incest National Network (RAINN)  suggests that people should never leave a drink unattended, including when they go to the bathroom, go dancing, or make a phone call. Take the drink with you or throw it out, and don't refill the same cup. Don't accept a drink from someone you don't know or trust. Go to the bar with the other person and watch your bartender make your drink. If you feel strange or unwell, tell a friend about it and seek medical attention. If you think you may have been drugged, be upfront about the situation so the physicians can administer the right tests.
It's also important to keep an eye out for each other––including strangers. In Santa Monica last year, a group of women observed a man putting something in his date's glass of wine when she left it unattended to go to the restroom. In this case, the woman had known the man, a co-worker, for over a year and considered him a friend. It was a group of strangers that saved her.