[DIGEST: Huffington Post, Bients]
Sex and the City actress Sarah Jessica Parker announced she has ended her relationship with Mylan, the pharmaceutical company behind the EpiPen, following reports of price gouging. (The price of a standard two-pack of EpiPens increased from $100 in 2009 to $600 in 2016.)
---
Parker was the face of Mylan's campaign Anaphylaxis For Reel, which raised awareness for life-threatening allergies. At the time, Parker revealed the issue is a personal one for her: Her son, James Whitmore Broderick, is deathly allergic to peanuts.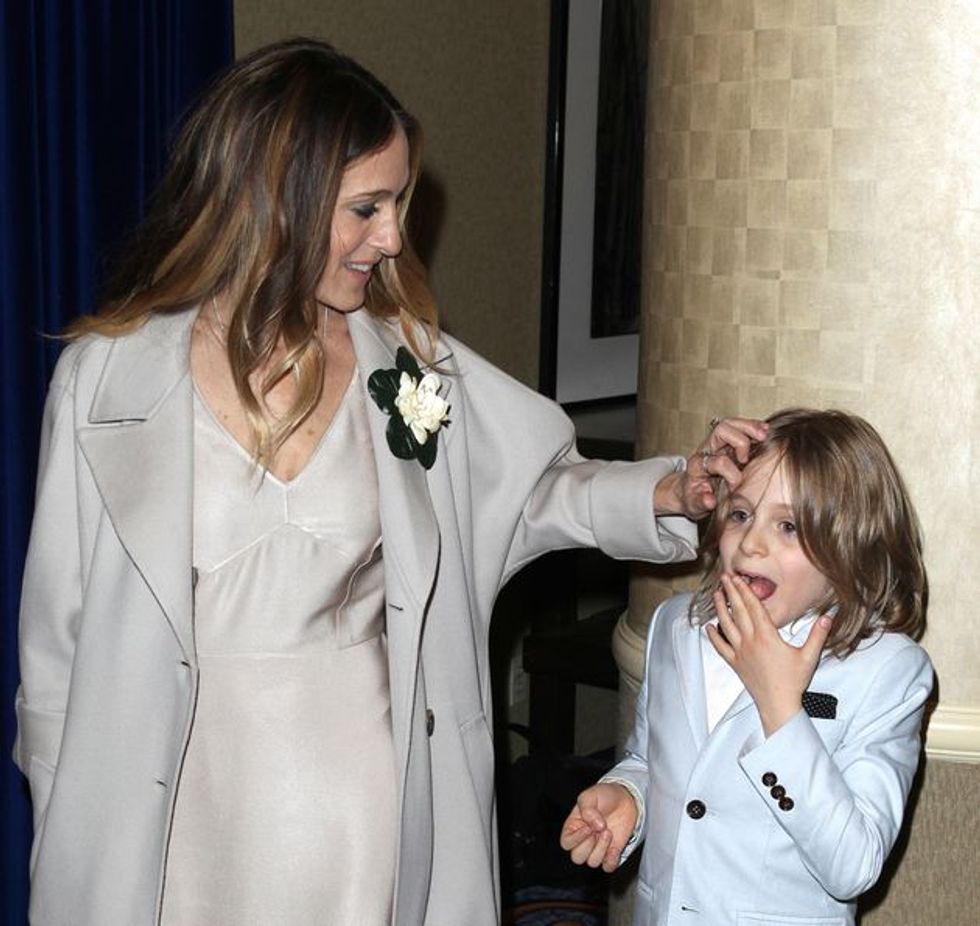 Sarah Jessica Parker and James Whitmore Broderick. (Credit: Source.)
"The epinephrine auto-injector is a vital part of our family's healthcare, as it is for the many who are at risk… I'm left disappointed, saddened and deeply concerned by Mylan's actions," Parker wrote. "I do not condone this decision and I have ended my relationship with Mylan as a direct result of it. I hope they will seriously consider the outpouring of voices of those millions of people who are dependent on the device."
Parker is not the only public figure to condemn Mylan's actions. Hillary Clinton expressed her dismay in a statement posted on her website. "Millions of Americans with severe allergies rely on their EpiPens," Clinton wrote. "When an allergic reaction leads to anaphylactic shock, a shot of epinephrine can literally be the difference between life and death. But now, just as parents are about to send kids with severe food and insect allergies back to school,
the EpiPen's manufacturer is hiking its price to an all-time high… That's outrageous – and it's just the latest troubling example of a company taking advantage of its consumers."
Clinton also announced that she has "put forward a plan to address exorbitant drug price hikes." Part of her plan would require pharmaceutical manufacturers to "explain significant price increases" and "prove that any additional costs are linked to additional patient benefits and better value." There is "no apparent justification in this case," Clinton stressed, before concluding with a call to Mylan to immediately lower the price of the EpiPens.
Mylan's stock has taken a significant hit as tensions continue to rise over the staggering price increase. Just five days after the news first made headlines, Mylan's stock fell 12.4 percent. The company's average stock price decreased from a high of $49.20 per share on August 19 to $43.11 per share on August 24. Mylan's market cap has nosedived almost $3 billion since last Friday.
Mylan CEO Heather Bresch. (Credit: Source.)
Mylan made a $1.2 billion profit from the sale of EpiPens in 2015. Many of Mylan's executives saw massive salary increases during this period, including Heather Bresch, the company's CEO, who raised her salary by 671 percent, from just under $2.5 million to nearly $19 million. She pledged to make the Epipen more affordable in a statement to CNBC. "As a mother, I can assure you that the last thing we could ever want is no one to have their EpiPen due to price," she said. Bresch has not responded to calls for a hearing before the U.S. Senate Judiciary Committee.