[DIGEST: Science Alert, Brain, Motherboard, Warwick News]
As we slide closer to the end of the year, the holidays, the shorter daylight hours, post-election stress and social media all contribute to an increase in symptoms of depression for many people. Lack of energy, sadness, problems with concentration, loss of appetite and libido, and sleep problems are among the many symptoms people with depression may face. Despite the fact that an estimated 16 million Americans suffered from depression in 2015, and one in 10 people will suffer from depression in their lifetime, treatments remain imprecise and, for too many people, ineffective. An additional barrier is the continuing lack of understanding and stigma that deters many from seeking help. Too many people still believe that depression is "all in the head."
---
Now scientists from a joint project between the University of Warwick in the U.K. and Fudan University in China confirm have identified the precise location of the brain in which depression is manifested. These findings could mean more effective treatments will be developed in the future, as researchers target the lateral orbitofrontal cortex (OFC), a subregion of the brain that plays a role in decision-making and adaptive behavior and is impacted by negative stimuli.
The study focused on high-precision MRI scans of 1,000 people in China. Researchers analyzed the connections between the medial and lateral OFC - the different parts of the human brain affected by depression.
The research team found that lateral OFC is associated with an individual's sense of self, self-esteem, loss and ability to access happy or suppress unhappy memories. "Before the study was performed, we did not know which brain areas the lateral orbitofrontal cortex might be especially linked to depression," Warwick psychologist and computational neuroscientist Edmund Rolls told Motherboard. "Nor did we know that the medial OFC reward system was somewhat disconnected from memory systems in the brain."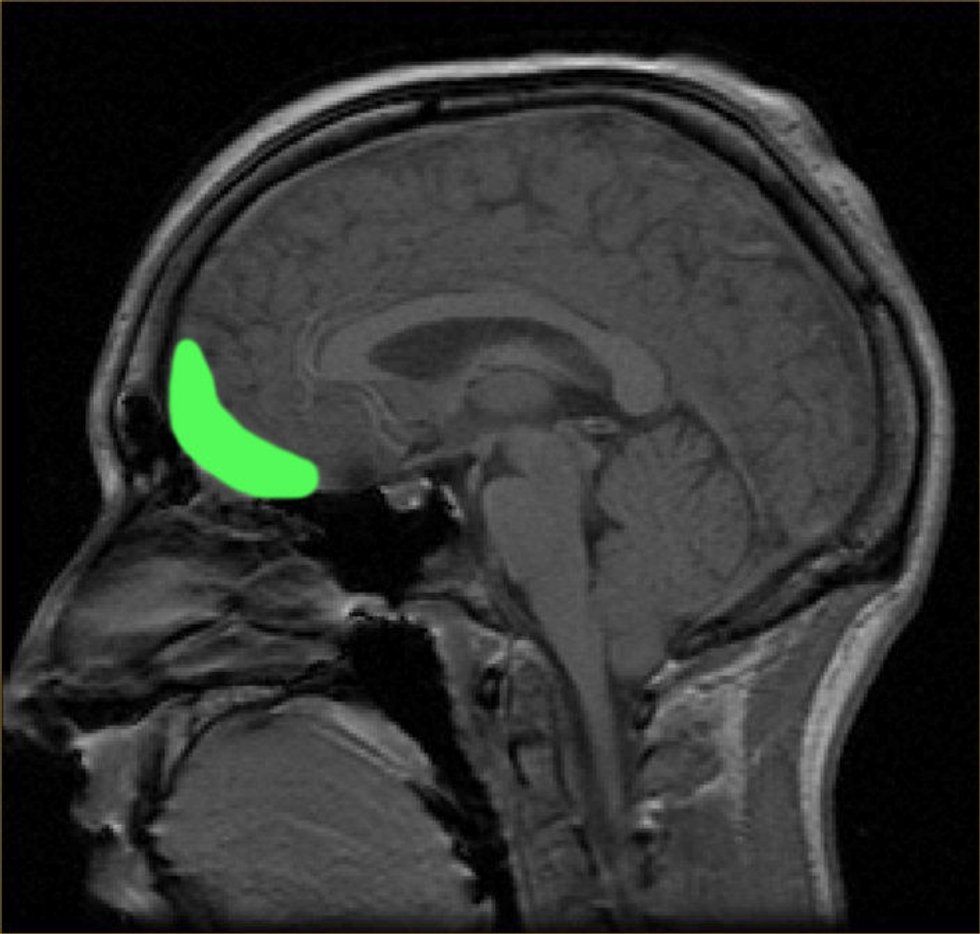 The approximate location of the orbitofrontal cortex. (Credit: Source.)
"Relating the changes in cortical connectivity to our understanding of the functions of different parts of the orbitofrontal cortex in emotion helps to provide new insight into the brain changes related to depression," said the researchers in a study published in the journal Brain.
How will this deeper understanding of the brain help people who suffer from depression? The scientists believe that future medications will be able to precisely target this area of the brain and more effectively treat the condition. Currently, doctors and their patients must experiment with a variety of medications, hoping to find one that works. With a more accurate map of the brain's functions, medications can be developed that directly impact the medial OFC region.
"Our finding, with the combination of big data we collected around the world and our novel methods, enables us to locate the roots of depression which should open up new avenues for better therapeutic treatments in the near future for this horrible disease," said Fudan researcher Dr. Jianfeng Feng.