House Republicans struggled to unite around the American Healthcare Act after an analysis from the Congressional Budget Office (CBO) projected that the measure would result in 24 million Americans losing their health insurance while raising premiums for those covered on the individual market.
Senator Bill Cassidy (R-LA) called the report "awful" when approached by reporters. "President Trump said he wants as many people covered as under Obamacare," he said. "And so if there's truly—what is it, 14 million people?" At this point, a reporter confirmed that was the figure for the first year, but that the number would rise to 24 million within a decade. "Yeah, of course it's a concern!" Cassidy continued. "I mean, I try to avoid hyperbole and adjectives—kind of an Ernest Hemingway way of speaking—but still, it's just, how we say, concerning."
---
John Cornyn (R-TX), the Senate Majority Whip, attempted to distance himself from the House bill, saying that he and his colleagues "expected to do better." He ensured reporters that Republicans would "continue to work on the bill to try and build support for it. But until they do, there's not much for the Senate to do." He called conservative predictions that the bill can't pass the Senate "premature."
Another senator came out against a provision of the legislation that would strike funding for states to expand Medicaid beyond 2019. The GOP's proposal would also shift Medicaid's "per capita cap" from a system where the federal government pays for the entirety of an enrollee's medical bills to one in which states would receive a set amount per Medicaid enrollee, and Medicare already doesn't provide enough funds to cover the actual cost of providing care. "I'm concerned about the Medicaid population. That's the biggest part of the coverage for Ohio," said Senator Rob Portman (R-OH).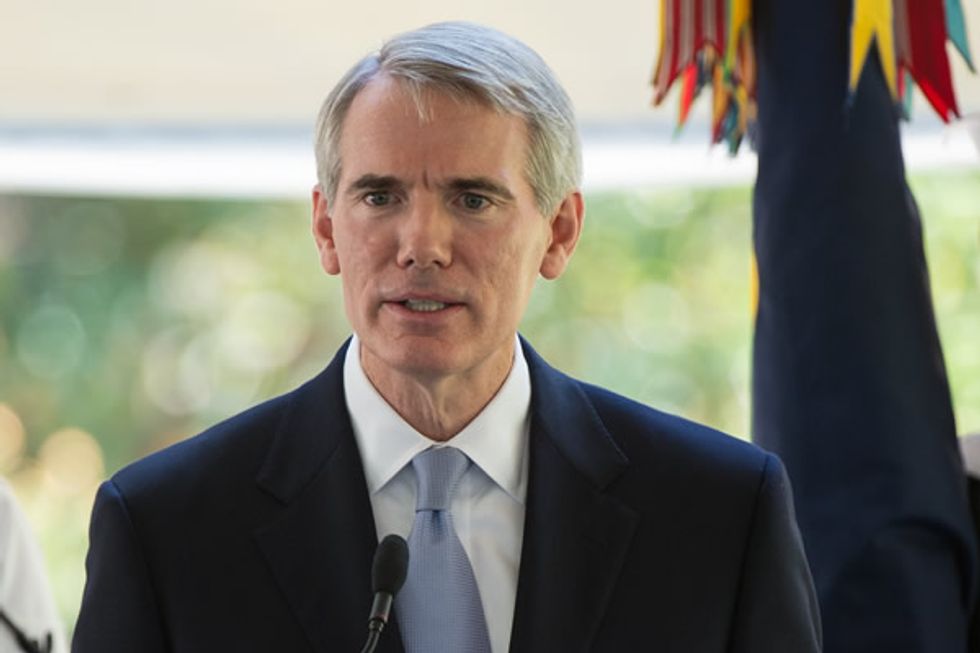 Senator Rob Portman. (Credit: Source.)
The impact of CBO's analysis has continued to erode support from key centrists, including Representative Rob Wittmann (R-VA), who in a statement announced he would oppose the measure even though he supports repealing Obamacare. After reviewing this legislation and receiving the Congressional Budget Office score today, it is clear that this bill is not consistent with the repeal and replace principles for which I stand," he said. "I do not think this bill will do what is necessary for the short and long-term best interests of Virginians and therefore, I must oppose it."
Other legislators made efforts to avoid elaborating on the CBO's report, dismissing questions from reporters. When Slate reporter Jim Newell asked Senator Orrin Hatch (R-UT) about the report, Hatch told him he had not had a chance to look at it. "When I relayed the 24 million figure to him, he simply offered, 'That's what it says,' Newell wrote. Senator Ted Cruz (R-TX) also shunned questions, telling reporters that he is still "reviewing the report." Senators Chuck Grassley (R-IA), Jeff Flake (R-AZ), and Roger Wicker (R-MS) admitted they hadn't looked at the report at all. When asked if he'd had an opportunity to review the report, Senator Tom Cotton (R-AR) quipped, "It's long!"
House leaders made an entirely different case, however.
House Speaker Paul Ryan praised CBO's analysis. "This report confirms that the American Health Care Act will lower premiums and improve access to quality, affordable care," Ryan said in a statement. "CBO also finds that this legislation will provide massive tax relief, dramatically reduce the deficit, and make the most fundamental entitlement reform in more than a generation."
"If you read this entire report, I'm pretty encouraged by it. It actually exceeded my expectations," Ryan said yesterday on Fox News.
In a series of tweets, Brendan Buck, counselor to Speaker Ryan, pointed to more positive aspects of the report, including CBO's finding that the American Healthcare Act would lower premiums by 10 percent. (In fact, premiums would continue to rise over the next four years, and the cost of premiums would only drop in comparison to the current law after 2020. Premiums are estimated to be 10 percent lower than they currently are under Obamacare, but that wouldn't be until 2026.)
The Republican divide over the bill has armed the measure's critics on the left, who are already threatening to make the enormous number of uninsured Americans a fixture of the healthcare debate.
"Every single House Republican owns this catastrophic bill and should be prepared for backlash at the ballot box, particularly given the anticipated loss of coverage for 14 million people as early as next year," said Democratic Congressional Campaign Committee spokesman Tyler Law.
Senator Bernie Sanders (D-VT), who rarely speaks to reporters on Capitol Hill, issued a statement of his own. "Legislation that would throw 24 million people off of health insurance, raise premiums for older, low-income Americans, while at the same time [providing] $285 billion in tax breaks for the top 2 percent, is a disgusting and immoral piece of legislation that should not go forward," Sanders said. "If this legislation is passed, there is no question: Thousands of Americans will die—will die—because they will not be able to go to the doctor when they need to."
Senator Joe Manchin (D-WV) went further, equating the Republican healthcare bill to murder. "If you're older, you get murdered. If you're [on the Medicaid] expansion, it's unfair," Manchin said. "And then they put on top of that tax cuts … I've said this: You've got to have a moral compass inside of you, and that's just not right. You can't do that."