Hope Hicks is said to be resigning as the White House Communications Director to President Donald Trump. The embattled 29-year-old former model recently testified before the House Intelligence Committee that she sometimes had to tell "white lies" about Russia's interference in the 2016 election.
The New York Times reports that Hicks' departure date is unclear.
---
CNN writes, "Hicks, who first entered the White House as director of strategic communications, rose to the position of communications director after her predecessor Anthony Scaramucci flamed out in just 10 days, after attacking fellow White House aides in a vulgarity-laden interview."
Trump said about her in a written statement, "She is as smart and thoughtful as they come, a truly great person. I will miss having her by my side but when she approached me about pursuing other opportunities, I totally understood. I am sure we will work together again in the future."
Hicks was born on October 21, 1988, the daughter of Caye Ann (Cavender) Hicks and Paul Burton Hicks III, the latter a former executive Ogilvy Public Relations Worldwide and executive vice president of communications for the NFL from 2010 to 2015 before becoming a manager of the consulting firm, The Glover Park Group. According to the NewsTimes, Hicks started in public relations with the Zeno Group in New York City. After meeting Ivanka Trump, she was brought on full-time in 2014 with The Trump Organization.
She has dated extensively within the Trump Organization, having had an affair with Trump's campaign manager Corey Lewandowski, and later, dating former White House Staff Secretary Rob Porter, who resigned after domestic abuse allegations from his two former wives surfaced, reports Vox.
Check out the funniest memes about Hicks' departure below: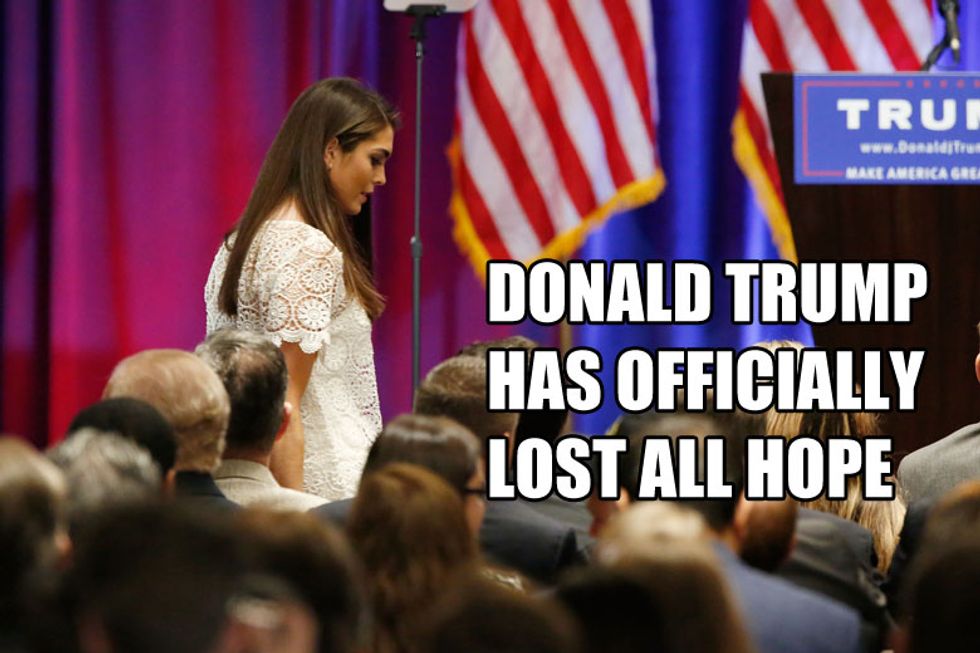 Campaign communications manager for Donald Trump Hope Hicks attends the Donald Trump speech at Trump SoHo on June 22, 2016 in New York City. (Taylor Hill/WireImage)
(Imgur)
Hope Hicks OUT. Who will be the next to go?! #TheCelebrityAppresident #BringBackTheMooch https://t.co/d1NwtjveVS

— The Daily Show (@The Daily Show) 1519854216.0