Happy Holi 2018! Today begins the spring festival celebrated in the Indian subcontinent and all over the world by Hindus. The date represents the arrival of spring and the end of winter, while also serving as a thanksgiving time for spiritual renewal of relationships.
Like the Jewish Purim holiday before it, Holi begins the night before since the Hindu calendar, like the Hebrew calendar, begins days on the night before. The evening beginning Holi is called Purnima, which means full Moon day.
---
While Holi has become increasingly secularized with globalism, the original religious underpinnings behind the holiday memorialize the way that Holika, the sister of the demon king Hiranyakashipu, was killed in the fire, which symbolized the struggle of good over evil. The night before the color festival of Holi, bonfires are held by Hindus to symbolize this cleansing of bad thoughts.
On the day that has been associated as "Holi," Indians and non-Indians throw colored powders (cornstarch powder mixed with food coloring and other variants) at each other to celebrate. However, there are other ways to make the powders, some less environmentally friendly, which has become a concern, reports the India Environment Portal.
In more recent years, Holi has spread across the world, including countries with large Indian immigrant populations such as Suriname, Guyana, Trinidad and Tobago, South Africa, Malaysia, the United Kingdom, the United States, Canada, Mauritius and Fiji. Here, the practice of Holi has been excitedly adopted by non-Hindu celebrants.
See the coolest, most colorful Holi photos from around the world here:
MATHURA, INDIA - FEBRUARY 27: A widow covered in colors after celebrating Holi at the historic Gopinath temple in Vrindavan on February 27, 2018, in Mathura, India. Widows in Vrindavan played holi, an initiative by Sulabh International for the sixth consecutive year, subverting traditions that otherwise expect them to lead austere and reclusive lives. The scene was awash with color as hundreds of women in spotless white saris stepped out of their ashrams and played with gulaal in the temple courtyard. (Photo by Sanchit Khanna/Hindustan Times)
Feet of widow covered in colors after celebrating Holi at the historic Gopinath temple in Vrindavan on February 27, 2018, in Mathura, India. Widows in Vrindavan played holi, an initiative by Sulabh International for the sixth consecutive year, subverting traditions that otherwise expect them to lead austere and reclusive lives. The scene was awash with color as hundreds of women in spotless white saris stepped out of their ashrams and played with gulaal in the temple courtyard. (Photo by Sanchit Khanna/Hindustan Times)
Widows of Vridavan celebrating Holi at the historic Gopinath temple in Vrindavan on February 27, 2018 in Mathura, India. Widows in Vrindavan played holi, an initiative by Sulabh International for the sixth consecutive year, subverting traditions that otherwise expect them to lead austere and reclusive lives. The scene was awash with color as hundreds of women in spotless white saris stepped out of their ashrams and played with gulaal in the temple courtyard. (Photo by Sanchit Khanna/Hindustan Times)
Students from JCB school celebrating Holi festival and playing with colors, on March 1, 2018, in Shimla, India. Holi is a popular Hindu spring festival, also known as the "festival of colors." It signifies new beginnings, the victory of good over evil, the arrival of spring, end of winter, and for many, a festive day to meet others, play and laugh, forget and forgive, and repair broken relationships. (Photo by Deepak Sansta/Hindustan Times)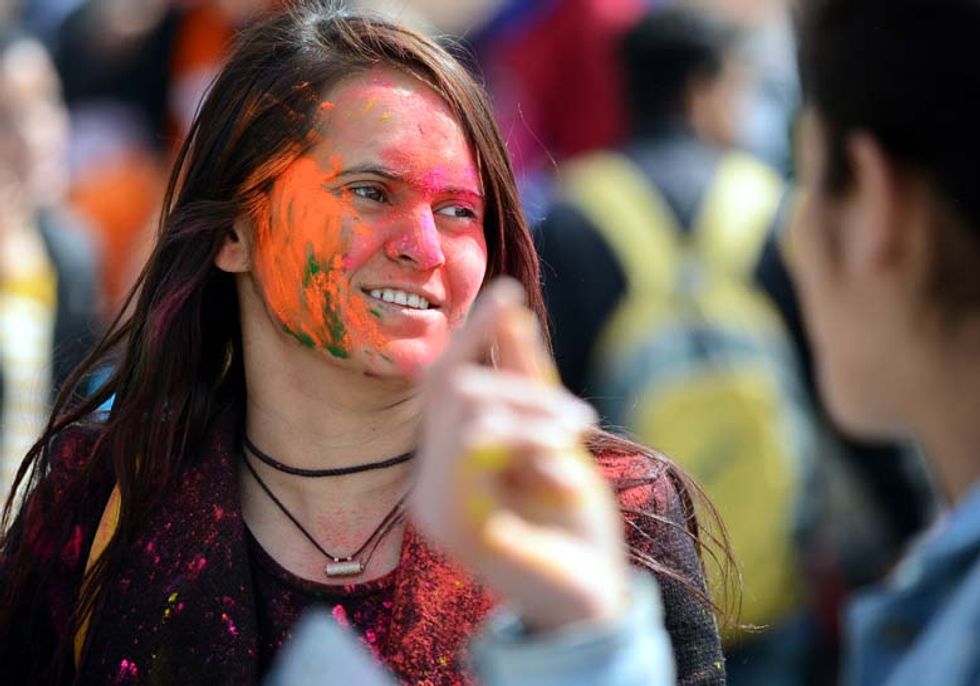 SHIMLA, INDIA - MARCH 1: Girl with colored face celebrating Holi festival at Ridge, on March 1, 2018, in Shimla, India. Holi is a popular Hindu spring festival, also known as the "festival of colors." It signifies new beginnings, the victory of good over evil, the arrival of spring, end of winter, and for many, a festive day to meet others, play and laugh, forget and forgive, and repair broken relationships. (Photo by Deepak Sansta/Hindustan Times)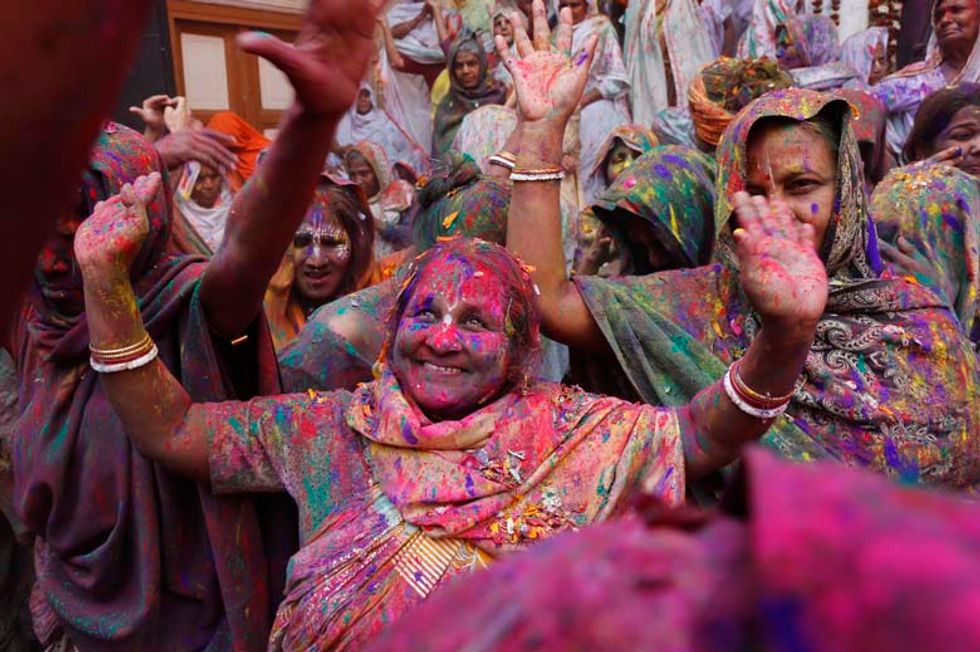 MATHURA, INDIA - FEBRUARY 27: Women sing and dance as they celebrate Holi in the Gopinath temple at Vrindavan on February 27, 2018 in Mathura, India. The festival of color will be celebrated across the country on March 2 this year. (Sanchit Khanna/Hindustan Times)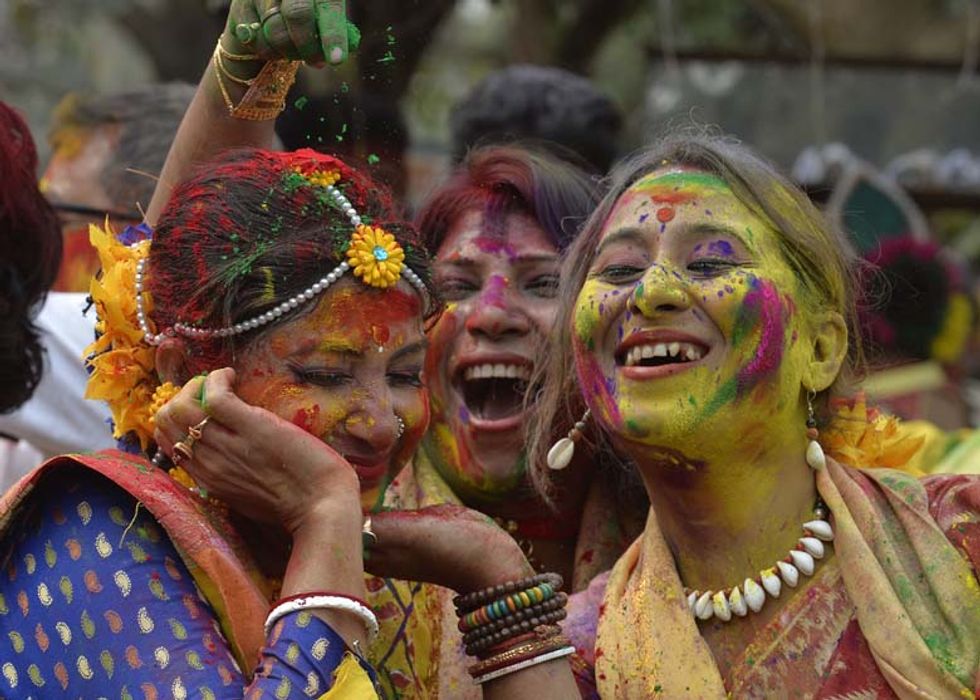 Indian revelers play with colored powder during celebrations for the Holi festival in Siliguri on March 1, 2018.
Holi, the popular Hindu spring festival of colours, is observed in India at the end of the winter season on the last full moon of the lunar month, and will be celebrated on March 1 this year. (DIPTENDU DUTTA/AFP/Getty Images)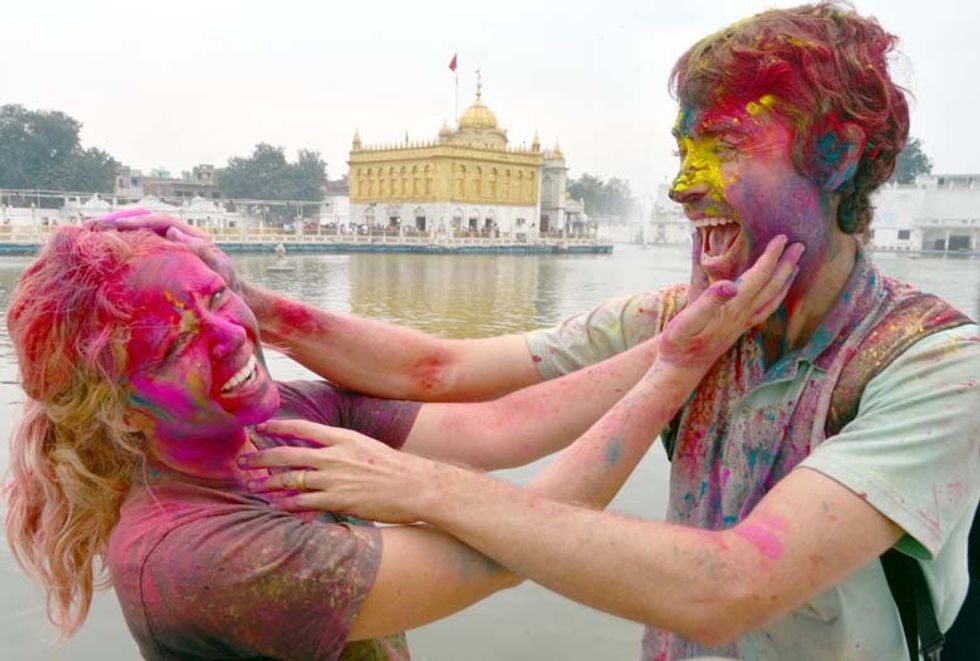 AMRITSAR, INDIA - MARCH 1: Foreign tourists playing with colored powder at the Holi festival celebrations at Durgiana Temple on March 1, 2018 in Amritsar, India. Holi is a popular Hindu spring festival, also known as the "festival of colors." It signifies new beginnings, the victory of good over evil, the arrival of spring, end of winter, and for many, a festive day to meet others, play and laugh, forget and forgive, and repair broken relationships. (Photo by Sameer Sehgal/Hindustan Times via Getty Images)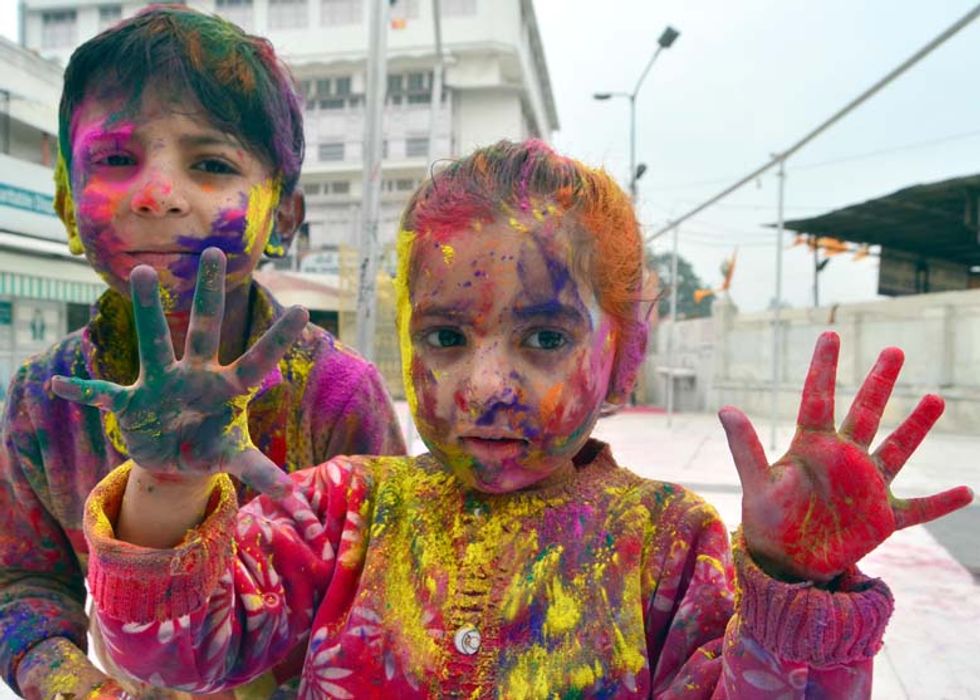 AMRITSAR, INDIA - MARCH 1: Children play with colored powder to celebrate Holi at Durgiana Temple on March 1, 2018 in Amritsar, India. Holi is a popular Hindu spring festival, also known as the "festival of colors." It signifies new beginnings, the victory of good over evil, the arrival of spring, end of winter, and for many, a festive day to meet others, play and laugh, forget and forgive, and repair broken relationships. (Photo by Sameer Sehgal/Hindustan Times via Getty Images)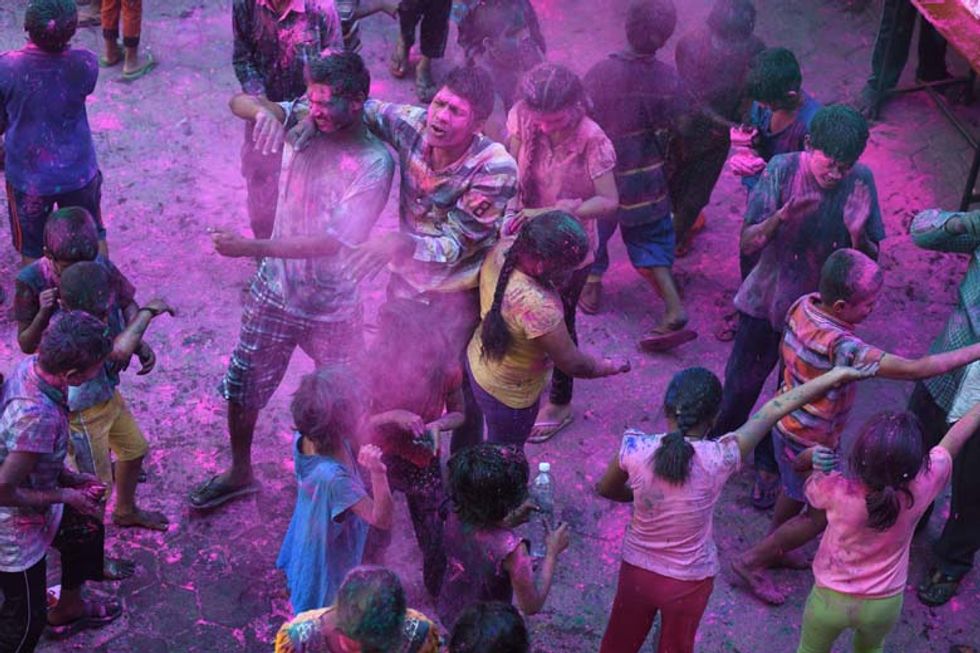 Visually impaired Indian students from the Devnar School for the Blind celebrate Holi in Hyderabad on March 1, 2018. (NOAH SEELAM/AFP/Getty Images)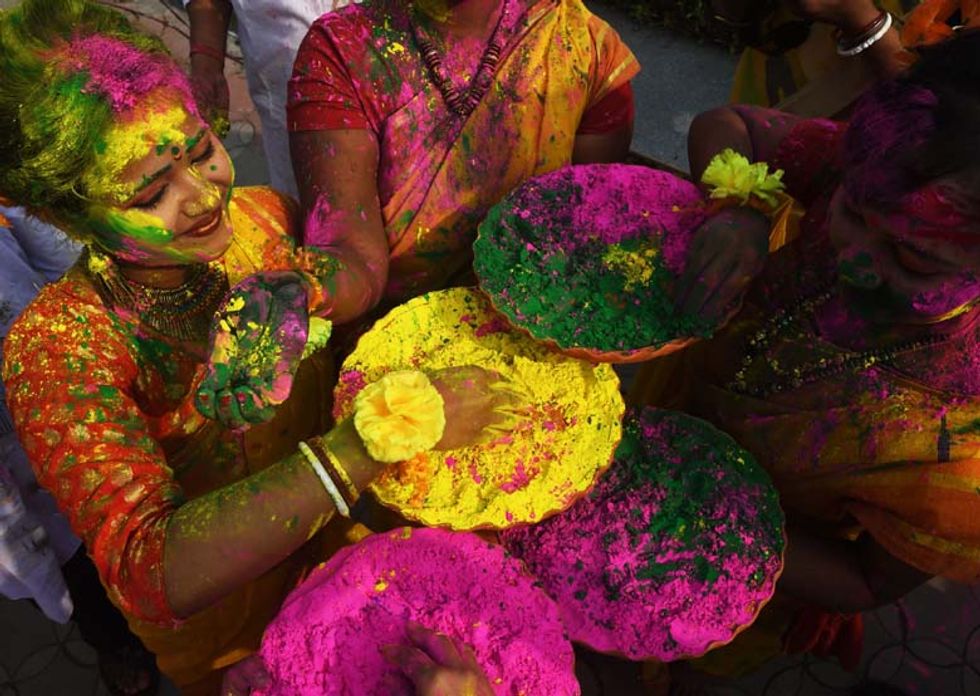 Indian students play with colored powders to celebrate Holi in Kolkata on March 1, 2018. (DIBYANGSHU SARKAR/AFP/Getty Images)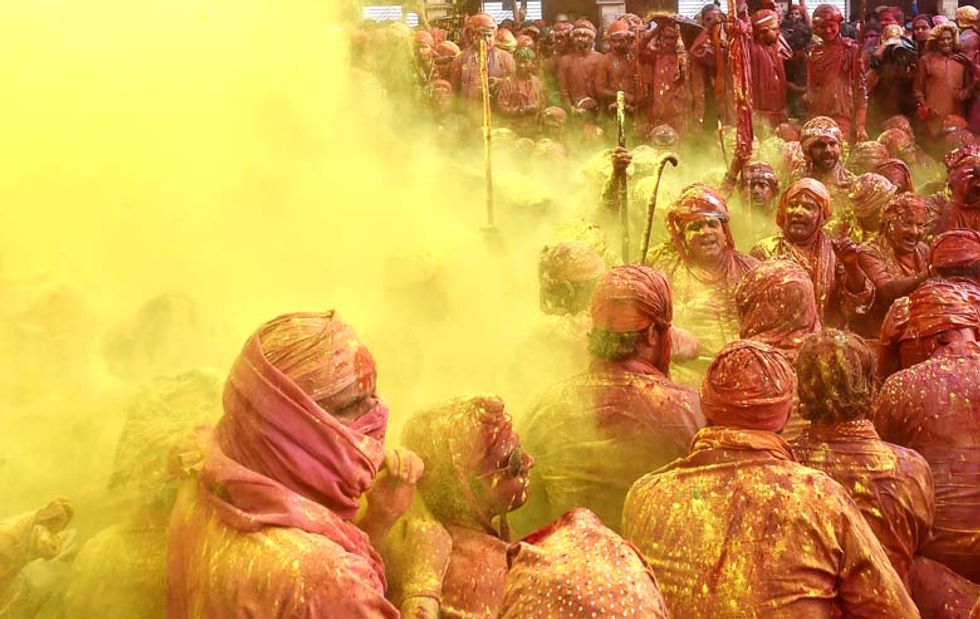 People smear themselves with colors during the Lathmar Holi festival at the Nandji Temple on February 25, 2018 in Nandgaon, India. (Ajay Aggarwal/Hindustan Times via Getty Images )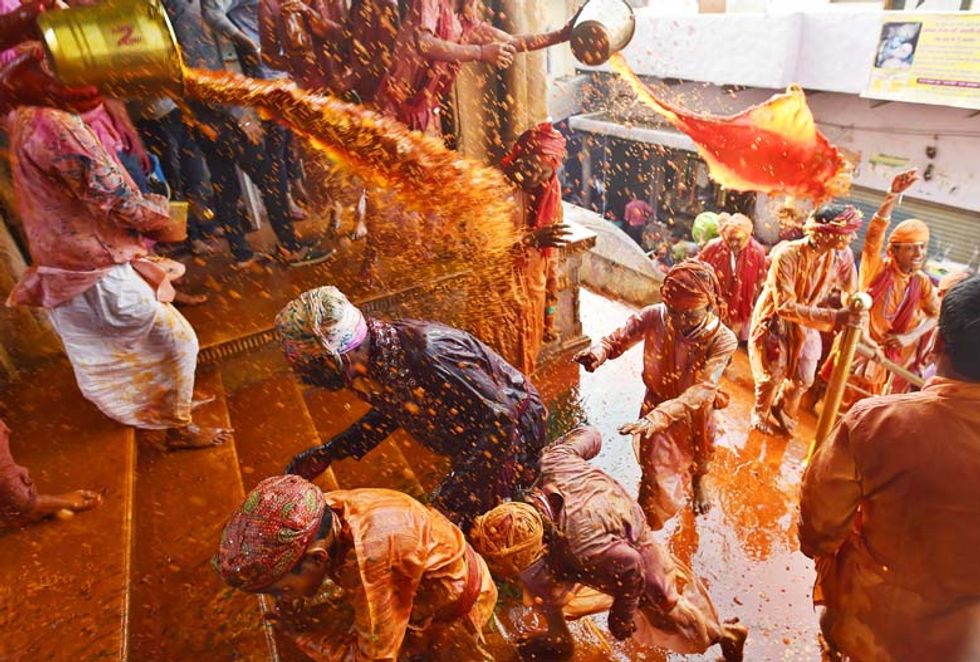 People smear themselves with colors during the Lathmar Holi festival at the Nandji Temple on February 25, 2018 in Nandgaon, India. (Ajay Aggarwal/Hindustan Times via Getty Images )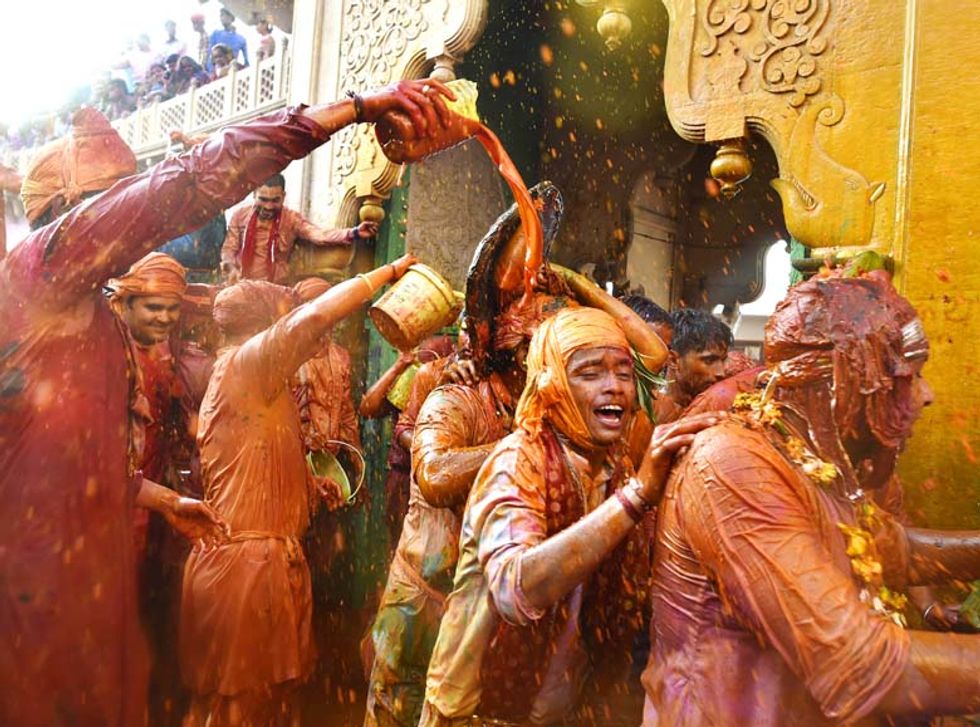 People smear themselves with colors during the Lathmar Holi festival at the Nandji Temple on February 25, 2018 in Nandgaon, India. (Ajay Aggarwal/Hindustan Times via Getty Images )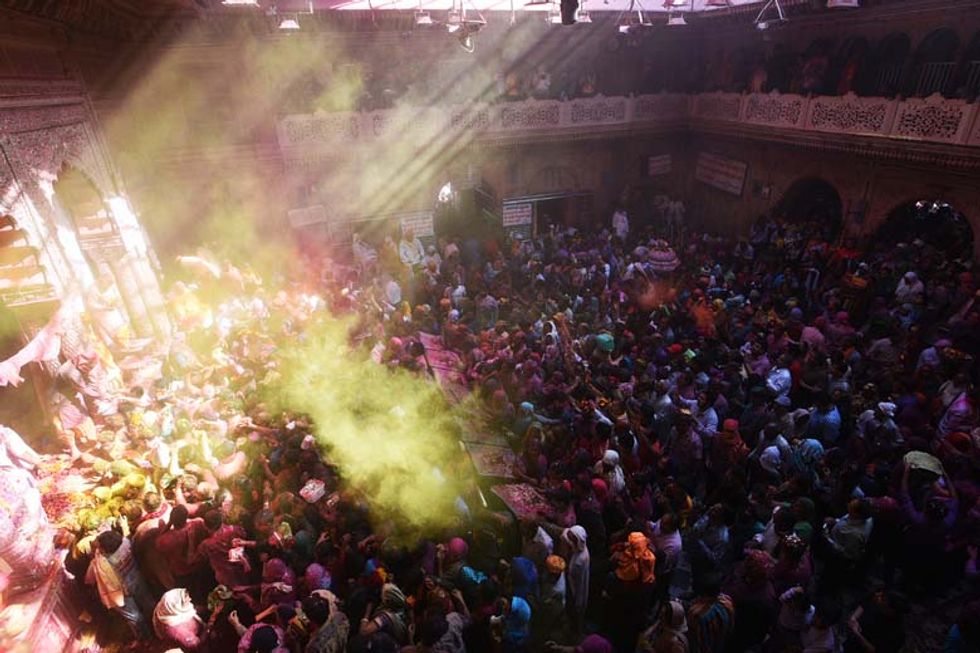 Devotees take part in Holi celebrations at Banke Bihari temple on February 27, 2018 in Vrindavan, India. (Sonu Mehta/Hindustan Times via Getty Images)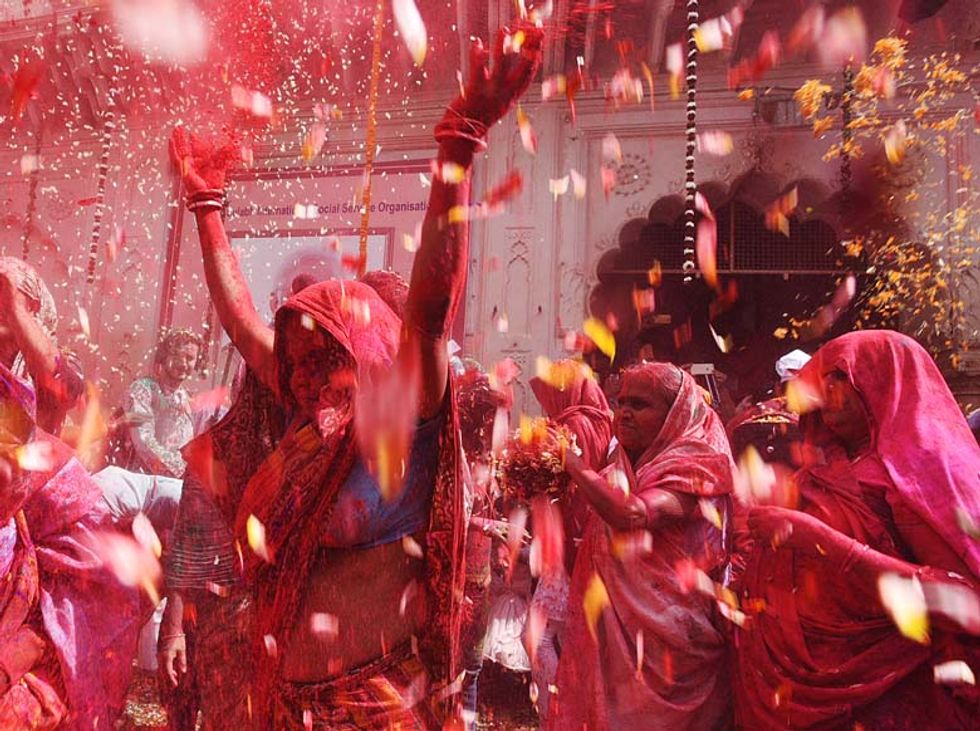 Indian widows take part in a Holi celebration organized by Sulabh International at Gopinath Temple on February 27, 2018 in Vrindavan, India. The widows of Vrindavan played 'Holi' today at the historic Gopinath temple in Vrindavan for the sixth consecutive year, in defiance of a tradition that forced them to lead the life of a recluse. (Sonu Mehta/Hindustan Times via Getty Images)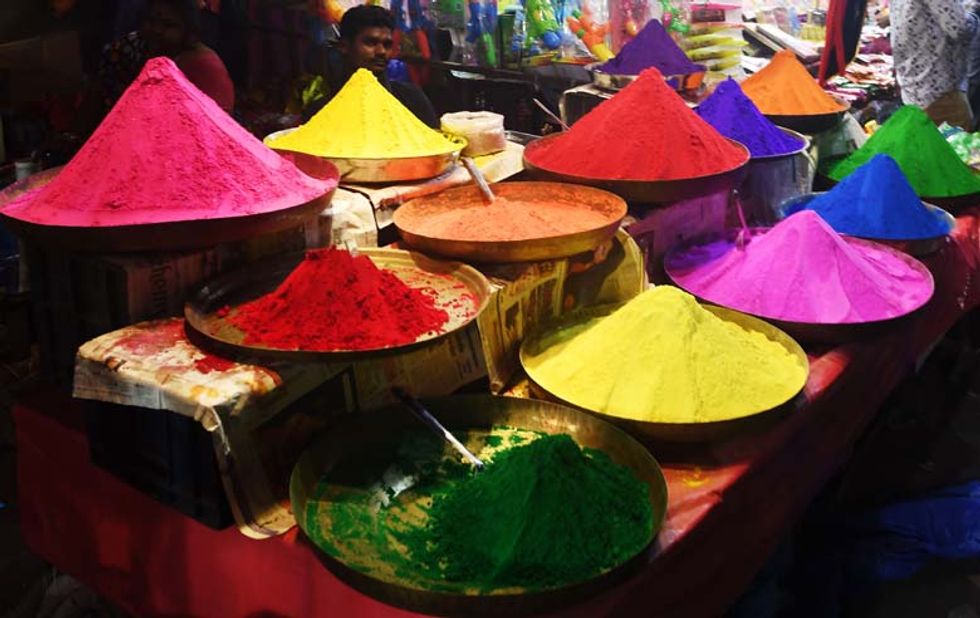 An Indian vendor waits for customers next to piles of colored powder ahead of celebrations of the Hindu festival of Holi, in Kolkata on February 27, 2018. (DIBYANGSHU SARKAR/AFP/Getty Images)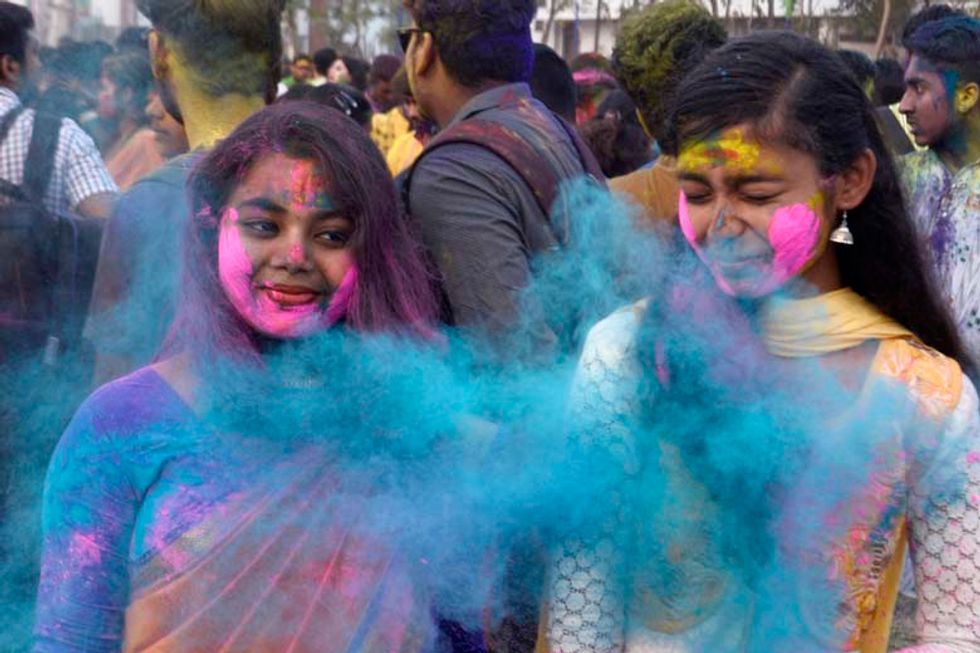 Students of RBU smear color powders on each other during the Vasanta Utsav during the Holi festival. Students of Rabindra Bharati University or RBU celebrate Vasanta Utsav on the colorful festival of Holi. (Saikat Paul/Pacific Press/LightRocket via Getty Images)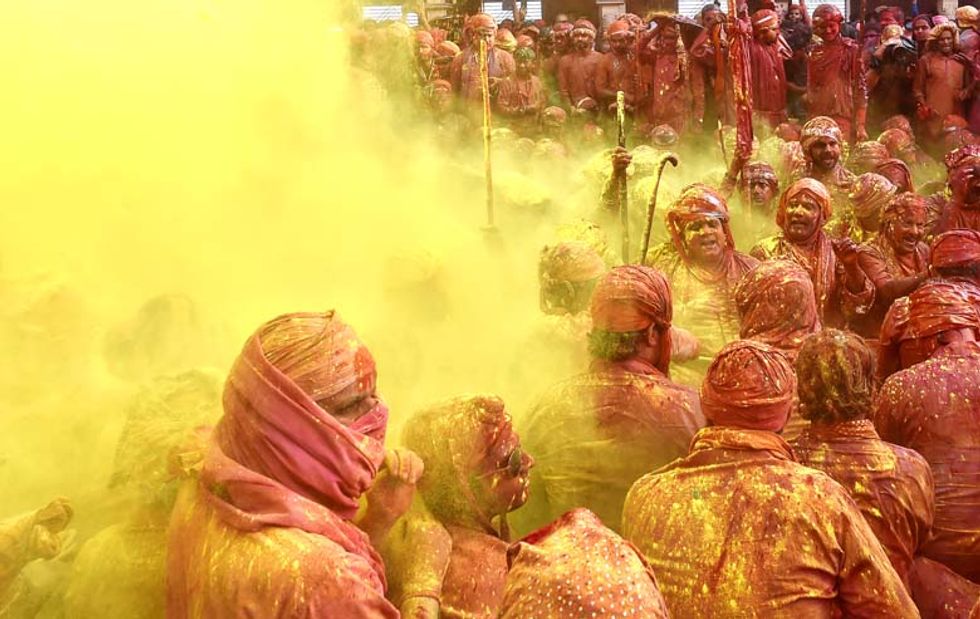 Villagers smear each other with color during the Lathmar Holi festival at the Nandji Temple on February 25, 2018 on Sunday in Nandgaon near Mathura, India. (Ajay Aggarwal/Hindustan Times via Getty Images)