Former President George W. Bush has been fairly quiet since leaving office in 2009. Most of his news coverage has been about his work as a painter. Yesterday, NBC's Today invited him to discuss a new book of his paintings, but the topic became political.
When Matt Lauer asked about the Trump travel ban, Bush replied that he is "for an immigration policy that is welcoming and that upholds the law." This reflects Bush's attempts to quell anti-Muslim sentiment after 9/11.
---
In an interview with People, Bush went farther:
I don't like the racism and I don't like the name-calling and I don't like the people feeling alienated. Nobody likes that. On the other hand, we've been through these periods before.  We've always had a way to come out of it. I'm more optimistic than some. It happens every time - people campaign and then the job's different when they get in there. And the job has a way of bringing a reality to each president's situation. And that's gonna happen now.
Bush also criticized Trump's comments about the media. Lauer asked, "Did you ever consider the media to be the enemy of the American people?" That got a laugh from the former president, who replied, "I consider the media to be indispensable to democracy. We need an independent media to hold people like me to account. Power can be very addictive. And it can be corrosive. And it's important for the media to call to account people who abuse their power, whether it be here or elsewhere."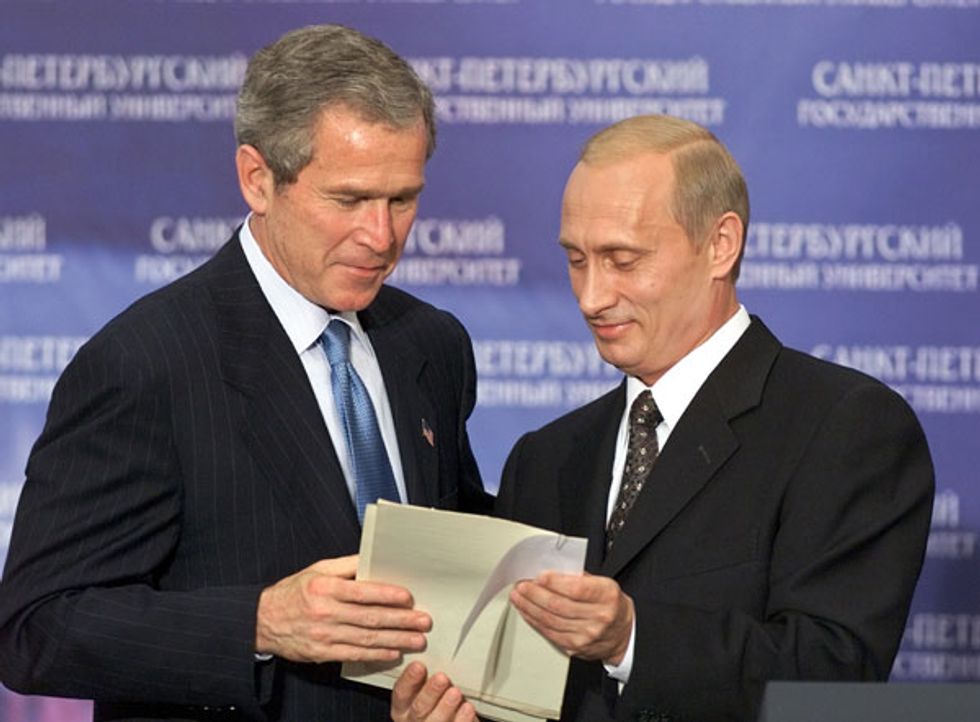 Credit: Source.
Bush avoided direct criticism of the current president, but his comments were far stronger than any he made during the administration of former president Barack Obama. In March of 2009, Bush said of Obama, "He deserves my silence. There's plenty of critics in the arena. I think it's time for the ex-president to tap dance off the stage and let the current president have a go at solving the world's problems."
But Bush showed far less restraint with his opinions on and advice for Trump. "One of the things I spent a lot of time doing was trying to convince a person like Vladimir Putin, for example, to accept the notion of an independent press. And it's kind of hard to tell others to have an independent, free press when we're not willing to have one ourselves."
Bush went on to imply, on a topic of immediate concern, that there should be a larger investigation of Michael Flynn, the National Security Adviser who was forced to resign earlier this month. "I think we all need answers," Bush said. "I'm not sure the right avenue to take. I am sure, though, that that question needs to be answered."