Former President Donald Trump lashed out at Jack Smith—the special counsel who led the investigation that ultimately resulted in Trump's indictment and arrest on charges he'd stolen classified documents from the White House—after CNN aired audio of Trump showing off material he deemed "highly confidential."
The recording, aired on Anderson Cooper 360, captured a conversation where Trump appears to be sharing confidential information with individuals in the room while discussing General Mark Milley, the chairman of the Joint Chiefs of Staff.
Portions of this audio have been cited in the federal indictment against Trump concerning his withholding of classified documents after leaving the White House. During the conversation, which reportedly involved the writers of Mark Meadows' autobiography, Trump makes reference to a classified document that he did not declassify.
He acknowledges that as the president, he had the authority to declassify it but indicates that it remains secret. The audio captures Trump mentioning the classified nature of the information, stating, "This is secret information. Look, look at this," while the sound of papers shuffling can be heard in the background.
You can hear the audio of Trump's remarks below.

Trump later attacked the "deranged" special counsel and accused him of "illegally" leaking the tape that has served as a boon to the federal government's case against him.

Trump wrote:

"The Deranged Special Prosecutor, Jack Smith, working in conjunction with the DOJ & FBI, illegally leaked and 'spun' a tape and transcript of me which is actually an exoneration, rather than what they would have you believe."
"This continuing Witch Hunt is another ELECTION INTERFERENCE Scam. They are cheaters and thugs!"
You can see what Trump said below.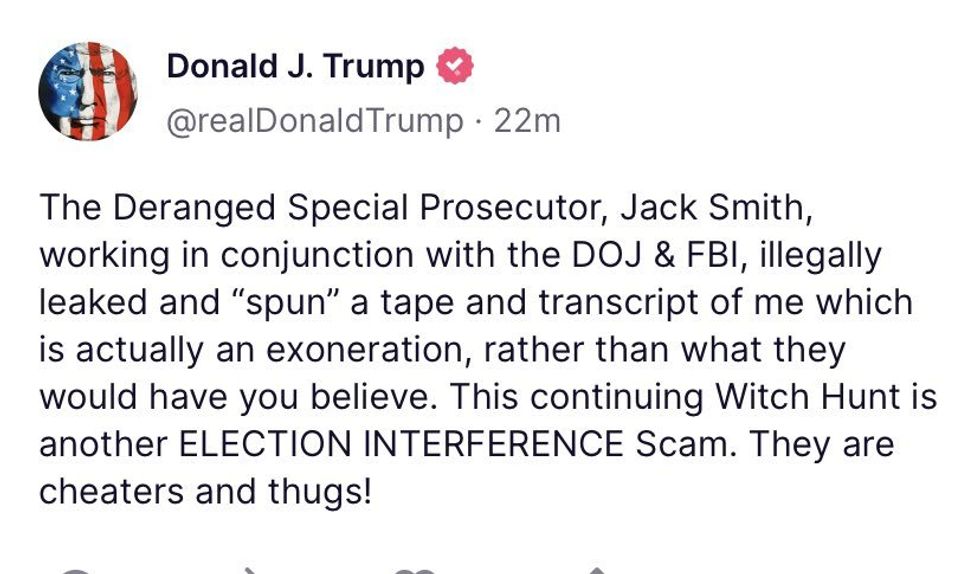 @realDonaldTrump/Truth Social
Trump's remarks have certainly not helped his case.
There is no evidence presented by Trump to support the claim that Smith, the Department of Justice (DOJ), or the FBI were involved in the publication of the audio.

CNN's report states—according to the indictment—the audio recording is one of two instances where Trump is alleged to have shared classified documents with individuals who did not possess security clearance.
The release of this audio recording underscores the continued scrutiny surrounding the Trump administration and its handling of classified documents, adding another layer to the existing investigations and legal proceedings related to Trump's actions during his presidency.
As the legal process unfolds, further examination of the withheld documents and their contents may shed light on their significance and potential implications for national security.