Hosts of 'The Five' complained 'now we have to show both sides' after classified documents are found at Mike Pence's home
25 January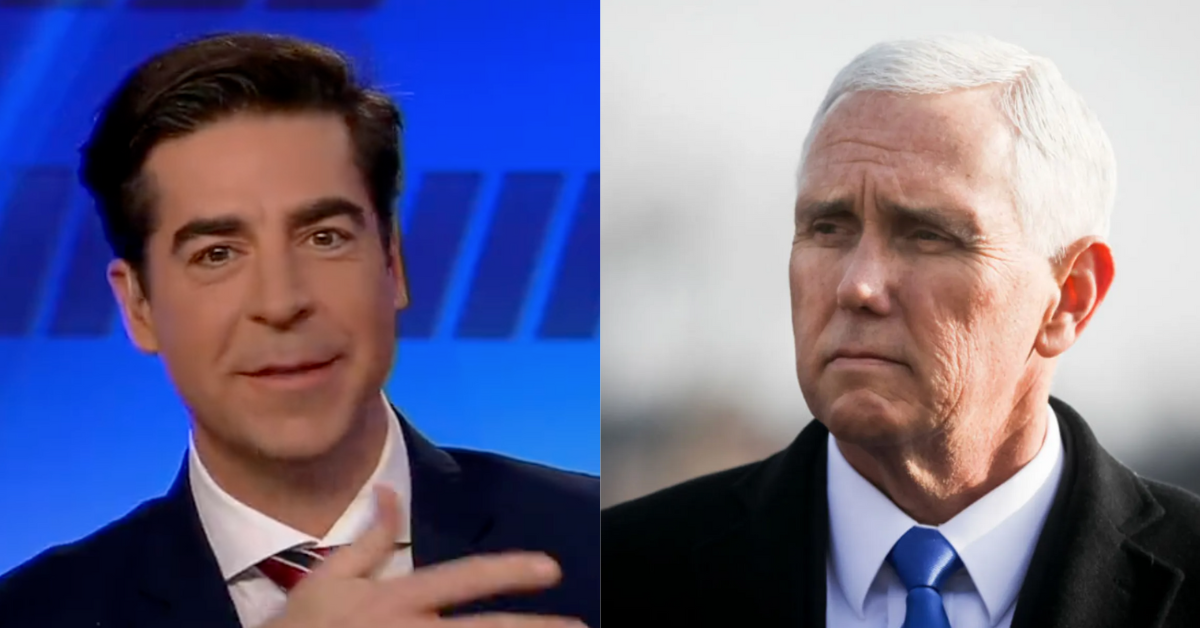 Fox News; Beata Zawrzel/NurPhoto via Getty Images
Fox News hosts complained about having to "show both sides" after classified documents were found at the home of former Vice President Mike Pence, whose attorney said Pence "was unaware of the existence of sensitive or classified documents at his personal residence."
While Pence's attorney said he "understands the high importance of protecting sensitive and classified information and stands ready and willing to cooperate fully with the National Archives and any appropriate inquiry," that frustrated the hosts of The Five.
They openly worried the news would undercut their continued attacks against Democratic President Joe Biden for his own mishandling of classified documents.
Fox News personality Jesse Watters and his fellow panel members Greg Gutfeld and Jeanine Pirro complained the scandal now means "we have to be fair and balanced and show both sides."
You can hear what they said in the video below.
Earlier this month, government documents were found at the Penn Biden Center for Diplomacy and Global Engagement in Washington, D.C.
Biden said he was "surprised" classified documents were found at the think tank, saying people know he "take[s] classified documents, classified information seriously" and his lawyers did the right thing when they "immediately called" the National Archives and Records Administration (NARA) and turned them over.
The scandal has only become more complicated by the discovery of more documents at Biden's private residences, drawing comparisons to the ongoing federal investigation into former Republican President Donald Trump, who denied he broke federal law regarding presidential documents he'd spirited away from the White House.
But Biden's misuse of classified documents was convenient for Fox News and its ratings, so much so that Watters casually suggested Pence should have "destroyed" the documents rather than be implicated in an investigation that would require Fox News to pivot away from openly attacking Democrats.
Watters said Pence had "ruined" the "great thing" that was Fox News' inflammatory coverage of the Biden administration after Gutfeld complained the network now has "to be fair and balanced and show both sides":

"I mean, Pence, seriously. We have this great thing going with Joe ... I mean, he could've just destroyed it. We never would've known."
"Now we have to show both sides! And you know Pence is so clean. Squeaky clean. It's nothing like the real bad documents that Joe Biden was squirreling away."
After Gutfeld jokingly suggested Pence had reported the documents because he "wanted to be included," Watters couldn't help lamenting Pence's behavior further:
"He's like, 'Hey, I'm running for president, too. Investigate me! I looked at secret stuff!'
Many criticized Fox for saying the quiet part out loud.
Fox News has all the while continued to make excuses for Trump, who has claimed he had the ability to declassify any and all documents or information by thinking it was declassified.
Trump's claims were shut down by federal prosecutors who heard the explanation from Trump's attorneys, who made the ability to withhold documents from review critical to Trump's defense.
Attorneys with the Department of Justice (DOJ) are reportedly putting Trump on the "fast track to prosecution." They have maintained the material Trump removed from the White House should never have been taken and the intelligence contained within was relevant to global affairs.