In this time of rising health insurance plans and high deductibles, with the future of theACA repeal hanging in the Senate's hands, imagine if you could bypass insurance altogether. What if you could pay your doctor a monthly fee for basic care much like a gym membership? While that may sound like a dream lost to the innocence of the 1950s, a small but growing percentage of U.S. physicians are resurrecting a model ofdirect pay primary care that provides better patient access with a greater focus on quality of care. It's driven in large part by physician frustration with third-party payers and overloaded panels, as well as consumer frustration with long waits and high co-pays to see doctors for simple issues.
The concept works like this: Instead of taking insurance, your doctor would charge you a monthly or yearly membership fee for basic visits, tests and medications. For the patient, this means no surprise out-of-pocket expenses; getting seen more quickly and more often, if necessary; and a better relationship with one's physician. For doctors, this model means they no longer have to take on more patients than they can handle, fewer third-party payment system hassles, the luxury of seeing fewer patients at their own schedule, with greater focus on the patient relationship. Of course, it does not cover catastrophic care, such as hospitalization, or treatment for diseases like cancer, and it may not meet the needs of older and disabled people who traditionally rely on Medicare and Medicaid.
---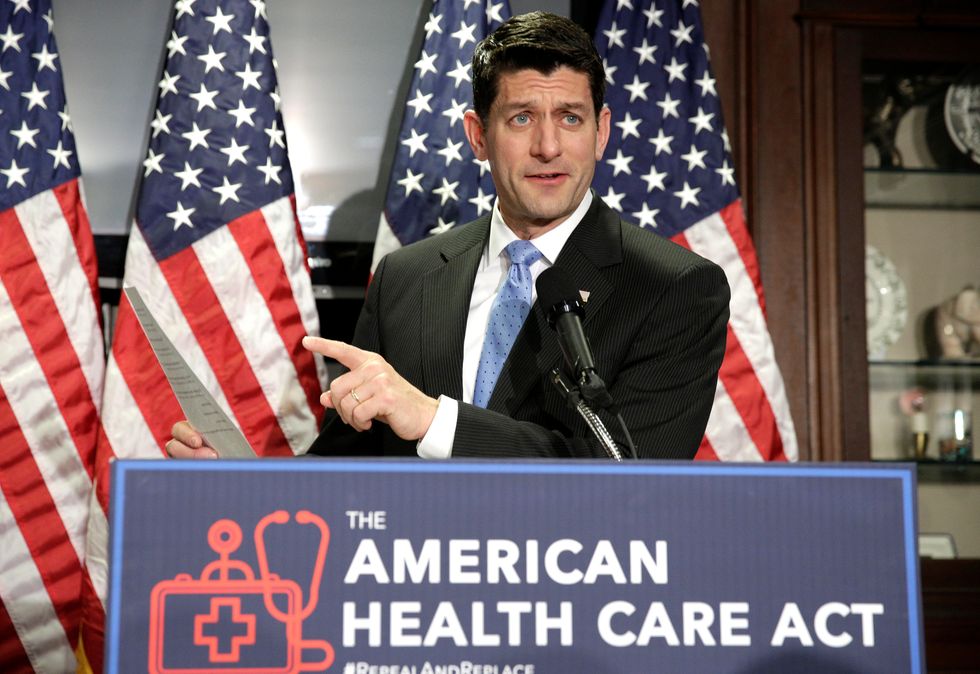 Speaker Paul Ryan is the most prominent face of the ACA repeal. (Credit: Source.)
Direct pay healthcare is not a new concept. Philip Eskew, creator of the websiteDirect Primary Care Frontier,notes that direct primary care traces its roots to the late 1990s and early 2000s when three doctors opted to dump insurance and charge monthly fees to bring some joy back to practicing medicine. And it had the added benefit of allowing patients to know exactly what their visits cost.
Regardless of its challenges, Dr. Bryan Hill, a pediatrician in North Carolina opened his direct pay pediatric practice, Gold Standard Pediatrics, in September 2016 after years of frustration with "corporate administration of a larger health system" and "the volatility of reimbursement issues" in various traditional models of care. After taking some years off
from practicing medicine to work in administration, he did a colleague a favor and made a house call to see a child who'd been sick for some months. "I treated him, he got better, and I realized I missed seeing patients," he tells Second Nexus. From there he attended a national meeting about the direct pay model, remarking "It was the first time in over twenty years that I'd been in a room with over 300 doctors and they were all happy."
In his experience, the traditional third-party payer model is mainly "incentive for the employer to get the employed physician to see more and more patients. What you lose with that is the ability to get to know your patients."
Hill's practice is one of just a handful of direct pay pediatrics models that he knows of, but he feels it's the perfect practice type for the model because it tends to have a higher utilization than primary care, since children's budding immune systems often mean multiple illnesses in their first few years. He also finds that a lot of times patients just want advice, and they don't need to come into the office for everything, but do wish to have access to a physician. His monthly membership fee allows members literal 24-hour access to him on a private phone number, and he will even come into the office on weekends if necessary.
"[Direct pay] gives me the chance to practice medicine the way I want to practice it," he says. "The current fee for service model fosters only getting paid when you physically lay eyes on a patient and generate a bill." This discourages people from coming in, he feels, because it costs them money, and it incentivizes clinics to get people to come in more often, to generate money. "We tried to figure out ways to give value."
Some of those ways includes covering basic tests such as strep tests, flu tests, and some imaging tests. They don't even charge their members for flu shots, "Because it's in our best interest to keep them healthy." Membership also includes things like sports physicals, well child checks and any screenings for routine health maintenance.
Hill's monthly fee is tiered. Families pay a one-time enrollment fee of $25 for one child; $50 for two children; and $75 for three or more children. From there, monthly fees, which are
billed at the end of a service month, not the beginning, run $45 per child from birth to age 2; $70 month for ages 2 to 12, and $35 month for ages 12-18. For families with more than three children, they pay a flat rate of $90/month regardless of the number of children.
His business also offers non-member drop in visits, inspired by a grandmother who wanted to be able to bring in her visiting grandchildren without paying for a membership she'd only use one month out of the year.
While it all sounds great, Wayne Lipton, CEO and managing partner of Concierge Choice Physicians in New York says it's an imperfect model. "This is not healthcare. It is one small sector and it certainly doesn't deal with the catastrophic in nature," he tells Second Nexus.
Hill makes it clear that he still encourages patients to maintain insurance in case of serious illness such as cancer or other unforeseen need for hospitalization, though he feels it is his job "to keep people from needing to go to the ER. Continuity of care is key." He calls this "offensive medicine," which comes from the kinds of preventive care his practice offers. What his nurse calls "hassle free healthcare."
In Lipton's experience, it's difficult for a practice to make enough money with this model. "We've talked with dozens of doctors and experts in the field and over eighty percent of them moonlight at other jobs because they don't get enough patients," he says.
Indeed, even Hill still engages in telemedicine consulting for another medical group, though he plans to quit that as soon as Gold Standard reaches maximum enrollment.
Lipton feels that while the direct pay model sounds like a dream to doctors, "the demand for it is very small." Not to mention the fact that "too large a portion of the market is imbedded in insurance," he adds. However, he understands that doctors are frustrated with
the current system in many ways, and he applauds direct care in the niches where it works. "Its greatest success was in a rural area of North Carolina where there was only one game in town," Lipton says. "There are lots of challenges in it."
Hill acknowledges these challenges. "You have to have the stomach for it. It's not for everybody," he says. "The real challenge was pricing—how much is enough that we can continue to operate but not stumble upon my own personal self worth, and is that price one that others are willing to pay?" So far, his patients seem happy to do so.
However, Lipton remains unconvinced that anyone will choose to pay for what are essentially costs that "most people could easily manage or have covered under a fee-for-service environment," through HSAs or other medical flex spending accounts. "I don't think the delivery part is particularly bad; I just don't think the consumer is interested in paying out of pocket for it."
In fact,it's illegal to use health savings accounts (HSAs), flexible spending accounts and Medicare savings accounts to pay for a direct pay primary care membership, although there is alegislative push to make it legal to use these funds for direct primary care.
While it's easy to see why some consumers would thrill to the idea of an affordable way to see their doctors more often for less money, there are also concerns that separating insurance from primary care means driving down the doctors' pay. Not to mention there is a growingprimary care shortage in the U.S. for physicians who do take insurance. Some experts are concerned that if more physicians defect to a direct pay model, it will impose a greater burden on the remaining physicians in the fee-for-service model.
None of this is slowing Hill down. He feels the biggest hurdle to attracting new members is that "In the current healthcare environment, it's hard for people to believe it's not a scam." He feels direct pay is ideally suited to fill the gap for people who either don't want health insurance or who really only need it for "day to day preventive care."
Lipton says that "while it would be very nice if it were a winner," he is fearful "that it may get turned into a substitute for real health insurance, [which] it's not." Instead, he believes a hybrid model of concierge care is more likely to see success, in which physicians arrange their day into blocks. For one block of hours, physicians could see patients who pay an annual membership without insurance, while for the other block of hours they would see insurance-only patients. "It solves many problems by reaching into the private sector in part, but maintains the relationship with public third party payers and government insurances. It's like a bridge."