While Nov. 24, 2017 may be the official start of Black Friday, Target locations around the country will be offering those exclusive offers in the evening of Thanksgiving Day. Following a new tradition to open half-a-day earlier, Target stores will be hosting Black Friday sales starting Nov. 23 at 6 p.m.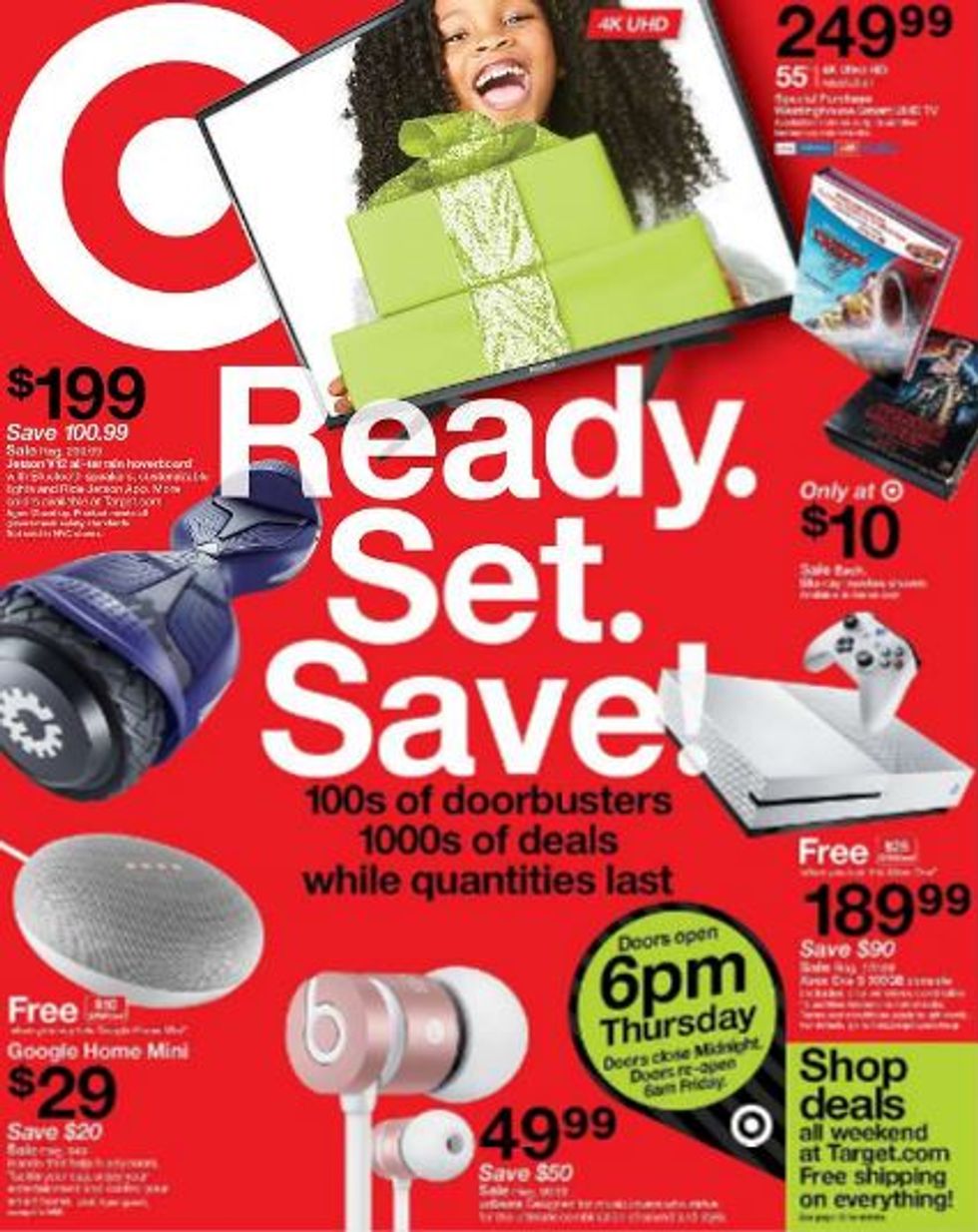 Source: Target
---
As many families sit down for their Thanksgiving feast, others will be lining up at Target's doors to partake in the annual holiday shopping spree. Initial sales will run from 6 p.m. on Thanksgiving until midnight. Adamant shoppers should stick around, however, as doors will reopen again at 6 a.m. on Black Friday. Stores will then be open until either 10 p.m., 11 p.m. or midnight. For specific closing hours on Black Friday, use the store locator and view "store info" for the desired location.
Target REDcard holders were given early access to Black Friday offers on Nov. 22 and were able to shop specific offers online only until 11:59 p.m. that evening. Non-REDcard holders can shop Target's selection of Black Friday offers during the store's posted hours.
Target's Black Friday ad touts "100s of doorbusters" and "1000s of deals", all available while quantities last. Shoppers that arrive early enough can expect to find sales on electronics, DVDs, household appliances, and toys.
Some of the more notable offers include:
$100 off PlayStation 4 1 TB
$100 off PlayStation VR Headset
Legend of Zelda Nintendo 2DS for $79.99
$20 off Amazon Echo and Echo Dot
$250 Target gift card with iPhone 8 and 8 Plus purchase
$400 off Nikon D3400 DSLR bundle
$100 off iRobot Roomba 690
Typical of Black Friday sales, there will also be heavy discounts on televisions, including $200 off a 55" 4K UHD LG and $450 off a 65" 4K UHD Samsung unit. An assortment of DVDs will also be on sale for $4, including Deadpool, Ghostbusters (2016), Angry Birds, and Fences. Shoppers that spend $50 or more on Black Friday only will receive a 20% discount on one trip between Nov. 28 and Dec. 10.
Costumers looking to enjoy Target's doorbuster savings will want to consider arriving before 6 p.m. on Thanksgiving Day as a line is expected to form.