President Donald Trump's approval ratings justkeep falling. The latest Quinnipiac University national poll, released yesterday, shows that more Americans disapprove of Trump and fewer approve of the job he is doing as president.
The polling was conducted from May 4-9, so the numbers do not yet reflect the full fall out of the Comey firing and of the resulting increase in criticism from some Republican lawmakers. Even without these, Trump only earned a 36 percent approval rate. Of the voters polled, 58 percent disapproved of the job he is doing.
---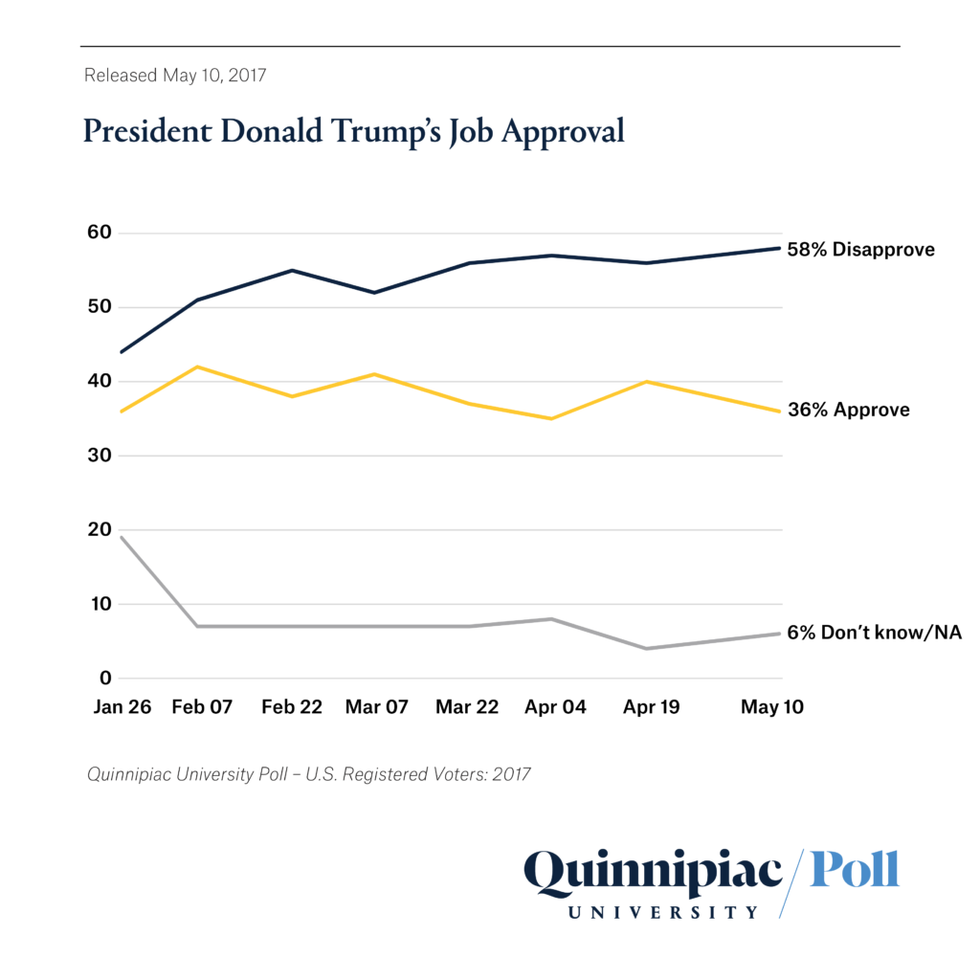 Credit: Source
But the biggest blow in these numbers came from Trump's support among white voters with no college degree. White men and independent voters are beginning to abandon him. In April, 57 percent of white voters with no college degree approved of how the president was doing his job. Only 38 percent disapproved. Yesterday's data showed a nearly even split, with 47 percent of the group saying they approve and 46 percent saying they disapprove.
According to Quinnipiac, "white men go from a 53 - 41 percent approval April 19 to a split today with 48 percent approving and 46 percent disapproving." And independent voters
shifted from 39 percent approving to 29 percent with the percentage who disapprove of the president rising from 56 percent to 63 percent.
"There is no way to spin or sugarcoat these sagging numbers," said Tim Malloy, assistant director of the Quinnipiac University Poll said in a statement. "The erosion of white men, white voters without college degrees and independent voters, the declaration by voters that President Donald Trump's first 100 days were mainly a failure and deepening concerns about Trump's honesty, intelligence and level headedness are red flags that the administration simply can't brush away."
Quinnipiac even asked those polled to share the first word that comes to mind about the president. Then numbers they shared are not percentages, but are reflective of many voters; attitudes.
.@QuinnipiacPoll asked Americans: "What's the first word that comes to mind when you think of Trump?"… https://t.co/Pv5NV8T4sU

— Landon Schnabel (@Landon Schnabel) 1494464467.0
Trump's sagging support is also reflected in voter's preferences for Congress. "If Democrats had won control of the U.S. Senate in the 2016 elections, the country would be in a better place than it is now, 41 percent of voters say, while 27 percent say it would be in a worse place and 30 percent say it would be the same," according to the press release.
Even the media is benefiting from Trump's dismal ratings. When asked, "Who do you trust more to tell you the truth about important issues: President Trump or the news media?" 57 percent of voters said they trust the news media more.