[DIGEST: Wall Street Journal, Al Jazeera, Inter Press Service, The Guardian]
For the first time, an Indian court has sentenced a man to death for attacking a woman with acid.
---
In 2013, Ankur Panwar attacked Preeti Rathi at a train station in Mumbai, throwing two liters of sulfuric acid on her. Her eyes, stomach and lungs were severely damaged, and she died of her injuries a month later.
The attack, though horrific, was not isolated. Although reliable numbers are difficult to verify, the Indian government said that there were 83 attacks in 2011, 85 in 2012 and 66 in 2013, based on data provided by the National Crime Records Bureau. That number surged to 309 in 2014 and 222 in 2015. However, acid survivor groups say the numbers are higher still. The Acid Survivors Trust International, for instance, estimates that there are 1000 acid attacks every year; other campaigners put the figure at closer to 400 a month.
The attacks are nearly always perpetrated against women by men. While motivations vary, they are usually an act of revenge after a woman rejects a romantic advance. However, cases of professional jealousy or family squabbles can also motivate an attack.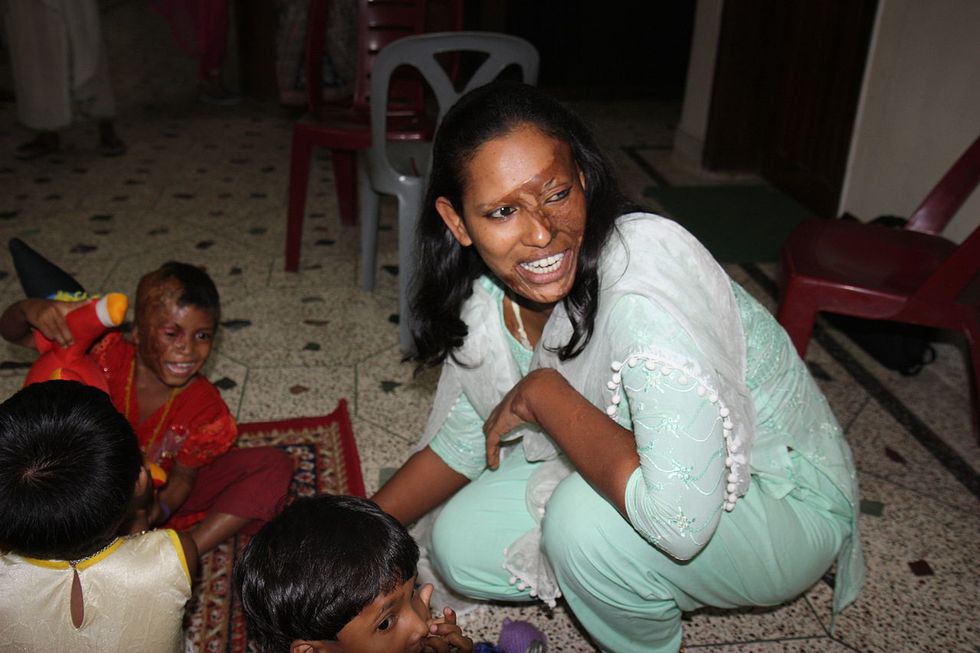 Credit: Source.
Panwar's case mirrored the traditional motivation: The victim had declined his marriage proposal and he was attacking out of revenge.
Acid survivor groups have been lobbying to spread awareness of acid attacks, and make the sale of acid more difficult. In 2013, the Supreme Court of India passed a ruling regulating the sale of concentrated acid in shops. The ruling prohibited the sale of acid to minors, and required store owners to register the details of purchasers.
However, it is dubious whether those regulations are being followed. "This is the first time
I'm hearing about this ruling," said Guresh Gupta, owner of Gupta stores in Noida, years after the regulations went into effect. Bottles of acid can be purchased over the counter for as little as 33 cents a liter.
It has only been a few years since India first recognized acid attacks as a specific offense under its penal code. The offense now carries a penalty of imprisonment for a minimum of ten years, and a maximum of life.
The punishment in Panwar's case heralds an acknowledgment of the severity of these crimes. The death penalty is relatively rare in India. Judges can impose the death penalty only in the "rarest of rare" cases, with about 129 people sentenced to death row in India every year. Jasjit Purewal, co-founder of a women's crisis center called "Sakshi," said that this ruling will cause more people to become aware of the crime and the possible punishments. "A precedent has been set," she said.
Acid attacks cause both physical and psychological harm to the victims. When acid is thrown on a person's face, it can burn off the eyes, nose and ears. Skin and bone can dissolve. When the wounds heal, they form thick scars. In 90 percent of cases, the victim is at least partially blinded. Unlike in Panwar's case, acid attacks are rarely fatal. Rather, they are intended to disfigure and mutilate the victims. Often, it increases the victims' dependence on their families too, as the attacks usually leave them disabled in some way.
Yet many women are working through the attacks and their aftermaths. One example is Reshma Bano Qureshi, a 19-year old who suffered an acid attack in 2014. Though her face bears the scars of her ordeal, she proudly walked down the runway during New York's Fashion Week earlier this month.
Credit: Source.
Speaking to the press about her triumphant appearance, Qureshi said: "I want to tell the world – do not see us in a weak light and see that even we can go out and do things." Qureshi has been working with Make Love Not Scars, an NGO that works for acid attack victims in India. Last year, she featured in a viral video that focused on the fact that acid was as easily available as lipstick in India.