Following a vote by the Charlotte City Council, the North Carolina legislature has agreed to repeal HB2, the Public Facilities Privacy and Security Act, which overturned local gay and transgender protections in a special one-day session that cost taxpayers approximately $42,000. North Carolina Governor Pat McCrory signed HB2 into law mere hours after its introduction in March. The bill was a direct response to a prior nondiscrimination ordinance in the city of Charlotte, which had offered a wide range of protections. Most notably, the Charlotte ordinance allowed citizens to use the restroom that best matches their gender identity. State lawmakers acted ostensibly out of concern that women and children could be victimized by sexual predators posing as transgender to enter women's restrooms. Lambda Legal are saying they traded a repeal of protections for the repeal of HB2, which leaves LGBTs vulnerable.
---
Governor-elect Roy Cooper issued a statement within minutes of the repeal, and vowed that North Carolina's General Assembly would repeal the bill during a special session tomorrow: "Senate Leader Phil Berger and House Speaker Tim Moore assured me that as a result of Charlotte's vote, a special session will be called for Tuesday to repeal HB2 in full. I hope they will keep their word to me and with the help of Democrats in the legislature, HB2 will be repealed in full."
The Charlotte City Council's decision is contingent on North Carolina legislators fully repealing HB2 by December 31.
Cooper expressed hope that a full repeal "will help to bring jobs, sports and entertainment events back and will provide the opportunity for strong LGBT protections in our state."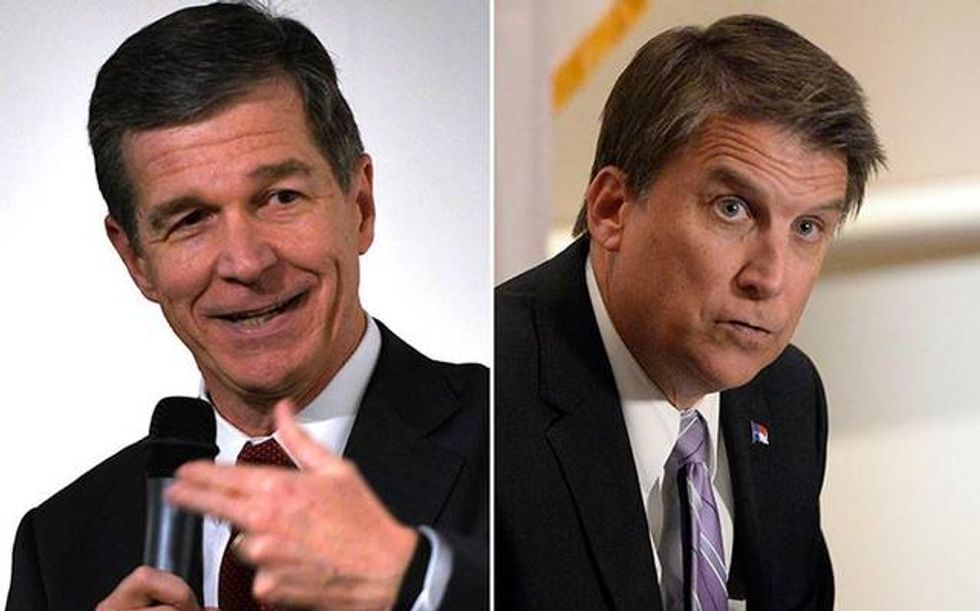 Governor-elect Roy Cooper (left) and Governor Pat McCrory (right). (Credit: Source.)
The Tar Heel State has suffered economically since HB2's passage, receiving almost immediate condemnation as state and local governments around the country began to weigh in. The governors of New York,Washington and Vermont halted most official state travel to North Carolina in response. The mayors of New York, San Francisco and Seattle imposed similar bans. Business leaders vowed to relocate their company headquarters and entertainers resolved not to perform in the state until the law is repealed. The Department of Justice sent letters to both North Carolina Governor Pat McCrory and North Carolina's university leaders alerting them that the so-called "Bathroom Bill" violates the U.S. Civil Rights Act. The state filed a lawsuit against the DOJ in response, accusing the federal government of overreach and arguing that Title VII does not recognize transgender status as a protected class. The suit listed Governor Pat McCrory as one of its plaintiffs.
But in a response to Cooper, McCrory blamed Charlotte's leaders for creating the hotly contested issue. "Governor McCrory has always publicly advocated a repeal of the overreaching Charlotte ordinance, said Graham Wilson, McCrory's Press Secretary. "But those efforts were always blocked by Jennifer Roberts, Roy Cooper and other Democratic activists. This sudden reversal with little notice after the gubernatorial election sadly proves this entire issue originated by the political left was all about politics and winning the governor's race at the expense of Charlotte and our entire state."
The news comes just days after McCrory signed legislation stripping power from the governor's office before Cooper, his successor, takes office next year.
Initially, the Republican majority came back to the General Assembly to mull over measures regarding disaster recovery and dealing with victims of hurricane flooding and wildfires in the western part of the state. Their call for another special session surprised Democratic lawmakers––it was then that they introduced bills
to end the governor's control over election boards, to require State Senate approval of the new governor's cabinet members, and to remove his power to appoint appoint University of North Carolina trustees. Republicans also proposed a measure which would substantially reduce the number of state employees who serve at the governor's leisure.
Lawmakers barred the public from witnessing the session after the Assembly decided to close the House and Senate galleries, arrest protesters (including a reporter) and barred the media from the basement where arrestees were being processed.
The American Civil Liberties Union called the new legislation "a shameful partisan trick" and Cooper vowed to fight the "ominous" power grab. "I will use every tool in the governor's office to fight for North Carolinians including the courts if necessary. If I believe that laws passed by the legislature hurt working families and are unconstitutional they will see me in court," Cooper said.