In his annual disclosure of personal finances, President Donald Trump revealed for the first time that he paid his personal lawyer Michael Cohen between $100,000 and $250,000 last year, as reimbursement for payment to a third-party. The disclosure was made as a footnote in a section on a section outlining the president's liabilities. (You can read the report HERE.)
The footnote reads as follows:
---
In the interest of transparency, while not required to be disclosed as 'reportable liabilities' on Part 8, in 2016 expenses were incurred by one of Donald J. Trump's attorneys, Michael Cohen. Mr. Cohen sought reimbursement of those expenses and Mr. Trump fully reimbursed Mr. Cohen in 2017. The category of the value would be $100,001 - $250,000 and the interest rate would be zero.
The disclosure caught the attention of David Apol, the acting head of the Office of Government Ethics (OGE), who sent a letter to Deputy Attorney General Rod Rosenstein in case it is "relevant to any inquiry you may be pursuing."
He wrote:
Today I certified President Trump's financial disclosure report signed on May 15, 2018 (for calendar year 2017). OGE has concluded that, based on the information provided as a note to part 8, the payment made to Mr. Cohen is required to be reported as a liability. OGE has determined that the information provided in that note meets the disclosure requirements for a reportable liability under the Ethics in Government Act.

I am providing both reports to you because you may find the disclosure relevant to any inquiry you may be pursuing regarding the President's prior report that was signed on June 14, 2017.
NEW: Ethics office sending letter to Rod Rosenstein stating that Michael Cohen's payment on behalf of Trump was a d… https://t.co/OYKc94chaf

— Ari Melber (@Ari Melber) 1526491851.0
The complete letter is below: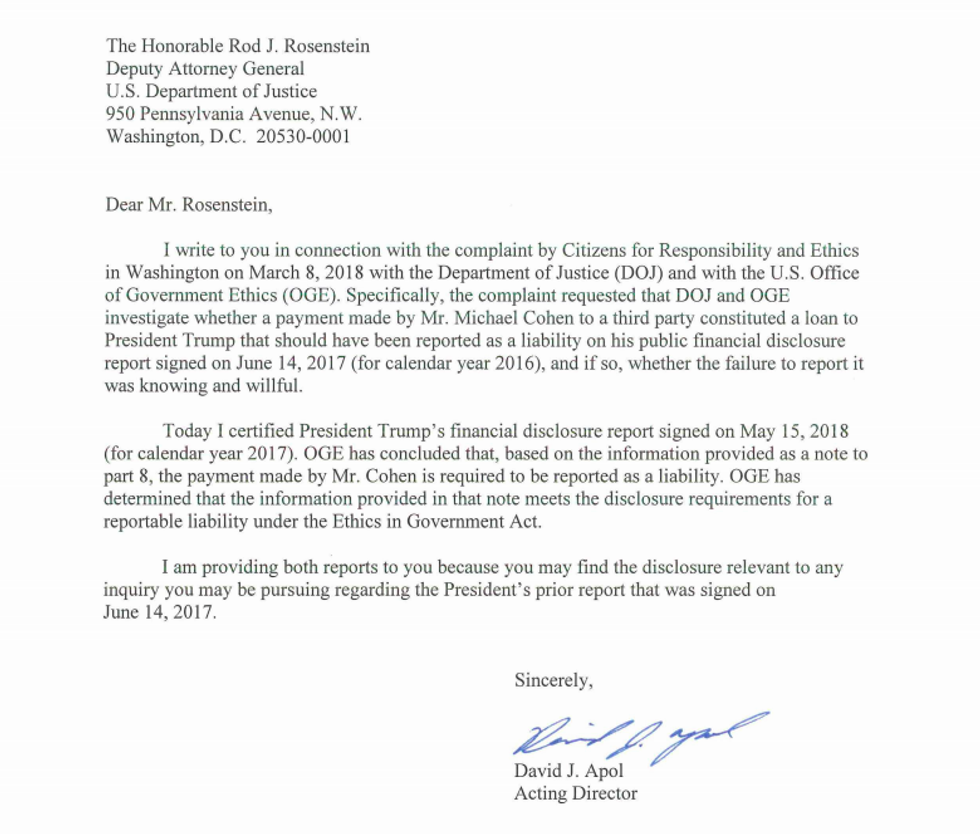 The news prompted Walter Schaub, the former OGE director, to weigh in.
"This is tantamount to a criminal referral," he wrote on Twitter. "OGE has effectively reported the president to DOJ for potentially committing a crime."
Several prominent personalities, including journalists, analysts, and public officials, concurred.
"Let's be clear what this is: the Trump-appointed acting head of the Office of Government Ethics just wrote DOJ to flag that Trump may have committed a crime by not disclosing his Stormy payment to Cohen in last year's financial disclosure," wrote Eric Columbus, who previously worked under the Obama administration.
Let's be clear what this is: the Trump-appointed acting head of the Office of Government Ethics just wrote DOJ to f… https://t.co/J1HTes2rFt

— Eric Columbus (@Eric Columbus) 1526492341.0
MSNBC Justice and Security Analyst Matthew Miller and Judd Legum, the editor of Think Progress, followed suit.
Wow, this is essentially a criminal referral to DOJ for Trump making a false statement in his previous financial di… https://t.co/4dE51CwpVJ

— Matthew Miller (@Matthew Miller) 1526492460.0
UPDATE: Office of Government Ethics refers Trump's June 2017 financial disclosure filing to Department of Justice f… https://t.co/zHX4Opp8ZL

— Judd Legum (@Judd Legum) 1526494021.0
The disclosure does not specify the nature of the payment made to Cohen, and it was not listed on Trump's 2017 report, although the disclosure should include current liabilities of $10,000 or more. Rudy Giuliani, another of the president's attornies, recently told The Washington Post that the president owed Cohen $250,000.
Cohen has found himself at the center of the questions regarding a payment Stephanie Clifford, an adult film actress better known as Stormy Daniels, received from him as part of the non-disclosure agreement to keep her from discussing a sexual encounter with Trump back in 2006, while he was married to his current wife, Melania, and just a few months after Melania gave birth to their son, Barron. A separate lawsuit filed by Clifford contends that Cohen initiated a "bogus arbitration" hearing against her without notifying her beforehand, and a copy of the restraining order against Clifford confirms that the judge made a "one-party" ruling that did not require her to be notified.
Cohen has claimed that he paid Clifford out of his own pocket and that the president never reimbursed him for the settlement. But during a highly publicized 60 Minutes broadcast, Clifford's attorney, Michael Avenatti, presented documents showing that the payment was sent to Cohen at his Trump Tower location, and communicated through his official Trump Organization email, indicating that he made the payment on Trump's behalf. Analysts have posited that the exchange of funds could well be an illegal campaign expenditure on Trump's behalf.
Last month, FBI agents raided Cohen's home, office, and hotel room, seizing business records, emails, and documents. The president claimed that the FBI "broke in to" Cohen's office without just cause.
Guliani himself had said previously that Cohen was paid $460,000 or $470,000 from the president. That amount, he elaborated, also included money for "incidental expenses" that he had incurred on the president's behalf. This is not reflected in his disclosure, a fact which did not escape Walter Schaub.
The disclosure is 92 pages long and covers only calendar year 2017. Last year's filing, by contrast, covered a nearly 16-month period. The disclosure is less specific than the president's tax returns would be; the president, however, has refused to make his tax returns public, in a break from presidential norms. Still, it's the first in-depth look at the performance of Trump's vast business empire.
For example, Trump's Washington hotel, which opened in September 2016, reported revenues of $40.4 million, making it one of his best-performing properties. Trump's Mar-a-Lago resort in Florida, which he's referred to as the "Winter White House," reported revenues of $25.1 million, down from $37.3 million the prior year. The president's golf properties list revenues ranging between $14 million (Jupiter, Florida) and $74.8 million (Trump National Doral).
The president also receives a Screen Actors Guild pension of nearly $65,000 from his career in reality television and playing bit parts in movies.