Comedian Tom Arnold told NBC News that he and Michael Cohen, President Donald Trump's embattled personal attorney, have teamed up as part of a show he is working on for VICE, in which he searches for incriminating videos of the president.
"The Hunt for the Trump Tapes" appears to have an exclusive guest on board, as evidenced by a photo Arnold tweeted earlier today.
---
I love New York https://t.co/J7AJg1HiHo

— Tom Arnold (@Tom Arnold) 1529626702.0
Later, Cohen retweeted the photo without comment.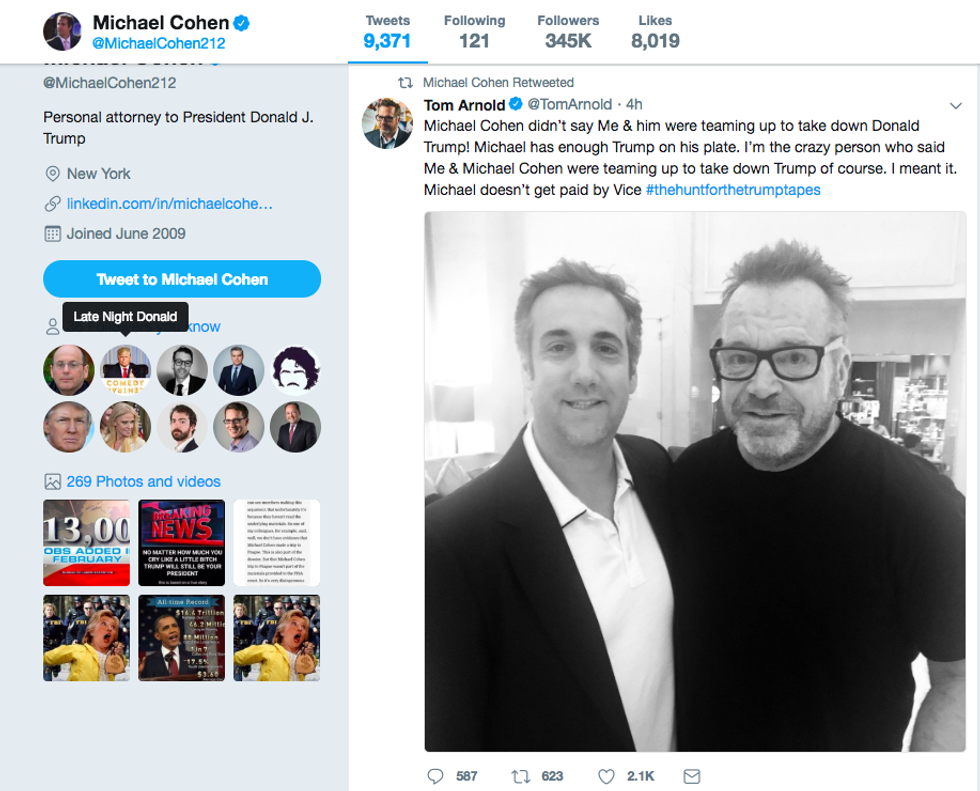 The VICE program was conceived following the leak in October 2016 of the infamous Access Hollywood tape, in which President Trump appears to admit to and advocate for sexual assault. ("Grab them by the pussy," the president says on the tape, a brag which, in the era of #MeToo and #TimesUp has only continued to galvanize sexual assault survivors everywhere.)
"We've been on the other side of the table and now we're on the same side," Arnold told NBC News. "It's on! I hope [Trump] sees the picture of me and Michael Cohen and it haunts his dreams."
Although Arnold stopped short of revealing if Cohen was planning to give him any material for "The Hunt for the Trump Tapes," but he did hint that Cohen "has everything" related to conversations with Trump.
This dude has all the tapes — this dude has everything," Arnold said. I say to Michael, 'Guess what? We're taking Trump down together, and he's so tired he's like, 'OK,' and his wife is like, 'OK, f*** Trump."
Arnold says Cohen "has enough Trump on his plate" and said of himself: "I'm the crazy person who said Me & Michael Cohen were teaming up to take down Trump of course. I meant it."
VICE's announcement of the show promises "The Search for the Trump Tapes" will be juicy:
The host will draw on his high-profile network of celebrity friends, entertainment executives, and crew members he's met over more than 35 years in showbiz to dig for evidence on Trump's most incriminating moments — and, being a comedian and all, he'll have a little fun along the way.

He'll be backed up by a handful of experienced journalists, and — aside from trying to uncover the tapes themselves — he'll look into the companies and tycoons who have allegedly fought to keep the damning recordings a secret.
Cohen has found himself at the center of the questions regarding a payment Stephanie Clifford, an adult film actress better known as Stormy Daniels, received from him as part of the non-disclosure agreement to keep her from discussing a sexual encounter with Trump back in 2006, while he was married to his current wife, Melania, and just a few months after Melania gave birth to their son, Barron. A separate lawsuit filed by Clifford contends that Cohen initiated a "bogus arbitration" hearing against her without notifying her beforehand, and a copy of the restraining order against Clifford confirms that the judge made a "one-party" ruling that did not require her to be notified.
Cohen has claimed that he paid Clifford out of his own pocket and that the president never reimbursed him for the settlement. But during a highly publicized 60 Minutes broadcast, Clifford's attorney, Michael Avenatti, presented documents showing that the payment was sent to Cohen at his Trump Tower location, and communicated through his official Trump Organization email, indicating that he made the payment on Trump's behalf. Analysts have posited that the exchange of funds could well be an illegal campaign expenditure on Trump's behalf.
In April, FBI agents raided Cohen's home, office, and hotel room, seizing business records, emails, and documents. The president claimed that the FBI "broke in to" Cohen's office without just cause.
Last month, the president, in his annual disclosure of personal finances, revealed for the first time that he paid Cohen between $100,000 and $250,000 last year, as reimbursement for payment to a third-party. The disclosure was made as a footnote in a section on a section outlining the president's liabilities. (You can read the report HERE.)
The footnote reads as follows:
In the interest of transparency, while not required to be disclosed as 'reportable liabilities' on Part 8, in 2016 expenses were incurred by one of Donald J. Trump's attorneys, Michael Cohen. Mr. Cohen sought reimbursement of those expenses and Mr. Trump fully reimbursed Mr. Cohen in 2017. The category of the value would be $100,001 – $250,000 and the interest rate would be zero.
The disclosure caught the attention of David Apol, the acting head of the Office of Government Ethics (OGE), who sent a letter to Deputy Attorney General Rod Rosenstein in case it is "relevant to any inquiry you may be pursuing."
He wrote:
Today I certified President Trump's financial disclosure report signed on May 15, 2018 (for calendar year 2017). OGE has concluded that, based on the information provided as a note to part 8, the payment made to Mr. Cohen is required to be reported as a liability. OGE has determined that the information provided in that note meets the disclosure requirements for a reportable liability under the Ethics in Government Act.

I am providing both reports to you because you may find the disclosure relevant to any inquiry you may be pursuing regarding the President's prior report that was signed on June 14, 2017.
The complete letter is below: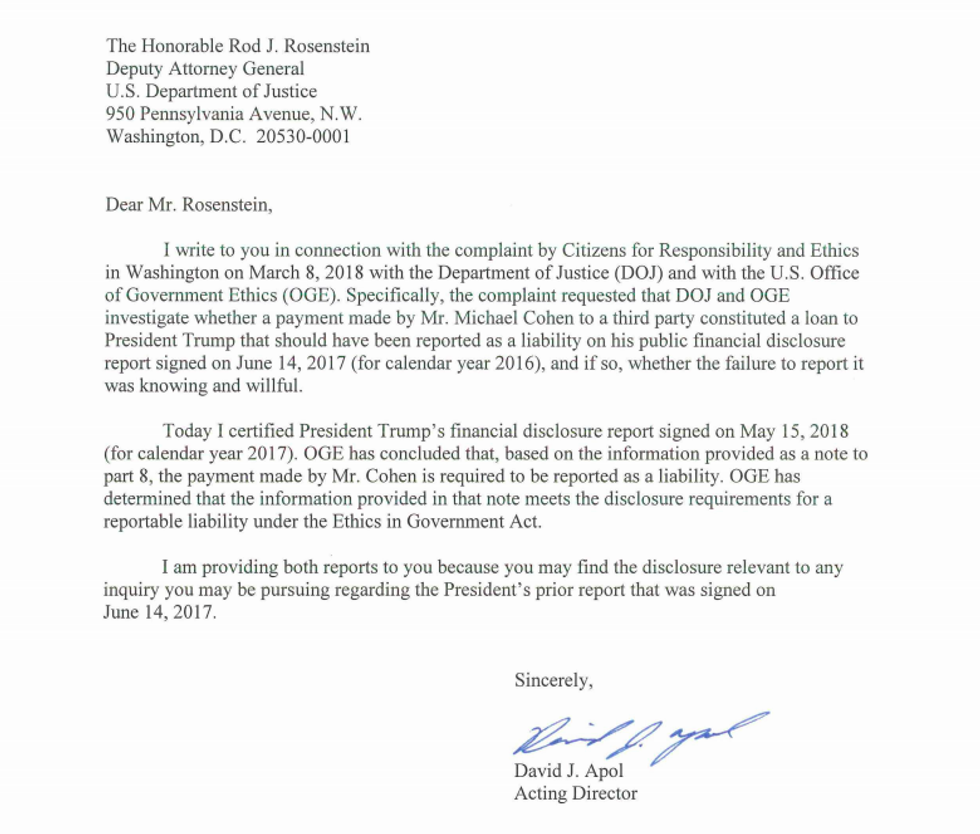 The disclosure does not specify the nature of the payment made to Cohen, and it was not listed on Trump's 2017 report, although the disclosure should include current liabilities of $10,000 or more. Rudy Giuliani, another of the president's attornies, recently told The Washington Post that the president owed Cohen $250,000.