Work hard, play hard. This is the typical American mindset: prioritizing work over all other aspects of life. In the U.S., 85.8 percent of males and 66.5 percent of females work more than 40 hours per week. For many Americans, this workload is often necessary, as the average cost of living and the affordability of healthcare remains out of reach for many people. The overworked behavior pattern can be disastrous when it contributes to the spread of communicable diseases.
America isn't at her healthiest on a number of fronts.
America is currently in the midst of many epidemics: a mass shooting epidemic, an opioid epidemic and a flu epidemic. All three pose significant risks. 2018 has been a particularly bad year for the flu. In fact, it has been so bad that it is nearly record-breaking in terms of hospital visits. In the first three weeks in January, 24 children have died as a result of the flu, with a total of 37 fatalities since the beginning of the season. The season's flu is particularly bad, for a plethora of reasons. According to USA Today, "Bothinfluenza A and B strains are circulating at the same time, when one usually dominates early in the season with the other coming on late. Also, flu vaccines are less effective than expected. And one strain of the flu, H3N2, is particularly virulent, making people sicker and sometimes causing an intense reaction from the body's immune system, during which the lungs can become inflamed and airways can be blocked by mucus and more."
---
According to the Washington Post, a "touch of the flu" kills up to 646,000 people worldwide each year, sometimes as many as 56,000 of them in the United States.  Millions of American have been exposed to the flu, and yet many are unable to take the necessary time off of work in order to recover and prevent the spread of the disease.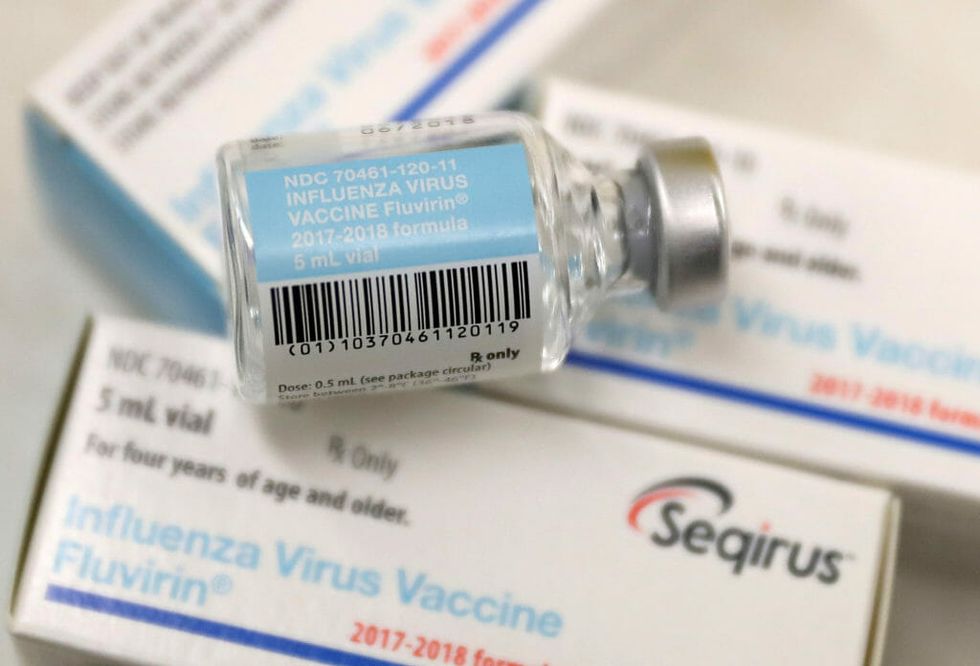 SAN FRANCISCO, CA - JANUARY 22: Vials of the Fluvirin influenza vaccine are displayed at a Walgreens pharmacy on January 22, 2018, in San Francisco, California. A strong strain of H3N2 influenza has claimed the lives of 74 Californians under the age of 65 since the flu season began in October of last year. People are being encouraged to get flu shots even though the vaccine has been only 30% effective in combating influenza. (Photo by Justin Sullivan/Getty Images)
According to Pop Sci, nearly 20 million Americans go to work sick each year. The toxic idea that work should always be prioritized certainly contributes to this trend. Another influencing factor is the absence of adequate paid sick leave. Even though evidence shows that staying home when sick helps prevent the spread of many viruses, many people simply cannot afford it.
The Centers for Disease Control is insistent that people stay home when sick. They say, "For those who are already sick, please stay home from work or school. That is such an important recommendation to follow. Otherwise you run the risk of spreading the virus to others—and what may be mild symptoms to you could be deadly to someone else."
Many employers ignore the science and penalize workers who need sick days.
Despite the scientifically valid logic, taking unpaid time off from work is not an option for many Americans. The United States is the only wealthy nation in the world that does not guarantee paid time off in the event of illness. In fact, no federal law mandates paid time off. Basically, it is left to a company's discretion as to whether to extend paid time off (PTO) benefits to its employees. Often, low-level employees are left without proper PTO; unfortunately, this is the group who needs it the most.
According to a 2009 report by the Center for Economic and Policy Research, an estimated 40 percent of Americans who work in the private sector are without PTO for illnesses like the flu. This number increased to an estimated 60 percent under Obama's administration and still lags well behind many other developed nations.
What can we do? Clearly, we need a systemic change to American work culture. The idea that people should continue to work when sick, all to promote a business's bottom line, is dangerous at best. The lack of work-life balance contributes to the spread of disease, which is particularly worrisome when considering the deadly nature of the flu. Like many viruses, the flu is spread only through person-to-person contact. Staying home minimizes the spread of the flu and we, as a society, need to support staying home. A little PTO would really go a long way.