Once his son Eric's charity golf tournament started raising a substantial amount of money for St. Jude Children's Research Hospital, which specializes in pediatric cancer, Donald Trump began charging for the use of Trump Organization golf courses, ultimately funneling the money into other charities which benefited his business interests, according to a report released yesterday by Forbes.
Eric Trump first hosted the Eric Trump Foundation golf invitational in 2007. He always maintained that he is able to hold the event on Trump Organization courses free of charge and that most of the other costs associated with the event––including, food, drinks, entertainment, and equipment––are covered by sponsors. Expenses for the event averaged around $50,000 for each of its first four years. Then Donald Trump personally demanded that his Trump National Westchester golf course begin charging his son's foundation for use of facilities.
---
"In the early years, they weren't being billed [for the club]––the bills would just disappear," says Ian Gillule, who served as membership and marketing director at Trump National Westchester during two stints from 2006 to 2015 and witnessed Trump's reaction. "Mr. Trump had a cow. He flipped. He was like, 'We're donating all of this stuff, and there's no paper trail? No credit?' And he went nuts. He said, 'I don't care if it's my son or not—everybody gets billed.'"
In 2011, the cost rose to $142,000. By 2015, the event's expenses had reached $322,000. Forbes, which conducted its own analysis, reports it "couldn't come up with a plausible path to $322,000 given the parameters of the annual event (a golf outing for about 200 and dinner for perhaps 400 more)."
Nor could Patrick Lanagan, a former director of golf at Trump National Westchester, find a way to justify the increase. "If you gave me that much money to run a tournament, I couldn't imagine what we could do," he says. "It certainly wasn't done that way."
Donald Trump later installed his own people on the foundation's board, and, Forbes reports, "four of the seven original board members, who were personal friends of Eric, left." The Trump associates added to the board also "owed all or much of their livelihoods to the Trump Organization," and included Trump lawyer Michael Cohen and executive vice president Dan Scavino Jr., who now serve as political advisers for President Trump.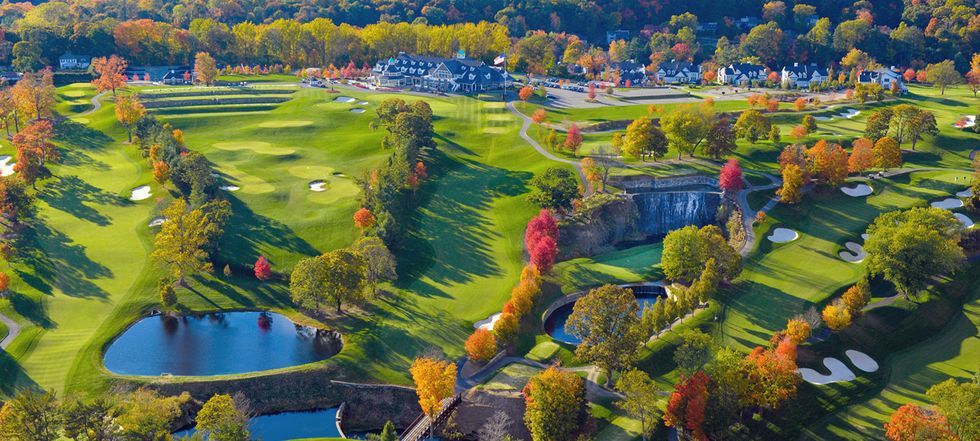 Trump National Westchester Gold Course. (Credit: Source.)
"They were wearing two hats," Lanagan says. "You're dealing with people talking about the event and the charity who also at the same time are thinking about it as a corporation and as a business. It's a for-profit club. You know, they're trying to make money."
Money meant for St. Jude's––more than $500,000––was rerouted to other charities run by Trump associates after the board shakeup. Several of these charities had nothing to do with children's cancer, but they happened to become clients of Trump's golf courses, Forbes notes. For example, in 2013 and 2014, the Eric Trump Foundation paid $15,000 for tables at a gala for the Little Baby Face Foundation. Little Baby Face spent an estimated $100,000 to hold golf outings on the Trump course over the next three years. The foundation has denied any connection between the two transactions.
Similarly, Janet McHugh, the founder of a small charity named Julie's Jungle, hosted a golf tournament at Trump National Hudson Valley two years after receiving $25,000 in total donations from the Donald and Eric Trump foundations. McHugh maintains that the decision to hold the tournament there was unrelated to the donation."They didn't comp us the golf course," she insists. "We paid."
Meanwhile, the Donald J. Trump Foundation gave $100,000 in outside donations to the Eric Trump Foundation which was then paid to the private, for-profit Trump Organization. Trump's misappropriation of the Donald J. Trump Foundation's funds may have also violated laws against "self-dealing" that prohibit the leaders of nonprofits from using charity money to benefit themselves or their businesses. The Donald J. Trump Foundation is funded almost entirely by outside contributions.
Last year, an investigation conducted by The Washington Post revealed that Donald Trump spent $258,000 from his charitable foundation to settle lawsuits that involved his for-profit businesses.
For example, Trump's Mar-a-Lago Club, according to one case from 2007, faced $120,000 in unpaid fines from the town of Palm Beach, Florida over a disputed flagpole. Palm Beach agreed to waive those fines in a settlement which required Trump's club to make a $100,000 donation to a specific charity for veterans. However, tax records indicate that Trump made the donation with a check from the Donald J. Trump Foundation rather than from Mar-a-Lago or another private source. Trump's tax records further showed that, after agreeing to settle a lawsuit involving one of Trump's golf courses in New York, Trump cut another check from his foundation, making a $158,000 donation to the charity of the plaintiff's choosing.