Stephanie Clifford, better known as Stormy Daniels, released a composite sketch today of the man she alleges threatened her in 2011. Her attorney, Michael Avenatti, is offering a $100,000 reward to anyone who can identify the perpetrator whom Clifford says threatened her to keep quiet about her affair with Donald Trump.
During a highly publicized 60 Minutes interview last month, Clifford recalled she was on her way to a fitness class with her infant daughter in tow when a man stopped her in a Las Vegas parking lot.
---
"I was in a parking lot, going to a fitness class with my infant daughter. T– taking, you know, the seats facing backwards in the backseat, diaper bag, you know, gettin' all the stuff out," Clifford told 60 Minutes correspondent Anderson Cooper. "And a guy walked up on me and said to me, 'Leave Trump alone. Forget the story.' And then he leaned around and looked at my daughter and said, "That's a beautiful little girl. It'd be a shame if something happened to her mom." And then he was gone."
Clifford did not identify the man she said threatened her, but she said that she would recognize him, "100 percent," if she did. "Even now, all these years later. If he walked in this door right now, I would instantly know."
The release of the sketch comes at a critical juncture for the Trump administration, and the scandal surrounding the president's personal attorney, Michael Cohen, whose home, office, and hotel room were raided by federal agents last week. Federal prosecutors in Manhattan obtained the search warrant after receiving a referral from special counsel Robert Mueller, who oversees the federal investigation into Russian interference during the 2016 presidential election. Agents seized, according to a New York Times report, "records related to several topics" including payments to Clifford.
Clifford and Avenatti disclosed the sketch during an appearance this morning on The View. Clifford said that what she remembers "so clearly" about the man in question "was that nothing looked alarming about the way he looked at first."
The man is described as between 5'9" and 6' tall, between his 30s and early 40s, and with a lean but "fit" body type.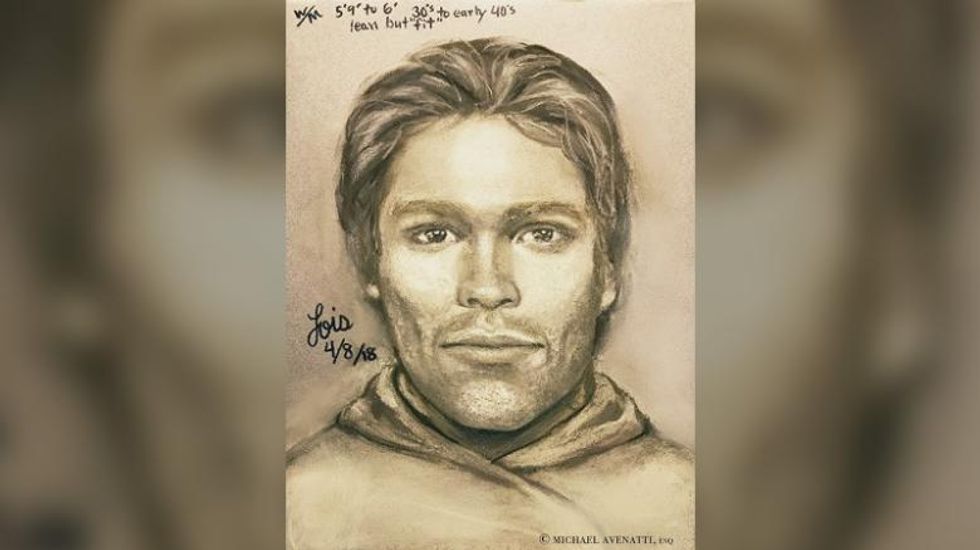 Avenatti has promised a $100,000 reward "for information leading to the positive identification of the man that threatened Ms. Clifford in Las Vegas." He encouraged all tips to be directed to idthethug@gmail.com.
The sketch was drawn by Lois Gibson, whom Avenatti has called "the foremost forensic artist in the world." Gibson's bio claims that she has helped law enforcement identify 700 criminals with her sketches.
Speaking on The View, Clifford says that she did not initially report the threat to Las Vegas authorities because she had never disclosed her alleged affair with Trump to her husband and was "embarrassed."
"I didn't want him to think I was a bad mom or that I put my daughter in danger," Clifford said.
Avenatti, for his part, said he and Clifford believe they know who sent the man who threatened her "but we want to confirm it."
Twitter thinks it may know too, as tweets have come streming in suggesting it could be this guy meeting with Cohen:
Daniels's ex-husband:
And, most bizarrely, even Patriots quarterback Tom Brady:
Clifford's appearance on The View comes a day after she attended a Manhattan court hearing related to the seizure of Cohen's documents.
"I'm tired of being threatened, she said. "I'm done with being bullied." She added: "I just wanted to make my presence known."
She also elaborated on the effect the news of the affair has had on her personal life:
You should see the messages I get: 'You deserve to have her [Daniels' daughter] taken away. You deserve to be put to sleep because she's better off [without you] than with you. The very next sentence will be like, 'You're a national treasure.' I'm like, wait, what? So it's intense.

Since all this happened I'm averaging about two hours a night sleeping.

If I can inspire or convince a woman who feels that she has been intimidated or bullied or is too afraid to come forward to an accuser or an attacker, then I'm happy.
Michael Cohen, has found himself at the center of the questions regarding a payment Clifford received from him as part of the non-disclosure agreement to keep her from discussing a sexual encounter with Trump back in 2006, while he was married to his current wife, Melania, and just a few months after Melania gave birth to their son, Barron. A separate lawsuit filed by Clifford contends that Cohen initiated a "bogus arbitration" hearing against her without notifying her beforehand, and a copy of the restraining order against Clifford confirms that the judge made a "one-party" ruling that did not require her to be notified.
Cohen has claimed that he paid Clifford out of his own pocket and that the president never reimbursed him for the settlement. But during the 60 Minutes broadcast, Michael Avenatti presented documents showing that the payment was sent to Cohen at his Trump Tower location, and communicated through his official Trump Organization email, indicating that he made the payment on Trump's behalf. Analysts have posited that the exchange of funds could well be an illegal campaign expenditure on Trump's behalf.
Although Clifford never mentioned Cohen by name during her 60 Minutes appearance, that did not stop another attorney for Cohen from sending a cease-and-desist letter demanding that Clifford apologize for insinuating that his client was behind the threat she received.
"In truth, Mr. Cohen had absolutely nothing whatsoever to do with any such person or incident, and does not even believe that any such person exists, or that such incident ever occurred. You and your client's false statements about Mr. Cohen accuse him of criminal conduct and constitute, among other claims, libel per se and intentional infliction of emotional distress," the letter reads. "It would also appear that your statements of alleged criminal conduct are being made to obtain an advantage in a civil dispute, which is also improper."
Clifford countersued for defamation after receiving the letter.
Following the seizure of Cohen's documents last week, the president's legal team asked that they get a chance to first review all documents and decide what should be off-limits due to attorney-client privilege. Cohen's attorneys attempted to obtain a temporary restraining order to prevent investigators from reviewing the material. They also requested that a third party special master decide what investigators can see.
Yesterday, a judge announced that Cohen's lawyers will get a chance to review the seized materials and declare what they think should be protected under attorney-client privilege. The judge also announced that the president's attorneys could weigh in on records relevant to him. However, the judge is still considering whether a third party special master would decide what investigators can review.