President Donald Trump gave his first joint address to Congress last night, and the rows of Democrats sitting in the audience were dotted with women in white.
Many of the female Democrats who make up the House Democratic Women's Working Group wore white clothing, dubbed "suffragette white," in a nod to the women's rights movement in the early 1900s.
---
"We wear white to unite against any attempts by the Trump administration to roll back the incredible progress women have made in the last century, and we will continue to support the advancement of all women," Florida Democratic Rep. Lois Frankel, the chair of the working group, said in a statement.
The members are wearing white to show their support for Planned Parenthood affordable health care, reproductive rights, equal pay, paid leave, affordable child care and "lives free from fear and violence," the statement continued.
Since the women's rights movement, white has since become the color for celebrating women in politics at many points throughout history. A #WearWhiteToVote campaign on Election Day 2016 encouraging women to express their solidarity with those who fought for the women's right to vote.
White was also the color Hillary Clinton wore at major campaign events, including the night she accepted the presidential nomination at the Democratic National Convention. She also wore white at Trump's inauguration. Geraldine Ferraro wore white in 1984 when she became the first woman to accept the vice presidential nomination of a major party. Shirley Chisholm wore all white when she became the first African-American woman elected to Congress; she also wore white three years later when she became the first African-American woman to run for a major party's presidential nomination.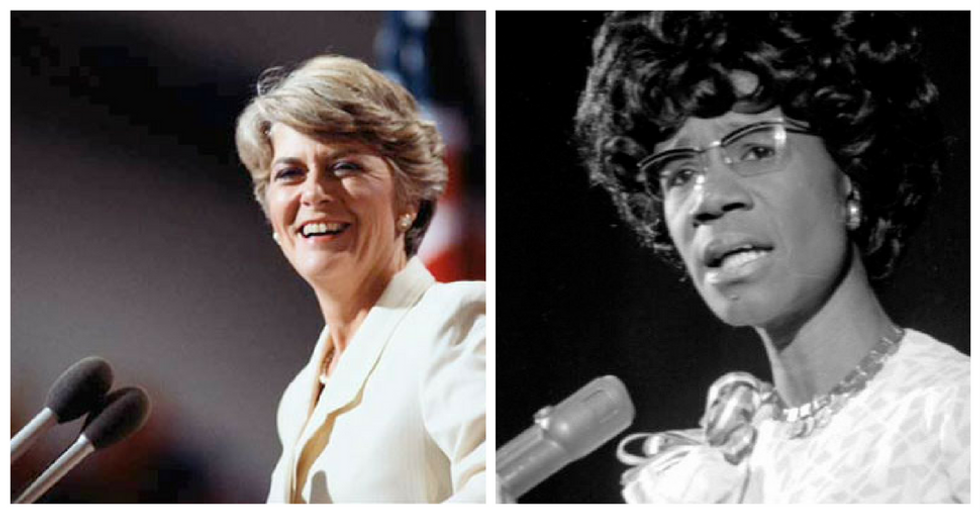 Republican women appeared to be answering the move by wearing their own chosen color: purple. In political circles, purple has come to symbolize bipartisanship. Several prominent GOP women, including Callista Gingrich, wife of Trump adviser Newt Gingrich,Sen. Lisa Murkowski (R-Alaska), and Rep. Cathy McMorris Rodgers (R-Wash.), a member of the House's leadership team, were dressed in purple.
Republican Rep. Cathy McMorris Rodgers, who chairs the House Republican Conference, when asked about the movement of Democratic women, urged her fellow Congresswomen to "come together."
"Typically, when a president is elected, you have that coming together as a country, which we haven't had," she said, "and I'm hopeful that people will listen to his message tonight and that they'll be willing to come together, find the common ground, so that we can do the important work that the people expect us to do."
Massachusetts Senator Elizabeth Warren, (D-Mass) also wore a purple blazer, but perhaps for entirely different reasons. In addition to white, purple and gold were the official colors of the National Women's Party and the suffragist movement. The colors were chosen deliberately, according to the Congressional Union for Woman Suffrage's statement of purpose:
Purple is the color of "loyalty, constancy to purpose, unswerving steadfastness to a cause."
Gold symbolizes "the color of light and life and "the torch that guides our purpose."
White represents "the emblem of purity, symbolizes the quality of our purpose."
The walls of women in white in the audience were a jab at Trump's language and behavior toward women to date. "It's really important to show that what candidate Trump said about women and the way that he has behaved toward women in the past is not an acceptable standard for a president," House Democratic Caucus Vice Chairwoman Linda Sanchez (D-California) said. "We want a visual reminder to him that suffragettes wore white and we are not going to let him take us backward. We are not going to let men dictate the choices that we have in our lives. We are not going to stand for a president that doesn't respect us and take our perspective into account."
Representative Karen Bass, also from California, said Democrats wanted to express solidarity with women who have recently protested against Trump "and just women in solidarity with each other against a president who ran a campaign that was rooted in misogyny."