Former First Lady Barbara Bush, whose love for reading galvanized her efforts to advance universal literacy and who founded the Barbara Bush Foundation for Family Literacy, passed away at her home in Houston. She was 92.
Bush, long considered one of the more popular members of her famous family, had been in failing health for some time and had been in and out of the hospital multiple times in the last year while battling with Chronic Obstructive Pulmonary Disease (COPD) and congestive heart failure. She made headlines after deciding to stop seeking medical treatment to prolong her life.
---
A statement issued earlier this week by her husband George H.W. Bush's office in Houston confirmed she "will instead focus on comfort care":
It will not surprise those who know her that Barbara Bush has been a rock in the face of her failing health, worrying not for herself — thanks to her abiding faith — but for others. She is surrounded by a family she adores, and appreciates the many kind messages and especially the prayers she is receiving.
Born Barbara Pierce on June 8, 1925, at Booth Memorial Hospital in Flushing, Queens, New York, the future First Lady's love of reading was encouraged early by her father, Marvin, who worked as a magazine publisher and would later become the president of the McCall Corporation. She recalled spending her childhood evenings gathered with her family members, each one immersed in their reading material. She also came from a long line of aristocrats: She was the fourth cousin, four times removed, of Franklin Pierce, the 14th President of the United States, and poet Henry Wadsworth Longfellow.
An athletic child––she enjoyed swimming and bike-riding––she met George Herbert Walker Bush at the age of 16 at a Christmas dance. They became engaged after a year and a half of dating, just before he left for the front lines of World War II as a navy bomber pilot. Mere weeks after his return from combat, she dropped out of Smith College and the two were married. The union produced six children: George Walker Bush (who would become the nation's 43rd president), Pauline Robinson "Robin" Bush (who died as a child), John Ellis "Jeb" Bush (who served as the 43rd governor of Florida, Neil Mallon Pierce Bush, Marvin Pierce Bush and Dorothy Bush Koch (all of whom distinguished themselves politically and within the private sector).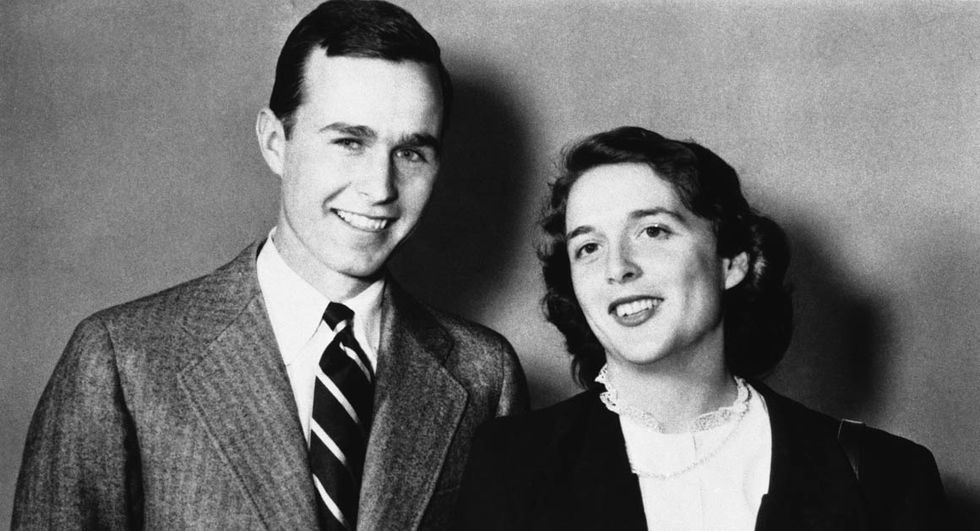 Young George H.W. and Barbara Bush. (Credit: Source.)
Upon her husband's graduation from Yale University, the family relocated to Odessa, Texas (and would relocate 29 times during the early years of their marriage). Barbara Bush's life revolved around her children and housekeeping, as her husband was often away on business, and the death of their daughter from leukemia greatly influenced her support for leukemia and cancer research programs. Her father-in-law––United States Senator Prescott Bush––enjoyed business connections which gave the younger Bush the foothold he needed in the oil industry, and by the 1960s, they were millionaires.
By that time, however, Mr. Bush had already gravitated toward public service and politics and the family found itself thrust into the national spotlight. George H.W. Bush served as Chairman of the Republican Party for Harris County, Texas, in 1964, served two terms as a Representative to Congress for Texas and made two (unsuccessful) bids for the state Senate. His losses would prove a boon, however, for his political ambitions (President Richard Nixon would appoint him Ambassador to the United Nations in 1970), and her husband's political clout gave Barbara Bush the opportunity she needed to forge relationships with prominent diplomats and to become involved with charities and women's groups. When her husband became the United States Envoy to China, they spent 14 months in the country and often bicycled through the cities. When he served as the Director of the Central Intelligence Agency, they found their relationship strained, and she suffered from depression.
Mrs. Bush became a household name during her husband's eight years as vice president. It was around this time that she brought her interest in literacy issues to the national stage and began working directly with a number of literary organizations. She became a rigorous researcher, learning about all the factors that contribute to literacy (her readings informed her belief that homelessness can have a negative impact on literacy) and in 1984 when she published her first children's book, C. Fred's Story, she donated all of the profits to literacy charities.
In 1988, George H.W. Bush won the Republican presidential nomination and defeated Massachusetts Senator Michael Dukakis in the general election. After Eleanor Roosevelt in 1940, Barbara Bush became the second candidate's spouse to speak at a party's national convention. Upon assuming the role of First Lady, she made literacy the cornerstone of her time in office. By the time her husband began his term as president, Barbara Bush had already cultivated an extensive network of publishers, financiers, volunteers and school administrators across the country to support literacy programs. Her dedication to eliminating illiteracy culminated in the founding of the Barbara Bush Foundation for Family Literacy which she chaired until 2012. As of 2014, the foundation ran 1,500 literacy programs across the nation. She made headlines for saying she did not believe that the United States should adopt English as the official language, citing "racist overtones" and was able to use her platform to address topical issues like homelessness, AIDS and teen pregnancy. She also made regular broadcasts on the radio program Mrs. Bush's Storytime, where she urged parents to read aloud to their children.
Mrs. Bush also brought national attention to needy families when she visited "Martha's Table," an inner-city center providing meals for poor families and activities for homeless children, during her first week in the White House. She donated her family's used clothing to thrift stores and raised money for charities. Although she often fell back on traditional Republican rhetoric that charities and public organizations should not be funded by the government, she defied her party's ideology on more than one occasion, such as when, speaking at a center for homeless children, she said "forget about government cutbacks."
Credit: Source.
In the years after leaving the White House, Barbara Bush backed her son, George W., during his presidential campaign. She and her husband also opened the George and Barbara Bush Center at the University of New England. The Center is home to the Bush Legacy Collection, which, according to its website, "anchors the heritage of George and Barbara Bush in New England."
Known for her biting wit, the former First Lady generated controversy when, during Reagan's 1984 re-election bid, she dealt a low blow to Geraldine Ferraro, the running mate of Walter Mondale, the Democratic opponent. Mrs. Bush made no effort to pretend that she and the then-vice-president were wealthy and enjoyed it, unlike Ferraro, "that four million-dollar––I can't say it, but it rhymes with rich.'' Mrs. Bush made the remarks to reporters while on Air Force Two en route to New York and said she thought she had spoken off the record. She later apologized to Ferraro.
In a 2010 interview with Larry King, Mrs. Bush's wit made headlines once more, when she was asked about former Alaska Governor Sarah Palin and said, "I sat next to her once and thought she was beautiful, and I think she's very happy in Alaska, and I hope she'll stay there."