UPDATE AS OF 1:35 PM: The North Carolina state legislature voted 70-48 to pass the HB2 replacement. The measure will now head to the desk of Governor Roy Cooper, who supports it.
---
ORIGINAL STORY:
North Carolina state legislators announced late yesterday they reached an agreement with Democratic Governor Roy Cooper to repeal HB2, the Public Facilities Privacy and Security Act, which overturned local gay and transgender protections in the state. But LGBT rights groups condemned the deal, saying it fails to protect an already vulnerable community by "enshrining" certain parts of the law for the foreseeable future.
Speaking at a late night press conference, Phil Berger, the Senate leader, and Tim Moore, the House speaker, said legislators would at 9:15 AM today begin deliberations over House Bill 142, a measure which would
repeal HB2
leave regulation of "multi-occupancy facilities" in the hands of state lawmakers
prohibit local governments from passing their own ordinances regarding employment practices and bathroom regulations through 2020
Should a repeal pass the state's Senate Rules Committee, it would need to survive two additional votes in the Senate before a final vote in the House.
"Compromise requires give and take from all sides, and we are pleased this proposal fully protects bathroom safety and privacy," Berger and Moore said in a joint statement.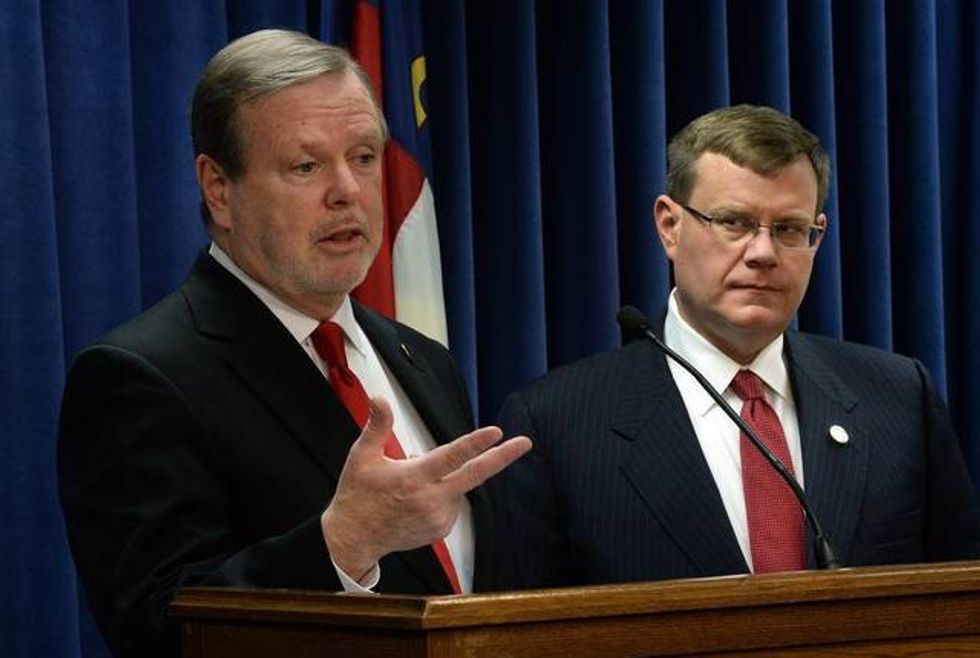 Phil Berger (left) and Tim Moore (right). (Credit: Source.)
In a brief statement of his own, Governor Cooper threw his support behind the repeal process. "I support the House Bill 2 repeal compromise that will be introduced tomorrow. It's not a perfect deal, but it repeals House Bill 2 and begins to repair our reputation," he said.
LGBT rights groups slammed the compromise, urging state lawmakers not to support the deal. The deal, they said, would leave the state's LGBT community no statewide anti-discrimination ordinance and no ability to seek legal recourse.
The proposal, argues Chris Sgro, executive director of Equality North Carolina, "keeps North Carolina as the only state in the country obsessed with where trans people use the restroom through law."
Mara Keisling, the executive director of the National Center for Transgender Equality, expressed her disappointment in a Facebook post.
[facebook https://www.facebook.com/plugins/post.php?href=https%3A%2F%2Fwww.facebook.com%2FMaraKeisling%2Fposts%2F10154522895452883&width=500 expand=1]
The Human Rights Campaign issued a sharp rebuke.
What the compromise means for "the LGBT community is that we continue to be boxed out of nondiscrimination protections," said Cathryn Oakley, HRC's senior legislative counsel.
The repeal process, if completed by noon today, could also mean the state would escape punishment from the National Collegiate Athletic Association (NCAA), warned the state that it could lose the opportunity to host championship sporting events through 2022. The organization had previously relocated other events, including men's basketball tournament games that were to have been played in Greensboro this month. Local news outlets reported this week the NCAA had set a Thursday deadline for the state to address the bill.
To read more, 
Former North Carolina Governor Pat McCrory signed HB2 into law last March mere hours after a special one-day session which cost taxpayers approximately $42,000. The bill was a direct response to a prior nondiscrimination ordinance in the city of Charlotte, which had offered a wide range of protections. Most notably, the Charlotte ordinance allowed citizens to use the restroom that best matches their gender identity. State lawmakers acted ostensibly out of concern that women and children could be victimized by sexual predators posing as transgender to enter women's restrooms.
McCrory alleged in an interview on Christian news site WORLD's Listening In podcast earlier this month that his reputation as an anti-trans bigot has made it difficult for him to find work since leaving office.
"People are reluctant to hire me, because, 'Oh my gosh, he's a bigot,' which is the last thing I am," he said. "[It's] almost Orwellian that if you disagree with the politically correct thought police on this new definition of gender you're a bigot, you're the worst of evil. It's almost as though I broke a law…It's a bad part of our nation going on right now. You see the same techniques going on against [President Donald] Trump right now."
Former North Carolina Governor Pat McCrory. (Credit: Source.)
McCrory implied left wing activists concocted the controversy.
"This is part of their agenda," he said. "When I got elected, the far left all met and they said they're gonna do three things: They're gonna eviscerate Pat McCrory—this is within the first two weeks—we're gonna try to get as much free publicity as possible through protests. Whatever Pat McCrory does, we're gonna protest. And third, whatever he does we're gonna call it extremist."
McCrory made similar comments last year, accusing his critics on the left of launching a "nationwide smear campaign" while dismissing the concerns of larger corporate critics.
There is politically correct blackmail being directed toward some of our businesses," he said at the time. "They are caught in a very coordinated political theater… This political correctness has run amok."