As Facebook navigates controversy for its policy allowing political candidates to use false information in ads, a Super PAC working to reelect President Donald Trump is in hot water for its own falsehoods.
The Committee to Defend the President ran a number of Facebook ads resembling ballots, falsely telling viewers that their voter registration was incomplete.
---
The ad read:
"Official records show that your voter registration is incomplete. Follow the link below to complete your voter registration NOW!"
Though the word "sponsored" appears under the Committee's profile name, the ad constantly uses the word "official," and doesn't specify anywhere that it doesn't, in any way, facilitate a person's access to voting.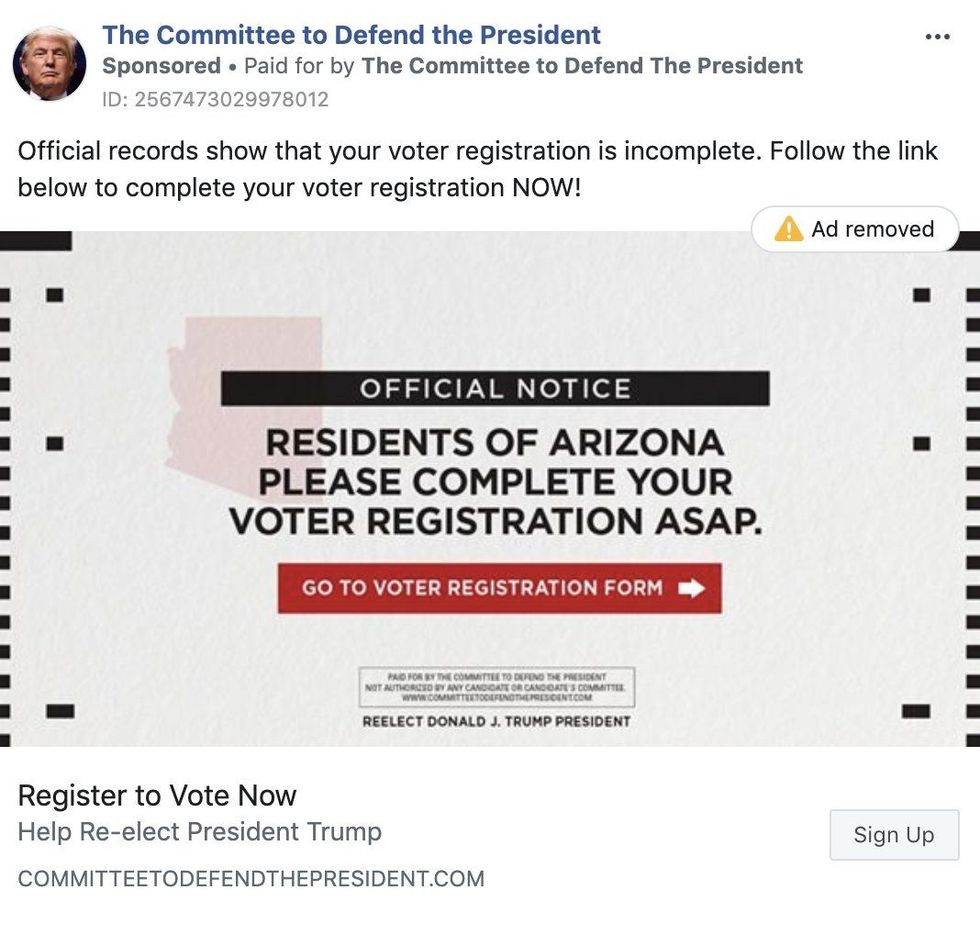 Facebook removed the ads, but not before they reached the tens of thousands of Arizona residents they were targeting.
Given the damage false information disseminated through social media had on the 2016 election, people were livid with the pro-Trump PAC and Facebook alike.
Zuck is cool with this https://t.co/4sMvONEXYP

— evan rodgers 🏳️‍🌈 (@evan rodgers 🏳️‍🌈) 1572278755.0
Voters beware. . . . https://t.co/kbaWqTmGgy

— David Workman (@David Workman) 1572324594.0
@Jeres_Rant @theoceanlawyers @facebook this should meet a legal standard for fraud, no?

— Carl (@Carl) 1572296351.0
@Jeres_Rant @PrincessBravato @facebook Everyone associated with trump is corrupt

— Just me (@Just me) 1572298565.0
@Jeres_Rant @mpgarza2012 @facebook OMFG! Can this administration get any more corrupt?

— Katrina 🌴🍸🍩 (@Katrina 🌴🍸🍩) 1572296491.0
Look, it's pretty obvious that Facebook isn't doing anything to monitor these ads. https://t.co/ZmHlRucWay

— Donholio (@Donholio) 1572286389.0
Sadly, misleading ads will likely only get worse as the election heats up, unless Facebook enhances its ability to monitor them.