Joseph James DeAngelo Jr., the man believed to be the Golden State Killer, was arrested late Tuesday night, according to the Daily Mail. He is being held on two murder charges. Relatives say that DeAngelo, who married in the 1970s, was a "good father".
DeAngelo Jr. is suspected of 12 homicides, nearly 50 rapes, and 120 home burglaries throughout California between 1976 and 1986. In the words of Sacramento County District Attorney Anne Marie Schubert, "[This] is the most prolific unsolved serial killing case probably in modern history."
---
The Golden State Killer was recently investigated as being linked to the Australian serial child rapist and murderer "Mr. Cruel." Mr. Cruel attacked three girls in the northern and eastern suburbs of Melbourne in the late 1980s and early 1990s. SFGate writes:
Mr. Cruel and the Golden State Killers shared similarities: They broke into homes wearing a mask and claimed they were there to rob the victims, they had long hair, and they'd sometimes pause during attacks to eat food they found in the victim's kitchen. They were also pathologically meticulous, putting entire neighborhoods under surveillance for weeks while they planned their attacks.
However, this has since been ruled out. It is interesting to note, though, that the last Golden State Killer attack occurred on May 4, 1986, in Irvine, Orange County, California. The first Mr. Cruel attack occurred on August 22, 1987, in a suburb of Melbourne.
Mr. Cruel was never caught.
The Golden State Killer also went by the monikers the Original Night Stalker, Visalia Ransacker, East Area Rapist, the East Bay Rapist, and the Diamond Knot Killer.
As for DeAngelo, what do we know about him and his family? Did he marry? Did he have siblings? Children?
He Had At Least Two Wives

Reddit
DeAngelo married at least twice; to Bonnie Jean Colwell and Sharon Huddle.
A newspaper clipping posted to Reddit reveals that Colwell was the daughter of Mr. and Mrs. Stanely B. Colwell of Auburn. Bonnie Jean Colwell graduated from Del Oro High School. She studied at Sierra College, where she worked in the Science Department as a lab assistant. During her time at Sierra, she was on the President's Honor roll.
According to The Sacramento Bee, DeAngelo married Sharon Marie Huddle, of Citrus Heights, in the fall of 1973. They wed at the Auburn First Congregational Church.
Oxygen.com spoke to James Huddle, the brother of Sharon Huddle, who said that DeAngelo was a good father and raised three daughters.
According to his neighbor, Cory Harvey, DeAngelo lived with his daughter and granddaughter. Harvey also shared that DeAngelo is divorced. The Sacramento Bee writes, "[DeAngelo] told her and her husband that he retired two weeks ago, which was something he had been looking forward to for a long time. He planned to do a lot of fishing, she said he told them."
The Golden State Killer also had a sister, Becky "Dwayne" Thompson, whom he was living with when he became a police officer in Exeter. He had three siblings: Becky Duane Thompson, Connie Ryland, and John DeAngelo. His mother, Kathleen Louise Bosanko, was 87 when she passed away in 2010. She had four children. Her obituary reveals that she was born in 1923, and was a beautiful person and a wonderful Mother."
At the time of her passing, Kathleen had many grandchildren: Misha, Sascha, Tessa, and 7 others. She also had many great-grandchildren: Sarah and Steve, Jessica, Jeffery, Josh, Dustin, and Zaischa.
In his downtime, according to the Sacramento Bee, DeAngelo would mountain bike. He could often be heard speaking to himself and swearing as he milled around in his front yard. One neighbor said that he engaged in a number of verbal alteraction with his parents.
He Was a Police Officer & Vietnam Vet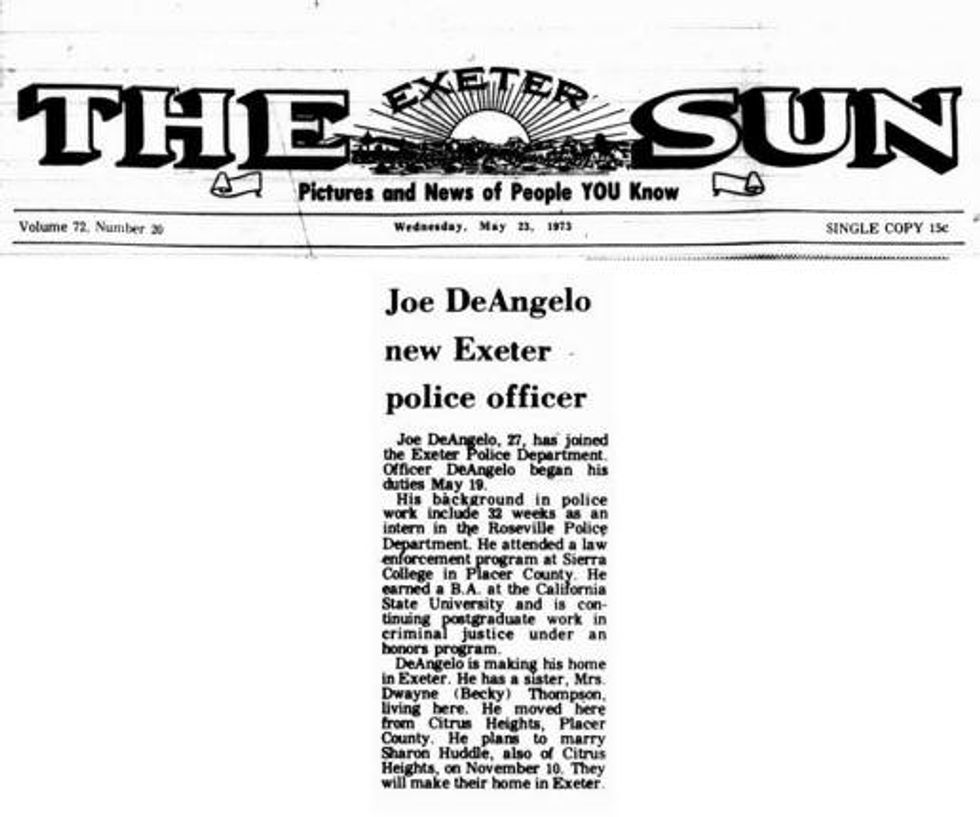 DeAngelo earned his BA from California State University, according to the above post by the Exeter Sun. He followed up his degree with postgraduate work in the field of criminal justice. Other outlets report that he attended Folsom High School and spent some time at Sierra College. Like Colwell, he was on the President's Honor Roll.
A Reddit thread that links to a series of folders and discussions about the Golden State Killer states that the suspect joined the US Navy in the 1960s. He made his way to North Vietnam, returning in 1967.
In 1973, he became a police officer with the Auburn Police Department. According to the Daily Mail, he was fired for shoplifting a hammer and dog repellent.
Neighbors Describe Him as a 'Relatively Nice Guy'
On Wednesday afternoon, Fox News' Pedro Rivera posted the following on Twitter: "RIGHT NOW: neighbors tell me Joseph James Deangelo, 72, has lived in this neighborhood for more than 30 years. Most describe him as active, relatively nice guy, would occasionally have cursing outbursts you can hear down the street."
Beth Walsh, who lives Behind DeAngelo, told the Sacramento Bee, "It's terrifying to think this man could have hopped the fence, and come into my backyard. I have children. I'm glad to know they caught this guy."
This is a breaking news post.