With President-elect Joe Biden set to take the White House on January 20, despite Trump's refusal to concede, Trump will likely have a presidential library in the not-too-distant future.
The tradition of a library with papers and artifacts detailing a President's life and career dates all the way back to Herbert Hoover.
One idea for Trump's library, featured at the domain djtrumplibrary.com, isn't likely the one the President envisions.
With an "Alt-Right Auditorium," a "Wall of Criminality," and more, the intricate prospective Donald J. Trump Library is an entire building dedicated to skewering the outgoing President's tumultuous four years in office.
djtrumplibrary.com
The Alt Right Auditorium is an allusion to Trump's many supporters on the alt-right—a violent ideology embraced by neo-Nazis and white supremacists, many of whom also support Trump and whom Trump himself has refused to condemn.

According to the site, the Alt-Right Auditorium features a weekly film series, with such works as the Ku Klux Klan love letter Birth of a Nation and Becoming—"a documentary about Melania's speech writer."
The Wall of Criminality is another noteworthy spot.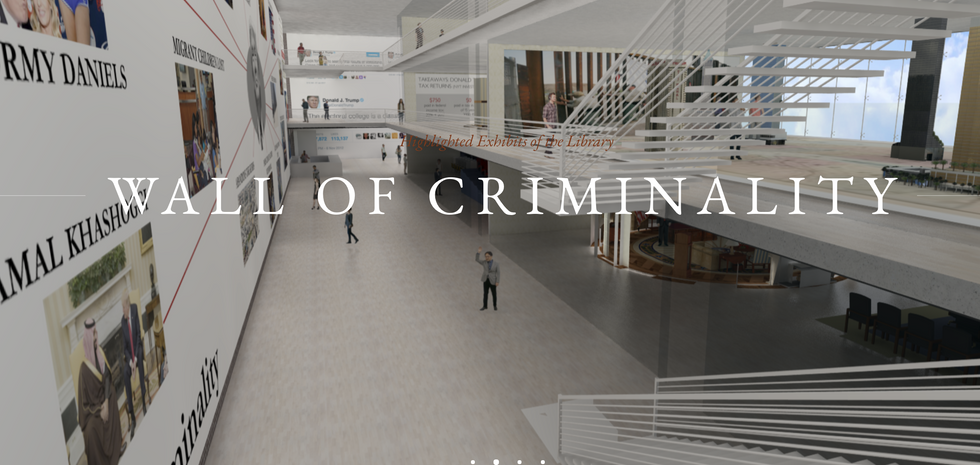 djtrumplibrary.com
Djtrumplibrary describes it below:
"The Wall of Criminality, funded completely by the state of Mexico, is one of Donald J. Trumps's greatest achievements. This exhibit chronicles Trump's crusade against the many bad hombres he has crossed paths (and streams) with. Even before entering politics, Trump had a special talent of identifying criminals, as in the Central Park 5 case of 1989 in New York City. This ability would later become one of the highlights of his 2016 presidential campaign, identifying drug dealers, criminals, and rapists trying to enter our country."
In a more somber corner of the library, there's a memorial to the 250 thousand Americans and counting who've perished from the virus that's upended daily life in the United States.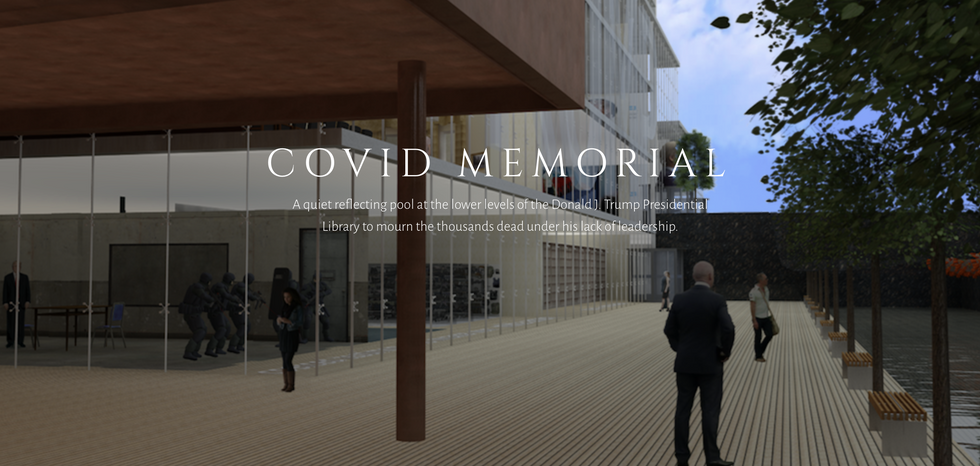 It features a reflection area and a partial graveyard of the President's allies who believed his frequent downplaying of the virus and the dismissal of measures to slow the spread of it.
While the President won't likely approve of the proposal, Twitter certainly does.

People found it to be a fitting tribute.

In addition to the three main exhibits, there's also a Twitter gallery, a pee tape room, and a criminal records room.
You can follow the parody library on Twitter at @DJTrumplibrary.