SECOND NEXUS PERSPECTIVE
Yes, he may be little more than an ultra-conservative ideologue. Yes, he may only be running to maintain enough political relevance to get paid. And yes, he did stand next to the new darling of the conservative fringe, Kim Davis, clasping her hand as if in a religious revival as they blared "Eye of the Tiger" after she was released from jail.
---
But who is Huckabee, and why exactly don't we heart him?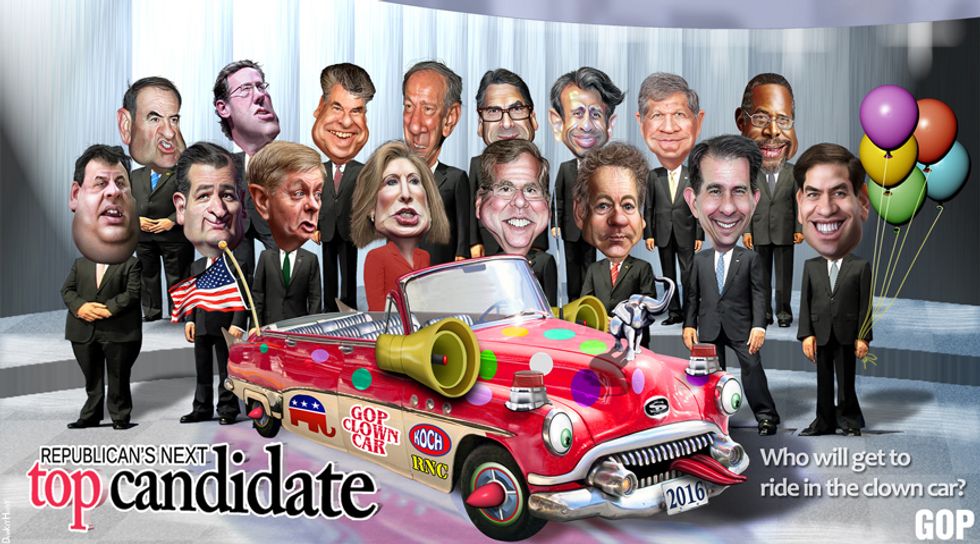 "Republicans Next Top Candidates 2016" via Flickr user DonkeyHotey
The Huckstory
Mike Dale Huckabee, who like Bill Clinton is from "a place called Hope" in Arkansas, rocketed to fame after entering his first presidential bid eight years ago. The former Baptist pastor-turned-Arkansas governor stepped to the forefront of conservative politics after an unexpectedly strong showing at the Iowa Straw Poll in 2007. He didn't win, but he managed to finish in second place despite having been massively outspent by his competitors.
Huckabee went on to prove that his brand of politics was more than a passing fad when, in 2008, he beat the odds and won the Iowa caucus, as well as races in seven other states. Despite a respectable collection of devoted delegates, a Huckabee presidency was not-to-be; he eventually lost the GOP nomination to Arizona Senator John McCain.
Today, it's hard--even befuddling--to understand how Huckabee did so well in the run up to the 2008 election. His former national political successes become all the more terrifying upon discovering, for instance, that his religious convictions compel him to assert that ten-year-old rape victims should be required to give birth. He also appears to fundamentally misunderstand how the law works, having recently claimed (on camera, no less) that Dred Scott v. Sanford was "still, to this day, the law of the land." Dred Scott was formally overturned after the Civil War through adoption of the Fourteenth Amendment to the U.S. Constitution.
But did Americans really know the man they voted for in 2007? Probably not.
Huckabee began his first whirlwind of a presidential campaign by wooing voters with his bass playing and his down-home Southern charm. In early appearances with left-leaning late night TV comedians (like Stephen Colbert, for instance), Huckabee was jovial and self-deprecating; he appeared like the kind of fatherly figure the country might turn to for wisdom and comfort during difficult and uncertain times.
As he revealed his political agenda in the months that followed, Huckabee's populist politics (supported by his record as Governor of Arkansas) sounded more centrist than liturgical. Yes, he was socially conservative, but he seemed to encapsulate what America needed at that moment: a calm voice telling the struggling middle class that we mattered and that it would all be okay.
His campaign wasn't all smooth sailing. To begin with, Huckabee had no foreign policy experience. When asked to discuss the assassination of former Pakistani Prime Minister Benazir Bhutto, Huckabee inexplicably steered the conversation toward U.S. border security, making the leap from any foreign country to "keep out the illegals."

via Flickr user Image Editor
When Huckabee dropped out of the race in March of 2008, it was widely believed that John McCain would select him as a running mate--and Huckabee let the world know that he wanted the job. But after the McCain campaign passed him over, instead plucking Sarah Palin from the icy northern glacier where they found her, something happened to Huckabee.
At a National Rifle Association event, a loud noise backstage prompted Huckabee to quip that it had most likely been the sound of the Democratic nominee, Barack Obama, hitting the floor after having a gun pulled on him. In his apology days later, Huckabee lamented his
"dumb, off-the-cuff remark," and warned that "[i]t wasn't the first dumb thing I've ever said. And ... it won't be the last dumb thing I've ever said."
The comment was prescient. After accepting an offer to host a Fox News talk show, Huckabee shed the trappings of "mainstream Presidential hopeful" and returned to the pulpit. He seized the opportunity to spread his gospel to let the people know his version of "the facts." Huckabee revealed a spicier, more provocative world to his followers--a fantastical cosmos where, for instance, our President spent his formative years in Kenya.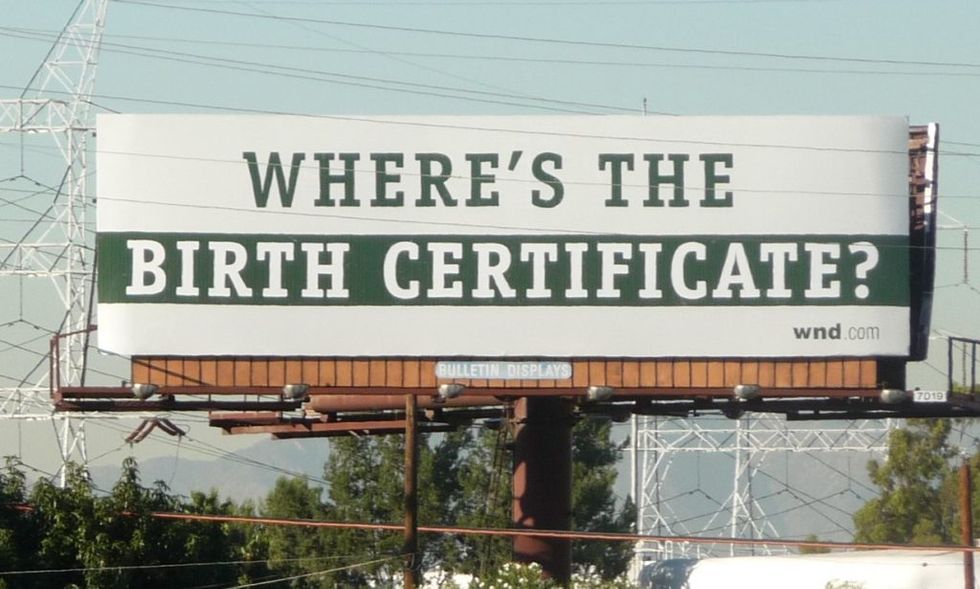 via Wikipedia
Some conservatives say Huckabee should have run in 2012, arguing that if he had capitalized on his 2008 momentum he could have beaten Romney and maybe even Obama. But Mike knew better; he knew that the 2012 election would be an uphill battle for the GOP. And he still felt the sting of having run in 2008 without the support of his party. So when he was asked if he would run, he told reporters that "this Fox gig I've got is really wonderful."
And there Huckabee remained, until January of this year when he announced he would leave the show to explore another Presidential run.   
Old-fashioned Huckspun goodness
Try as he might, Huckabee has not been able to step out of Trump's towering shadow in recent months. His Huckisms, as outrageous as any Trumpism, have been largely shrugged off, perhaps because Americans have grown to expect this kind of behavior from him. For those who missed them, here are some highlights:
On women.During a conversation with Megyn Kelly, he lamented women's use of curse words in the workplace, saying it was "just trashy." He also criticized the President and First Lady for allowing their daughters to listen to Beyoncé-- an artist he disapproves of for her
"lyrical content" and dance moves that he believes belong "in the bedroom." And while speaking at the Republican National Committee's (RNC) winter meeting in January of 2014, Huckabee appeared determined to inflame the crowd:
"If the Democrats want to insult the women of America by making them believe that they are helpless without Uncle Sugar coming in and providing for them a prescription each month for birth control because they cannot control their libido or their reproductive system without the help of the government, then so be it."
Huckabee also came to the defense of reality television star, Josh Duggar of 19 Kids and Counting. When it was revealed that, as an adolescent, Duggar had molested several of his sisters and their babysitter, Huckabee called Duggar's actions "inexcusable" but not "unforgivable," and then condemned the media for casting aspersions.
On LGBTs. After the Supreme Court issued its historic marriage equality ruling in June, Huckabee invoked the words of another Southern preacher--Dr. Martin Luther King, Jr.--calling for the start of a nationwide passive resistance movement to marriage equality. At the first Presidential Primary debate, Huckabee condemned the Obama Administration's plan to repeal policies that discriminate against transgender service members, asserting that "[t]he purpose of the military is to kill people and break things. It's not to transform the culture by trying out some ideas that some people think would make us a different country and more diverse." He went on to add that he failed to understand how paying for healthcare for transgender service people would make our country safer.
Most recently, Huckabee vowed to visit jailed Kentucky clerk Kim Davis prior to her release.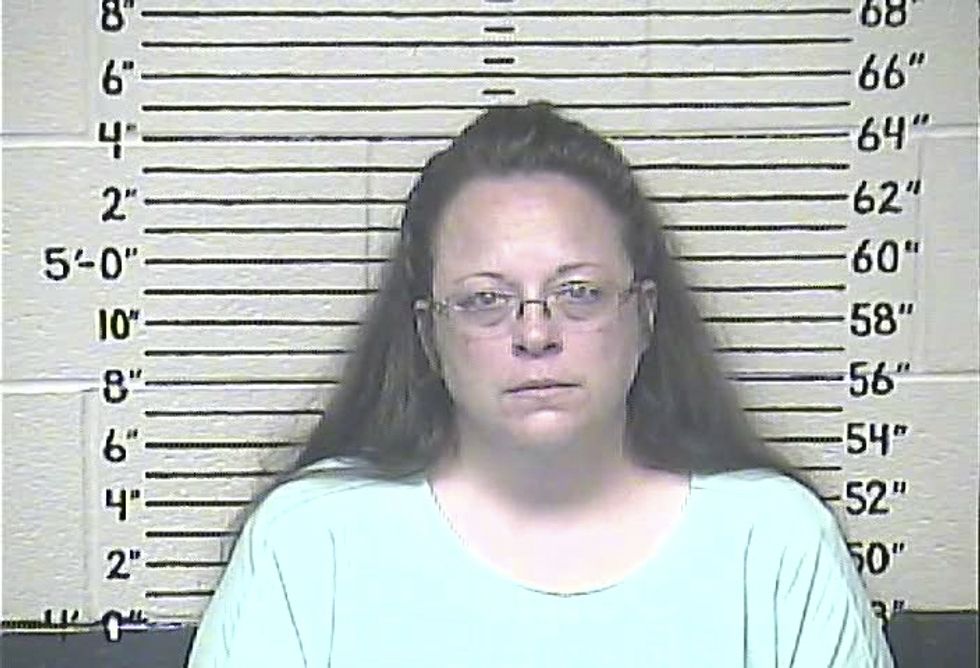 Rowan County clerk Kim Davis is shown in this booking photo provided by the Carter County Detention Center in Grayson, Kentucky September 3, 2015. via Wikimedia Commons
Davis had been held in contempt of court after failing to issue marriage licenses to gay couples, despite a federal court order mandating that she do so. Huckabee believed that "[h]aving Kim Davis in federal custody removes all doubt of the criminalization of Christianity in our country." He also bemoaned the state of justice in our great nation, adding "[w]hat a world, where Hillary Clinton isn't in jail but Kim Davis is."
On Israel. Discussing President Obama's deal with Iran in a Breitbart News Saturday radio interview, Huckabee made a startling Holocaust analogy:
"This president's foreign policy is the most feckless in American history. It is so naive that he would trust the Iranians. By doing so, he will take the Israelis and march them to the door of the oven."
Huckabee's comments were widely condemned; President Obama said he thought the remarks were "ridiculous" and "sad," the National Jewish Democratic Council called for an apology, and even Israeli Ambassador Ron Dermer deemed the reference "inappropriate." But Huckabee refused to back down, immediately tweeting a series of comments about President Obama's Iran deal.
The Huck Stops Here
A Huckabee Presidency would certainly mean a swift return to conservative social policy -- he has been very open about that. But it is the thinness of his economic policy that draws the most criticism, and best demonstrates that his 2016 campaign lacks the luster of his 2008 run.
For starters, Huckabee supports what is called the "Fair Tax." The Huckabee for President campaign website calls for disbanding the IRS, and claims that the Fair Tax would bring "trillions of dollars in offshore investment and manufacturing back to the United States - creating millions of good jobs for American workers." According to the campaign, it is "the only plan that lowers everyone's tax rates, untaxes the poor, broadens the tax base, and helps protect Social Security and Medicare." This tax also allegedly "guarantees criminals,
illegal immigrants, and all who operate in the underground economy pay their fair share - not just hard working Americans who play by the rules." And then, sprinkling on just a little fear, the campaign claims that "[t]he Fair Tax is the only plan that guarantees Washington bureaucrats don't have access to your personal financial information."
While he supported the same plan in 2008, eight years later he has still failed to fully explore (or explain) the consequences of such a plan.  
A Fair Tax scheme actually entails the elimination of the income tax, replacing it with a sharply increased sales tax. Though it would eliminate the income tax in name, it would not eliminate the income tax in effect. According to Steve E. Landsburg, an economist writing for Slate Magazine, "[a]s long as you spend what you earn, a sales tax feels just like an income tax. If you earn $1,000 a week and spend $1,000 a week, it doesn't matter whether I take 20 percent of your income or 20 percent of your spending."
But the difference does matter. Len Burman of Forbes explains that "[t]he problem is that very high-income households spend only a fraction of their income, while low- and middle-income people spend all or most of what they make. A sales tax, by design, exempts a large share of income at the top." In short, the "Fair Tax" actually creates a higher tax burden on the poor and the middle class, while creating more money for the already incredibly wealthy.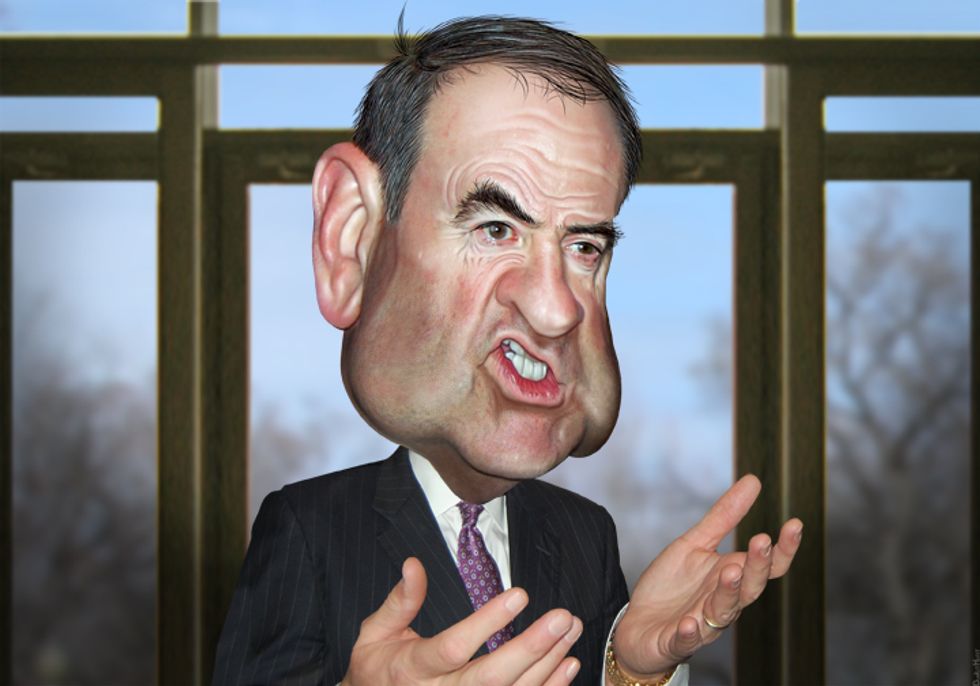 "Mike Huckabee - Caricature" via DonkeyHotey
Hucknotized, No More
It takes a lot of drive and a solid strategy to pull ahead in a seventeen candidate horse race, and Huckabee will not be able to do it by out-Donald-ing Trump. After all, Trump's effortless bigotry has become essential to his brand; Huckabee, on the other hand, has marketed himself as a righteous Christian soldier, full to the brim with grandfatherly wisdom. He even penned an entire book on the subject, dedicated to his two young grandchildren.
Though many Christian conservative voters were taken by his populist razzle dazzle in 2008, after seven years of his commentary, the glitter has shaken loose. And Huckabee, who hasn't held office since 2007, still has no foreign policy experience; had he been serious about his presidential aspirations, these past eight years could have been spent bolstering those credentials. Instead, Huckabee has spent that time writing books and giving speeches; another presidential bid certainly will keep him relevant enough to keep those sales going.
Huckabee's moment seems to have passed. He can't win this election -- and he knows it. But as long as his vitriol keeps the money flowing in, we have to wonder if he gives a Huck.
Featured image via Flickr user Gage Skidmore.