An analysis by The Washington Post of statements made by Republican candidates for the 2022 midterms determined over 50% have either outright denied or questioned the validity of the 2020 presidential election results.
The WaPo looked at 569 GOP candidates for the United States House of Representatives and Senate as well as key state offices.
299 Republicans either refused to accept the fact Democratic President Joe Biden won both the popular and electoral votes in 2020 by a significant margin or publicly questioned his victory over former Republican President Donald Trump.
WaPo also looked at which of those candidates are projected to win.
According to WaPo:
"More than 170 election deniers are running in districts or states where Republicans are expected to win, according to Cook Political Report race ratings and Partisan Voter Index."
"Dozens more are in competitive races."
The publication provided a tool for voters to see where their state stands.
For example, in Maine Republican candidates Bruce Poliquin and Paul LePage are in competitive races with their Democratic rivals, Representative Jared Golden and Governor Janet Mills.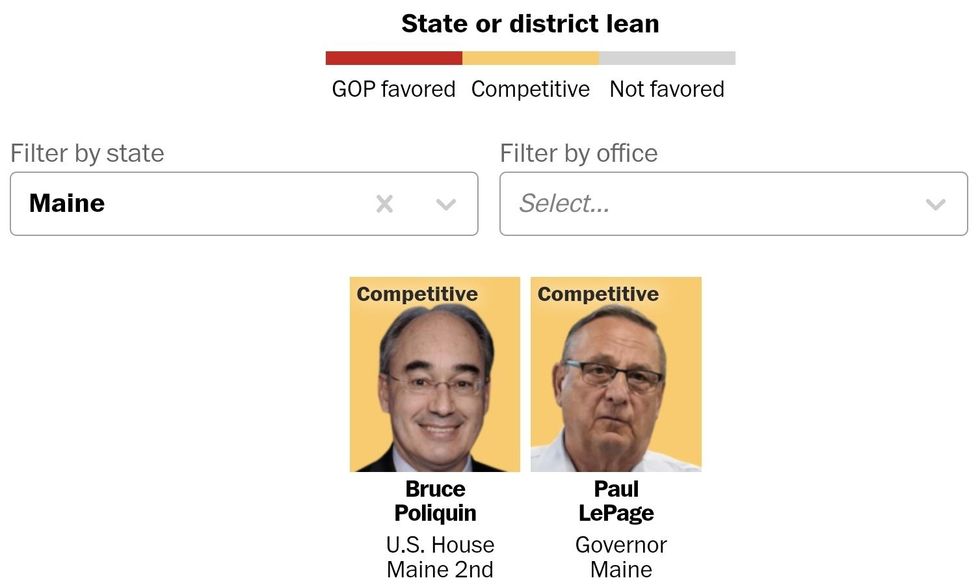 Washington Post
Election deniers Poliquin and LePage are vying to retake government positions they previously held.
Poliquin was defeated in the 2018 midterms by Golden. Mills succeeded LePage after he was term limited out of the governor's office.
In California, 20 election deniers got their party's nomination for the 2022 midterm ballot.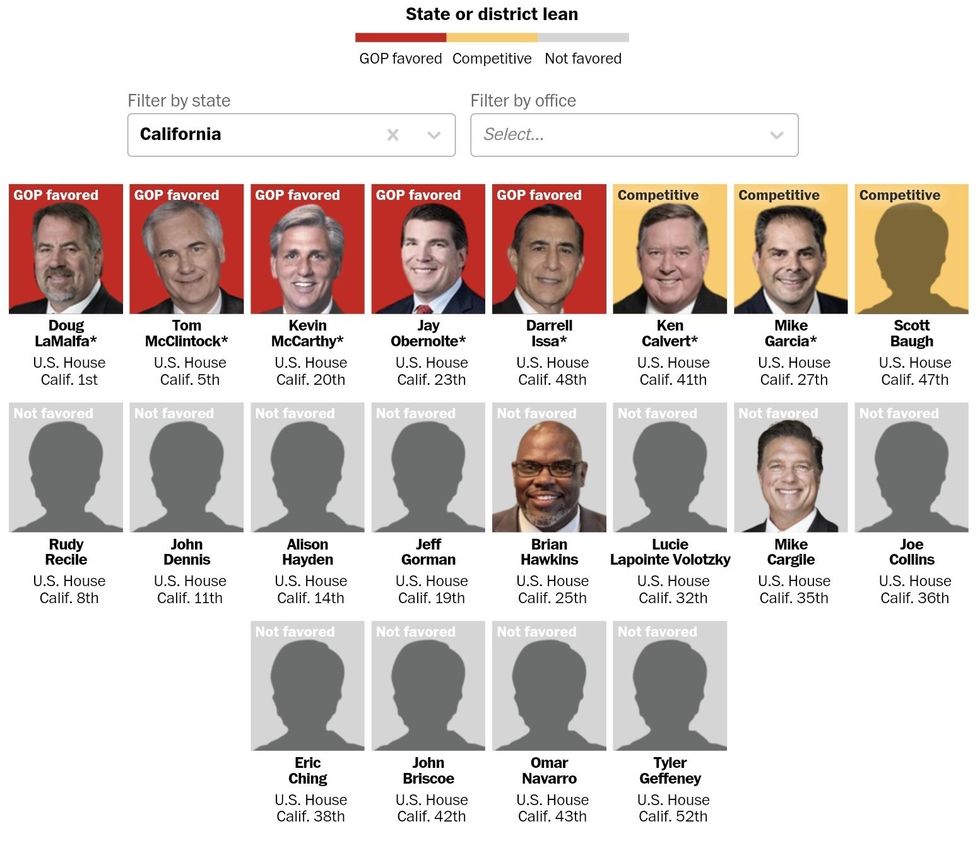 Washington Post
Only five—all incumbents—are expected to win, including House Minority Leader Kevin McCarthy.
Three more are in competitive races while 12 are not expected to win.
The implications of so many election deniers gaining positions of power at the state and federal level would be far reaching. All would have some influence over how future election winners ajre determined.
Many of the GOP candidates continue to parrot Trump's Big Lie despite the 2020 presidential election being thoroughly investigated and all of Trump's claims being dismissed by Trump administration officials and the courts. According to experts, the perpetuation of these false claims—regardless of a lack of any evidence—demonstrates these GOP candidates willingness to undermine democracy whenever it benefits their side.

Instead of conspiracy theories and lies being on the fringe, they're front and center in many Republican campaigns.
In Michigan, Trump campaigned for three election deniers: Tudor Dixon for governor, Matthew DePerno for attorney general and Kristina Karamo for secretary of state. All three ofgices have significant control over how future Michigan elections would be decided.
Speaking to a crowd of his supporters in Warren, Michigan on October 1, Trump said:
"I don't believe we'll ever have a fair election again."
"I don't believe it."
It's become abundantly clear that in the MAGA universe, an unfair or fraudulent election is any election they don't win.
Scholars drew parallels between the prevalence of election deniers in the GOP with the rise of authoritarian movements historically and at present globally. Authoritarian efforts buoyed by religious extremism or ethnic cleansing often begin with delegitimizing free and fair elections and the free press.
Trump made a key focus of his administration and political campaigns to do both.
The close connections between Trump's MAGA movement, Christian nationalism, White nationalism and White supremacy are neither unexpected nor unintentional in the authoritarian's playbook per political scholars and historians.
People were unsurprised, but disturbed by the numbers of Republican candidates espousing false claims and conspiracy theories.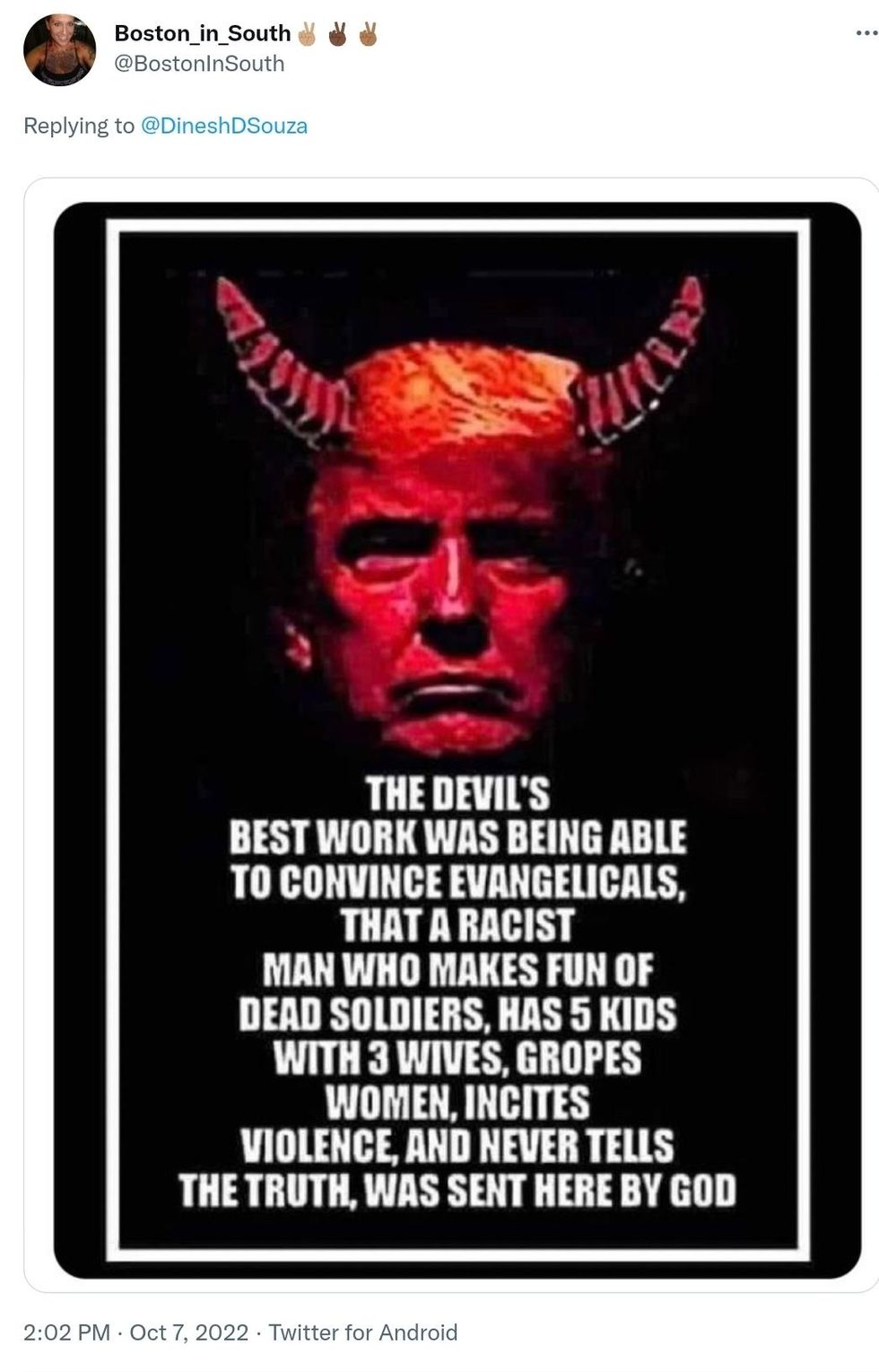 @BostonInSouth/Twitter
The 2022 midterms are set for in-person voting on Tuesday, November 8. Absentee voting varies by state.

You can check your voter registration status here.